Broadway Series
Broadway Series 2015
---
To purchase tickets, go to www.pace.edu/tickets

February 20th, 2015
8pm
$45.00
Based on Victor Hugo's classic novel, Les Miserables is an epic and uplifting story about the survival of the human spirit. The magnificent score of Les Miserables includes the classic songs "I Dreamed a Dream," "On My Own," "Stars," "Bring Him Home," "Do You Hear the People Sing?," "One Day More," "Empty Chairs at Empty Tables," "Master Of The House" and many more.
March 4th, 2015
8pm
$60
For sixty years Elizabeth II has met each of her twelve Prime Ministers in a weekly audience at Buckingham Palace—a meeting like no other in British public life. Both parties have an unspoken agreement never to repeat what is said. Not even to their spouses. The Audience breaks this contract of silence and imagines a series of pivotal meetings between the Downing Street incumbents and their Queen. From Churchill to Cameron, each Prime Minister has used these private conversations as a sounding board and a confessional—sometimes intimate, sometimes explosive. In turn, the Queen can't help but reveal her own self as she advises, consoles and, on occasion, teases.
March 28th, 2015
2pm
$38
Finding Neverland follows the story of author J.M. Barrie and his relationship with the family of widow Sylvia Llewelyn Davies, who eventually became Barrie's inspiration to write Peter Pan. The musical explores the power of imagination to open up new worlds, and the pressures put upon those worlds by the inevitability of growing up.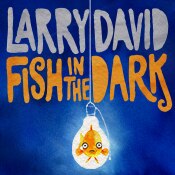 April 17th, 2015
8pm
$60
Seinfeld co-creator Larry David's comedy focuses on 15 characters as they deal with a death in the family.
April 25th, 2015
8pm
$45
n American in Paris is the romantic story of a young American soldier, a beautiful French girl and an indomitable European city, each yearning for a new beginning in the aftermath of war.