Blackboard Known Issues
To report an issue, please contact the Office of Academic Technology by sending an email to acadtech@pace.edu or by calling (914) 773-3664.
---
COMMENTING ON STUDENT ASSIGNMENTS DOES NOT WORK.
It may not be possible to create a comment when grading student Assignments.
The solution is to use the "full-screen" view on your device.
View an illustration and workarounds.
---
STUDENTS ARE NOT ABLE TO SUBMIT A TURNITIN ASSIGNMENT USING SAFARI BROWSER VERSION 11.1 AND ABOVE.
The solution is to use another browser, and Firefox is recommended.
---
REMOTE_USER NOT SET. CHECK SHIBBOLETH CONFIGURATION.
If you receive the above message, perform one or more of the below steps and try again. If the error continues, send an email to acadtech@pace.edu.
Clear the browser cache…closing the browser won't be sufficient.
Use a different browser.
Ensure a good Internet connection…wired, if possible.
Use a "private" browsing session. This ensures nothing is cached.
Use a different computer.
---
BLACKBOARD APP CRASHES ON IOS 12 WHEN VIEWING DISCUSSION BOARD THREADS
Blackboard is aware with the recent iOS 12 release that access to discussion boards is affected, and they are working on a solution. At this time an iOS upgrade should be delayed.
---
KALTURA IS MISSING IN BLACKBOARD MASHUPS
To restore Kaltura as a Mashup tool, do the following:
1. In the Control Panel, go to Customization > Tool Availability.
2. Scroll down to Kaltura Media.
3. Check the checkboxes.
4. Hit the Submit button.
---
Student Document does not Render in Blackboard
A student's document may not display when a teacher attempts to view it from within Blackboard using the inline grading program "New Box View".
The solutions to try are:
1. Back out of the specific document view and then try again.
2. Switch browsers.
3. Switch computers (operating systems).
4. Increase the screen resolution to the next finer setting.
---
Difficulty reordering items using the Click-and-Drag method
When an instructor attempts to reorder items in Blackboard with the click-and-drag function, the items may jump around in a random manner and/or the items fail to be located where the instructor desires. This seems to happen in all browsers.
This issue has been reported by other schools also, and Blackboard is aware of the issue, but has no plan at this moment to implement a solution.
The following techniques have been used successfully, so please pass these along to users who are experiencing the issue.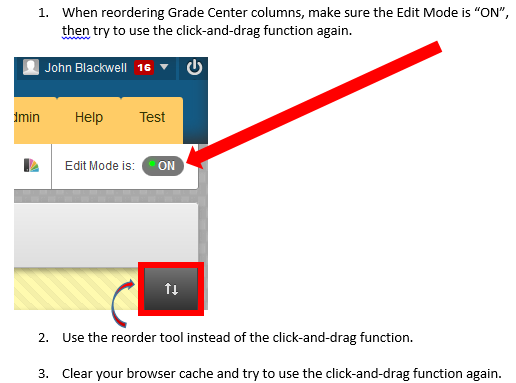 ---
User Not Able To View Video On Internet Explorer
If a user is accessing Blackboard through Internet Explorer they may have to adjust their privacy settings to allow third party cookies in order to be able to view videos.
Access the tutorial outlining how to enable third party cookies on all browsers.
---
Test Answers Not Recorded
If a student logs in to Blackboard and opens a test, then logs in again and opens the same test using a different browser or a different computer, without first logging out of the initial test instance, the following may occur:
1. The test answers may not be saved.
2. The test access log may show no activity.
3. The test may be recorded as started and submitted at the exact same time.
---
Grade Center may not accurately reflect Graded Discussion Board activity
After a student submits a post/reply in a graded Discussion Board, an exclamation point should appear in the Grade Center. Sometimes this exclamation point does not appear.