Why and how to use your Student TutorTrac Account
Reasons to use your student TutorTrac Account
To search when a tutor is available to support your course
To make appointments to either work with a tutor or for one of our group study sessions
To view your previous tutoring session
To make appointments to either see a tutor or for one of our group study sessions
How to use your student TutorTrac Account
Logging in to TutorTrac through the URL:
Visit TutorTrac from the Pace campus. Once on this page please use your Pace credentials (same login as your Pace Portal)
Visit TutorTrac from off-campus  ***Please Note: You will be asked to sign in with your Pace credentials (same login as your Pace Portal) twice.
Note: Suggested Browser is Mozilla Firefox (Internet Explorer won't work well)
Image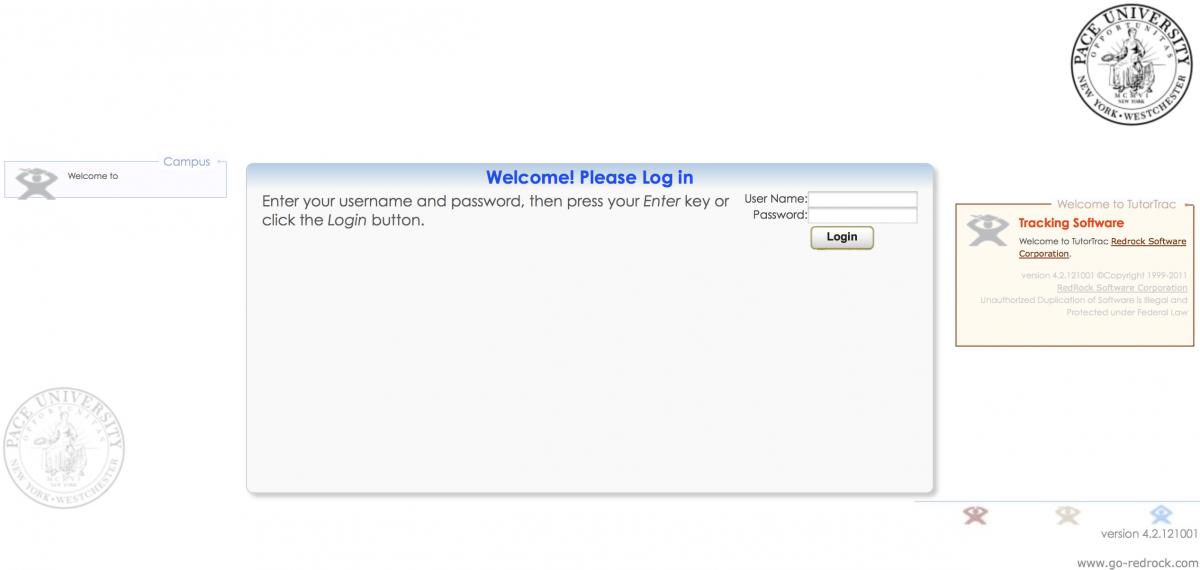 From the main menu, you can do the following actions:
View your class schedule
Search Availability
View History
Image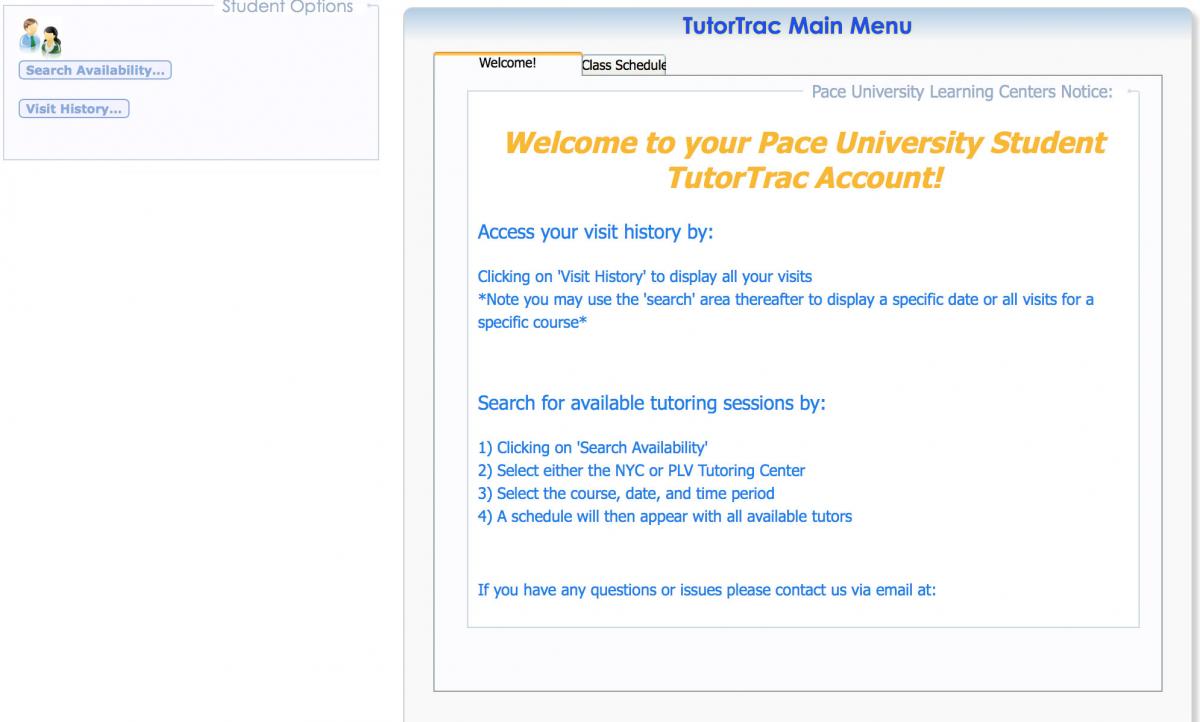 Viewing your class schedule
Select the Class Schedule tab on the main menu.
Use the toggles to change the display size of the rows and columns (the thicker line between Mon and Tues).
Select the print button or use print screen to print.
Image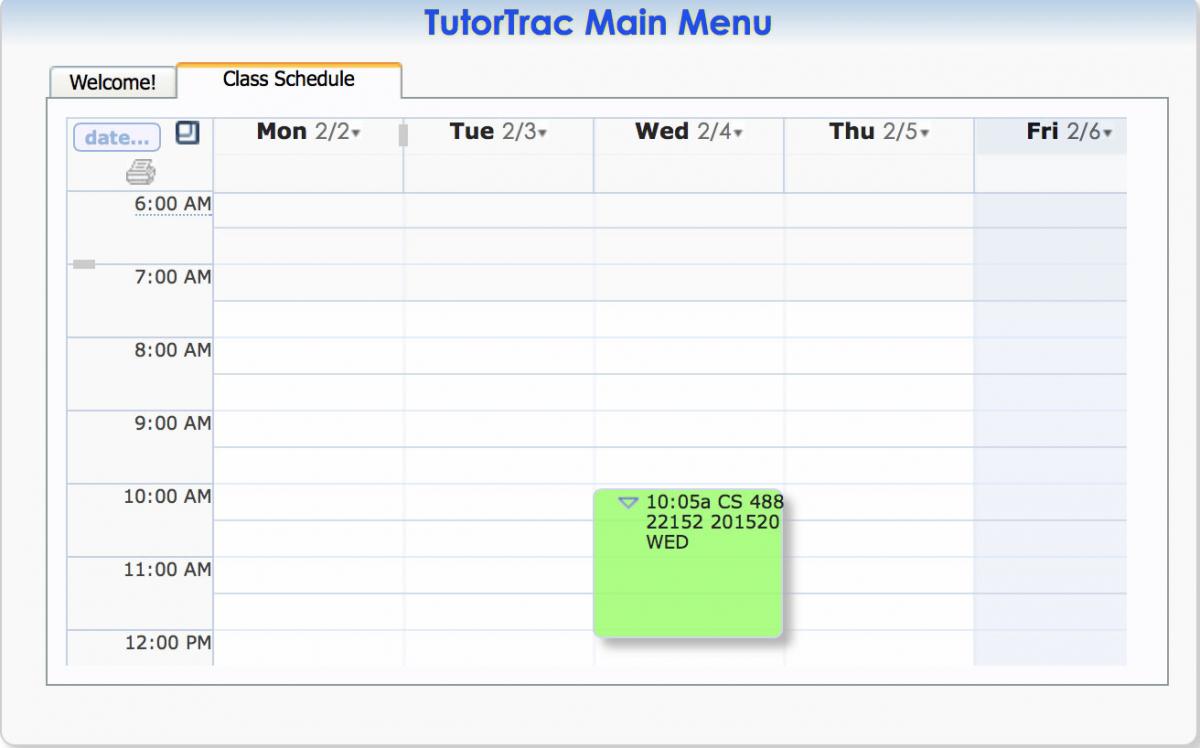 Searching Availability
Select 'Search Availability' from the main page.
Click 'Center' from the dropdown on the left.

To make an appointment with a tutor select the desired 'Center'.
To sign up for a group study session select Content Workshops & Reviews.

Select a course in which you would like tutoring.
Select a time-frame and hit Search.
Tutor availability for the selected course will be displayed.

Walk in hours are in blue.
Appointment based sessions are in green or yellow.

To make an appointment click on the time you wish to attend, fill out the information (optional) and hit save. Your appointment has been made.

If you would like to cancel your appointment, on the main page of TutorTrac, it will show you what appointments you have made. Click the "X" bubble next to the appointment you wish to cancel.
Note: 8-hour notice for cancellation required.
You may only miss two appointments total.
Image

Image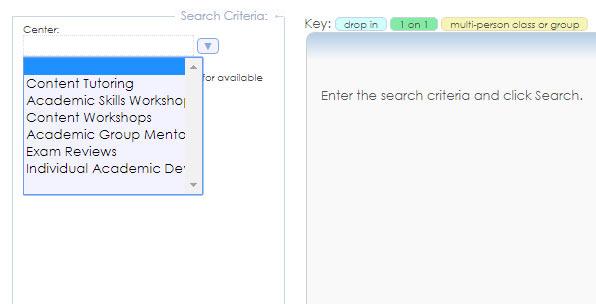 Image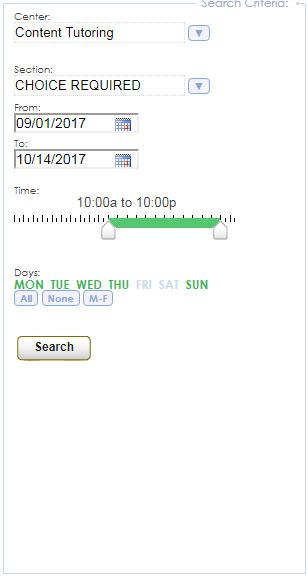 Viewing your Learning Commons History
From the main menu select 'View History'
Here you may view your previous visits to the Learning Commons