The 74 | PACE UNIVERSITY
News Item
"The 74" featured Pace in "Manno: Inside the College Mobility Report Cards That Track Economic Success for Low-Income Students — With Lots to Say About Access, Earnings & Race"
"The 74" featured Pace in "Manno: Inside the College Mobility Report Cards That Track Economic Success for Low-Income Students — With Lots to Say About Access, Earnings & Race"
Is college a pathway to economic mobility?
Studies generally show that over a lifetime, college graduates amass a wage premium — earn more — and are more likely to participate in civic activities, as well as be healthier and happier, than those who have less than a college degree. Their kids commonly enjoy a host of childhood benefits and better life outcomes. The College Board's Education Pays report documents the benefits that accrue to individuals with different levels of education, including a college degree.
These findings have led many to argue persuasively that a college degree is a surefire way to upward social and economic mobility — i.e., becoming a member of the middle class and beyond — especially for young people from low-income backgrounds.
Is it possible to measure whether students from low-income backgrounds who graduate from a specific college are, in fact, moving up the economic ladder?
Mobility report cards provide a novel snapshot of how individual colleges are promoting or hindering long-term economic success and prosperity for low-income students. Rather than focusing exclusively on college graduation as a success metric, this approach emphasizes intergenerational upward economic mobility, the degree to which children economically exceed, or lag behind, their parents.
Imagine the difference such a tool would make at a high school student's meeting with a college counselor.
Opportunity Insights Harvard economist Raj Chetty and colleagues have developed mobility report cards for individual colleges by analyzing anonymous large data sets for over 30 million college students between 1999 to 2013. A college's upward mobility rate is calculated by multiplying an access rate (proportion of students in the bottom 20 percent of income distribution) and success rate (proportion reaching the top 20 percent) to determine the percentage rising from the bottom income quintile to the top quintile.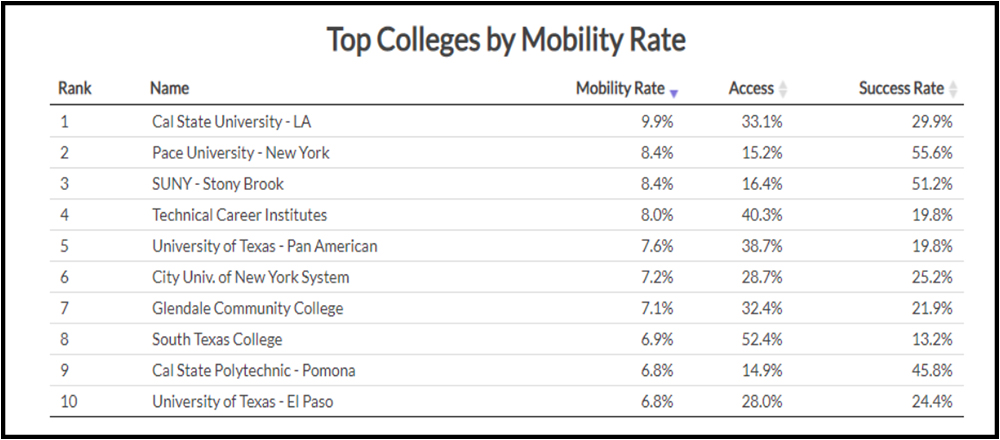 Top ten colleges by mobility rate, according to Opportunity Insights
Three key findings on access, earnings and race emerge from these mobility report cards.
First, mobility rates differ across institutions because low-income students' access to them varies significantly by family income. For example, 16 percent of SUNY-Stony Brook students are from the bottom income quintile, compared with a 4 percent average at elite institutions like Harvard or Stanford, even with their generous financial aid awards.
Rates of bottom-to-top quintile mobility are highest at mid-tier public universities like Cal State-L.A., Pace University and SUNY-Stony Brook, the top three institutions by mobility rate.
Rates of upper-tail — bottom quintile to top 1 percent — are highest at elite institutions. Regrettably, between 2000 and 2011, the fraction of low-income students at mid-tier institutions with high mobility rates fell sharply, though it held steady at elite institutions.
Second, children from low- and high-income families have similar earnings outcomes at any given college. For example, about 60 percent of Columbia University students from both low- and high-income families reach the top 20 percent of earners. This suggests institutions can create a level playing field for students with different socioeconomic backgrounds, so students generally are not mismatched to their selective institutions.
Chetty believes increasing access to high-mobility mid-tier institutions is a sure way to expand upward economic mobility and earnings for many low-income students, since annual instructional expenditures average less than $6,500 per student, compared with elite colleges that average $87,000 per student. His analysis of these mid-tier colleges has identified what The New York Times calls "America's great working class colleges," able to educate students from low and modest income backgrounds, propelling them to the middle class and beyond.
Read the full article.
News Item
"The 74" featured President Marvin Krislov's piece "Krislov: With the Right Supports, We Can Help Students With Autism Graduate From College, Find Work, and Lead Independent Lives"
"The 74" featured President Marvin Krislov's piece "Krislov: With the Right Supports, We Can Help Students With Autism Graduate From College, Find Work, and Lead Independent Lives"
They call it falling off the services cliff.
Through high school, nearly all children on the autism spectrum receive some form of government-funded support. There is speech and language therapy in school, along with occupational and life-skills assistance. But after high school, that all disappears — and those graduates are left to struggle to succeed in or even apply to college, and to find and maintain jobs.
An estimated 1 in 68 children in the United States is on the autism spectrum, and some 50,000 children with autism turn 18 each year. We need to build a support structure that permits these young adults to get a college education, find work after graduation, and live happy, productive, independent, and self-sufficient lives.
It requires concerted attention from universities, foundations, government, and employers to integrate young adults on the autism spectrum into the educational and professional worlds. For example, at Pace University, the OASIS program — Ongoing Academic, Social, and Instructional Support — provides essential services for students with High Functioning Autism Spectrum Disorder.
Each OASIS student meets with an academic coach for an hour each day for guidance on assignments, organization, and time management. An educational coordinator advises on course selection and registration. A social worker provides social and emotional support. A housing coordinator helps students navigate residential life. Social coaches assist with social literacy and growth. And an internship coordinator works with the career services department and other organizations to identify internship opportunities that match students' interests and skills.
All juniors and seniors in the program attend 12 weeks of employment workshops and training, undergoing mock interviews on- and off-campus to help hone job-seeking skills. Each summer, they complete a paid internship, gaining real-world employment skills. After graduation, we work to help them find jobs, and to ensure they have the skills to maintain those jobs.
That kind of intervention and support works: OASIS students have successfully maintained an average combined GPA of 3.0 or higher in each of the past six semesters, and 77 percent complete a bachelor's degree within five years. One student, who graduated last year with extensive coaching on executive functioning, now holds a full-time job in data analytics at Bloomberg LP. Other recent graduates have found internships and jobs at magazines, in the film industry, and in public education. One is working full-time at AHRC New York City, a nonprofit that helps people with developmental disabilities build full lives.
We must, as a society, support these young people as they move into adulthood. Universities and foundations already devote research funding to finding ways to improve outcomes; now, they must develop and share best practices for educating students on the autism spectrum. Employers must be educated to understand autistic workers' needs and how to leverage their special skills to companies' best advantage. They must realize what employees on the autism spectrum can bring to their enterprises — as with all diversity efforts — and come up with creative ways to recruit and retain these talented young people.
With our help, young adults with autism can learn life skills and live successfully on their own. As more and more students with autism age into college and independence, it's up to us to make sure these young adults don't fall off that cliff.
Read the article.