Through a hands-on internship, Coast Guard veteran and Master's of Environmental Policy student Maddie Feaster '21 took her environmental advocacy skills from the classroom to the state capitol.
Growing up on Long Island, Maddie Feaster '21, MA Environmental Policy and Coast Guard Veteran, has always loved the water.
And that love has guided many of her decisions in her adult life – from joining the Coast Guard at age 18, to continuing her studies in Pace University's Master of Art in Environmental Policy program, to serving as a legislative advocacy intern at Riverkeeper, Inc.
Through this latest work with Riverkeeper, an opportunity she was awarded through Pace's Gabel Fellowship, Feaster was invited by her supervisor to testify at a New York State Environmental Conservation Committee public hearing on September 20 at the capitol building in Albany, New York. The issue at hand – a moratorium on certain neonicotinoid pesticides in commercial farming – is one close to home for Feaster.
"It really was important for me because, being from Long Island, our ground water out here is about 30 percent polluted with these neonics," she said.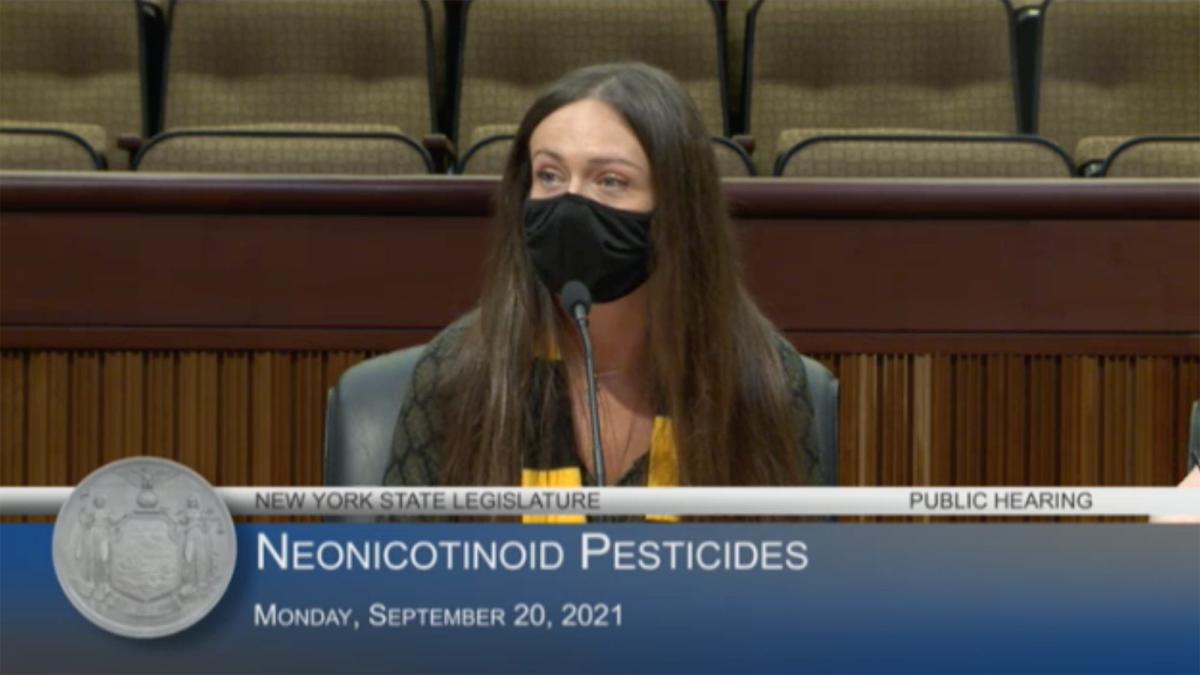 Feaster testified at a public hearing centered around the Birds and Bees Protection Act, a bill that is expected to be addressed in the NY State legislative session in January 2022. Advocates for the Act emphasized at the hearing that agricultural seeds treated with these pesticides can threaten pollinator and bird populations. The pesticides also contaminate the water supply in a way that cannot always be removed through the filtration process, posing a risk to human health as well. Environmental advocates like Feaster are calling for the State to find safer alternatives.
In her role with Riverkeeper, Feaster was tasked with researching the Act and the effects of neonicotinoid pesticides in order to draft both the written and spoken testimonies to be presented to the State committee. Her supervisor, Senior Manager of Government Affairs Jeremy Cherson, quickly realized she was more than qualified to deliver the testimony herself, and she jumped at the opportunity.
"It was a very surreal experience. I got into some weird state of calm and I wasn't really as shaky as I thought I would be," Feaster said of testifying. "It was actually a really awesome experience for me. I was fired up after that. I was like, 'Man, this is what I want to do.'"
Now in her final semester in the Environmental Policy master's program, Feaster recognizes the role her coursework played in drafting and delivering her testimony.
"Everything that we did in class is what I've been doing here [at Riverkeeper] – advocating for bills and legislation, knowing how to talk to people, and being able to back up your position," she added.
In fact, the curriculum at Pace intentionally focuses on providing students opportunities to engage with real-world challenges, developing tangible career skills in policy analysis, draft legislation, public speaking, and effective communication.
"Our program is carefully designed to prepare graduate students to serve as effective brokers of the science and policy interface," said Clinical Associate Professor Michelle Land, Environmental Studies and Science, who serves as Feaster's advisor. "Maddie's testimony was the culmination of that coursework and training; and it was a prideful moment for the Environmental Studies and Science department."
Prior to enrolling at Pace, Feaster served in the Coast Guard, which she refers to as "the best decision she's ever made." Not only did it allow her to develop discipline and focus, but also allowed her passion for marine environments to grow deeper. She spent time stationed on Fire Island off the coast of Long Island, New York, where her crew was often tasked with aiding sick or injured dolphins.
After her time with the Coast Guard and completing an education degree, Feaster worked as a social studies teacher and volunteered with a boating education group that followed whale watching boats. She was looking to continue her education – the Veteran's Administration would fund her master's degree – and she was under a time crunch to decide what she wanted to study. She had always loved killer whales since she was a child, and when, through her volunteer work, she learned they were critically endangered, she realized environmental work – specifically with marine environments – was her true passion.
"I was searching for master's programs for months, and I was going to do environmental education," said Feaster. "Then, I came across environmental policy at Pace and their program just kind of struck me a little more. It was clear that the collaborative work between both faculty and students was effective not only within the university but in real-world scenarios as well."
Now, with graduation in sight in December, Feaster is excited about the opportunities her Pace degree will present. One of her final courses, "Art of Advocacy," will conclude with a mock press conference on a topic of students' choosing. After her work with Riverkeeper, she has chosen to focus her project specifically on neonicotinoids' effect on the water supply in her home of Long Island.
"I have always wanted to pursue a career that will help make a difference in this world we live in," she said. "I knew that in order to facilitate true change, my skills would be most effective through advocacy. If I am to protect habitats, the public, and various species, I know I will need to influence our legislative system."