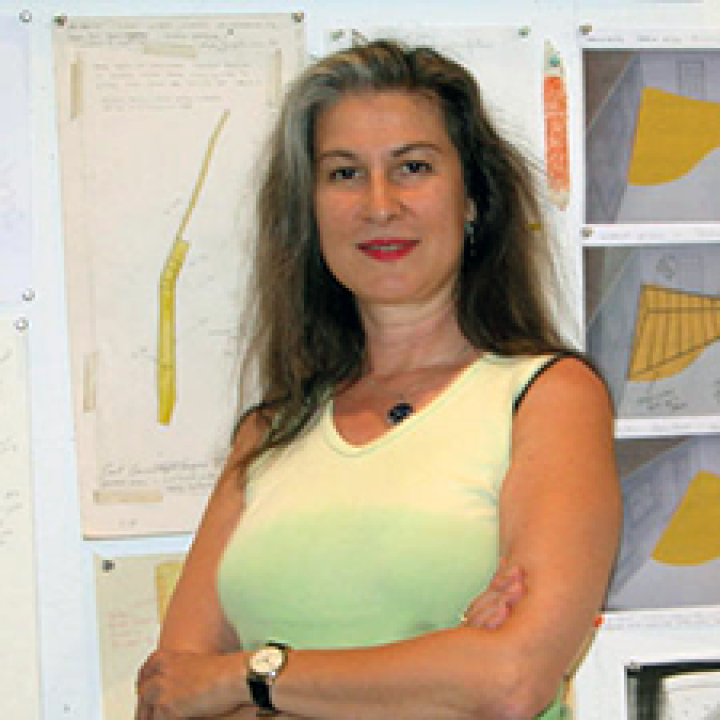 Eve Andree Laramee
Professor
Director of Center for the Arts
Society & Ecology (CASE)
Dyson College of Arts and Sciences
Art
NYC
307
41 Park Row
| Office Hours: Tue 11:00am-12:00pm,Wed 5:00pm-6:00pm,Thu 11:00am-12:00pm
Biography
Personal Quote
Professor, Department of Art & Art History Director, Dyson Center for the Arts, Society & Ecology
Faculty Bio
Eve Andree Laramee is an interdisciplinary artist and researcher working at the confluence of art and science. She is a Professor of the Department of Art at Pace University. and the Director of the Dyson Center for the Arts, Society & Ecology. She received her MFA from the San Francisco Art Institute.

Her artwork has been exhibited throughout the United States, Europe, Asia and the Middle East. Exhibitions include at the Venice Biennale, Mass MOCA, Massachusetts Institute of Technology (MIT), the Museum of Contemporary Art, Chicago; the New Museum of Contemporary Art, New York; the High Museum of Art, Atlanta; the Contemporary Arts Museum, Houston; among other institutions. Her work is included in the collections of the MacArthur Foundation, the Museum of Modern Art, New York, the Museum of Contemporary Art, Chicago, The Fogg Art Museum of Harvard University, Massachusetts Institute of Technology, the UCLA Armand Hammer Museum, and in numerous other public and private collections.

Laramee has received two grants from the Pollock-Krasner Foundation, an Andy Warhol Foundation Grant, two fellowships from the New York Foundation for Arts and grants from the Mid-Atlantic States Arts Foundation, National Endowment for the Arts, and the Guggenheim Museum Sculptor-in-Residence Program.

Her work has been written about by art historians and art critics in in numerous books and journals including Artforum, Art in America, ArtNews, the New York Times, CAA Art Journal, among others. Laramee also writes about art and environmental issues.
Awards and Honors
Dyson College, 2016, Scholarly Research Grant
Dyson College, 2016, Summer Research Grant, 2016
Pace University, 2014, Kenan Fund Award for Professional Development
Pace University, 2014, Scholarly Research Grant
Pace University, Dyson School of Arts and Sciences, 2014, Pace University Scholarly Research Grant
Daejeon Museum of Art, 2014, Commission for new artwork on art and science
Pace University, Dyson College of Arts and Sciences, 2013, Pace University Faculty Summer Research Grant
Pollock Krasner Foundation, 2011, Fellowship
Hatchfund, USArtists, Artists2Artists Fund, 2011, Pollock Krasner Foundation Fellow
Emory University Center for Creativity and Arts, 2009, Grant
Pollock Krasner Foundation, 2004, Grant
New York Foundation for the Arts, 2001, Fellowship
Education
MFA with honors, San Francisco Art Institute, San Francisco, California, 1980
Painting & Sculpture; New Genres

BA, San Diego State University, San Diego State University, 1978
Art


Research and Creative Works
Research Interest
Laramee's interdisciplinary artworks operate at the confluence of art and science. For thirty years her interest in the history and culture of science has enabled collaborations with physicists, hydrologists, geologists, biogeographers, and ecologists. By sharing innovations, art-and-science collaborations can energize action to initiate positive social change and promote awareness of environmental and health issues by directly involving communities, extending ways in which cultures imagine, create and understand.

Her recent creative work and research investigates the environmental and health impacts of atomic legacy sites. Through tracking the invisible traces left behind by the nuclear weapons complex and the nuclear energy industry, her work archives our shared atomic legacy. Zeroing-in on sites where contaminated water and land have impacted on indigenous populations, her art allows for multiple modes of visualizing the invisible; inspiring direct action through environmental social-sculpture interventions deployed into communities raise environmental awareness, and activate community participation in remediation efforts.

She is the founder and director of ART/MEDIA for a Nuclear Free Future. She is a Lifetime Member of the National Speleological Society, and is a member of the College Art Association, Leonardo, and the Society for Arts, Science and Literature.

http://en.wikipedia.org/wiki/Eve_Andree_Laramee
Artistic and Professional Performances and Exhibits
Apparatus for the Distillation of Vague Intuitions by Eve Andree Laramee
[Art - Art Works in Publication] Book authored by Jean Robertson and Craig McDaniel, Oxford University Press, 2017, Oxford, England"100 Years 100 Stones"
[Art - Art Works in Publication] San Diego State UniversityWIPP it Good: How Long is Forever? (work in progress)
[Art - Art Works in Publication] Carlsbad, Roswell and Las Cruces, New Mexico; and New York CitySlow Burn installation (in progress)
[Art - Exhibition, One-Person] Multiple venues traveling exhibition, New York, NY and Santa Fe, NM"Debris Impacts" new installation, Islip Museum, in exhibition, The New Classics: In Glass
[Art - Exhibition, Invitational] Islip Art Museum and UrbanGlass, Long Island, NY and East Islip, NY"Waste of Space", print series & video
[Art - Exhibition, Invitational] Islip Art Museum, East Islip, NYVisual Inquiries: Artists Inspired by Science
[Art - Exhibition, Group] Peter Fingesten Gallery, New York, NY"The Nuclear Waste in Space"
[Art - Art Works in Publication] Archive of Nuclear Harm, AustraliaWaste Management: Artist Eve Andree Laramee
[Art - Art Works in Publication] Pasatiempo Magazine, The New Mexican (newspaper)NukeNOtes: Activist Social Sculptures
[Art - Exhibition, Group] HICAH, Honolulu, HawaiiExtract + Impact
[Development of an exhibition proposal for a three person traveling show of environmental/ecological art] New York, NYHot Rocks - artwork in group exhibition
[Art - Exhibition, Group] American Environmental and Ecological Art, San Diego, CaliforniaRoswell Museum, one-person show, "Waste of Space", video, prints and photographs
[Art - Exhibition, Invitational] Roswell Museum and Art Center, Spring Gallery, Roswell, NMSlow Burn, exhibited in "Axle Indoors" show
[Art - Exhibition, Invitational] Gerald Peters Gallery, Peter's Projects, Santa Fe, NMI Want to Believe (maybe)
[Art - Exhibition, Group] Offroad Productions, Michael Freed Gallery, Santa Fe, NMThe Brain: Art Science, Convergence, exhibition at the Daejeon Museum of Art
[Art - Exhibition, Group] Daejeon Museum of Art, Daejeon, South KoreaFire Map, collaborative installation in the Art Collision and Repair Shop exhibition
[Art - Exhibition, Group] Center for Contemporary Arts, Santa FeRadWaste Disposition
[Art - Art Works in Publication] Central Booking Magazine, Central Booking Gallery, New York, NYFloating Desalination Plant, image and text in book, A-Biennial: Behold the Intangible, edited by Weronika Trojanska
[Art - Art Works in Publication] Sternthal Books, Montreal, Montreal, CAIn Praise of Things
[Art - Art Works in Publication] The Point Magazine, Chicago, ILUndermining: A Wild Ride Through Land Use, Politics, and Art in the Changing West, print book by Lucy Lippard
[Art - Art Works in Publication] The New Press, New York and London"Waste of Space" in exhibition, Tracking the Cosmos
[Art - Exhibition, Group] Stony Brook University, Simons Center for Geometry and Physics, Stony Brook, NYArc Across the Vortex: Art, Alchemy and Science
[Art - Exhibition, Group] Gallery 101, Brooklyn, NYThe Last Brucennial
[Art - Exhibition, Group] The Bruce High Quality Foundation, New York, NYSlouching Towards Yucca Mountain, in the International Uranium Film Festival
[Art - Exhibition, Invitational] Museum of Modern Art, Rio de Janeiro and the Yellow Archives, Rio de Janeiro, Brazil, traveled to Munich, Germany, Navajo Nation, USA, New Delhi, India, New York, NY and Washington D.C.Uranium Decay, film screening in the International Uranium Film Festival
[Art - Exhibition, Invitational] Museum of Modern Art, Rio de Janeiro and the Yellow Archives, Rio de Janeiro, Brazil, traveled to Munich, Germany, Navajo Nation, USA, New Delhi, India, New York, NY and Washington D.C.Film Screening: Burial at Los Alamos in the International Uranium Film Festival
[Art - Arts Festival] Museum of Modern Art, Rio de Janeiro and the Yellow Archives, Rio de Janeiro, Brazil, traveled to Munich, Germany, Navajo Nation, USA, New Delhi, India, New York, NY and Washington D.C.Post-Natural
[Art - Exhibition, Group] Notre Dame University, ISIS Gallery, Notre Dame, UniversitySpiral Bound
[Art - Exhibition, Invitational] College of New Rochelle, Mooney Center Gallery, organized by Romanov Grave, New Rochelle, NYFinding a Diamond in the Middle of a Muddy Road: The Phelps Dodge Copper Refinery on Newtown Creek
[Art - Exhibition, Catalog] St. John's University, Yeh Art Gallery, Queens, NYSilent Beaches, Untold Stories: New York City's Forgotten Waterfront
[Art - Exhibition, Group] St. John's University, Yeh Art Gallery, Queens, NYCertainly Not! Good science requires cultivating doubt and finding pleasure in mystery
[Art - Art Works in Publication] Nautilus Magazine, New York, NY
Courses Taught
Past Courses
ART 140: Drawing I
ART 145: Painting I
ART 165: Mixed Media
ART 215: New York and the Visual Arts
ART 231: Environmental & Ecological Art
ART 241: Drawing II
ART 271: Art Meets Science
ART 390: Art Sdo, Msm or Gllry Intrnshp
ART 395: Indpndnt Study in Art & Design

Professional Contributions and Service
Professional Memberships
International Society for Electronic Arts
Society for Literature, Science and Art
New York Foundation for the Arts
BRIC (Brooklyn Arts & Media) [Artists Advisory Board Member, Curatorial Program Advisory Member, Media Arts Grants Panelist]
National Speleological Society [Lifetime Member]
College Arts Association
Leonardo: International Society for Art, Science and Technology