Blueprint Reading Certificate - Advanced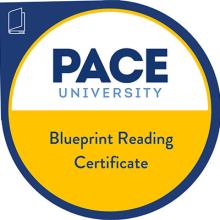 Digital Badge presented upon successful completion of our three Blueprint Reading courses (Introduction, Intermediate, and Advanced Blueprint Reading).
Learn How To Develop Skills in Blueprint Reading
About the Class
This class is designed as a cumulative course for individuals who have taken the Introduction to Blueprint Reading and Intermediate Blueprint Reading courses. This 24 hour course dives deeper into blueprint reading and covers more advanced and complicated construction drawings. Students learn about different building materials as well as learn to read advanced construction drawings. Participants will receive a Pace University Certificate of Completion.
Blueprint Reading Program Topics
Build upon skills developed in the Intro and Intermediate Blueprint Reading classes
Review construction documents such as a definition of a floor plan, reflected ceiling plans and fixtures, furnishings and equipment
Cover Engineering Drawings
Focus on building materials such as pre-fabricated panels, wood and concrete, and steel
Introductory overview of building systems such as mechanical and electrical equipment for buildings
Meet the Instructors
John Delfino, Jr.
John Delfino, Jr. Assoc. IALD, is a lighting designer with Available Light, where he designs lighting for architecture and museum exhibits. John has an MFA in Theatrical Design with a focus in Lighting from CalArts, where he both studied under lighting designer Anne Militello and worked at Visual Terrain."