Blueprint Reading Certificate - Intermediate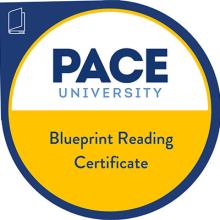 Digital Badge presented upon successful completion of our three Blueprint Reading courses (Introduction, Intermediate, and Advanced Blueprint Reading).
Learn How To Develop Skills in Blueprint Reading
About the Class
This class builds upon previously–developed skills in blueprint reading. It's ideal for individuals who have completed the Introduction to Blueprint Reading or for construction professionals who have a basic understanding of reading construction drawings. The 21-hour class covers a selection of intermediate drawings including residential housing, office buildings and warehouse." Fundamental methods and materials will be briefly covered. Participants will receive a Pace University Certificate of Completion.
If your skills are more advanced, learn more about our Advanced Construction Blueprint Reading classes.
Blueprint Reading Program Topics
Synthesize basic knowledge of blueprint reading concepts and tools
Review of a construction drawing of warehouse and office building
Overview of materials and methods of construction from wood framing, steel and reinforced concrete
Examine the mechanical, electrical and plumbing systems of the buildings
Meet the Instructor
Teresa Malihan-Haggerty
Teresa Malihan-Haggerty founded TMalihanArchitect NYC in 2004 as an innovative studio focusing on providing all phases of architectural and engineering services from pre-design, zoning analysis, building code compliance, programming, schematic, design development, construction documents, project management, mechanical, electrical, plumbing, fire protection, expediting and construction contract administration.