Blueprint Reading Certificate - Introduction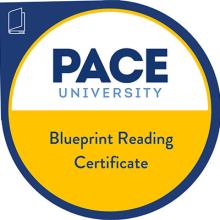 Digital Badge presented upon successful completion of our three Blueprint Reading courses (Introduction, Intermediate, and Advanced Blueprint Reading).
Learn the Basics of Blueprint Reading
About the Class
This introductory course provides a base level of knowledge in the reading and understanding of architectural and construction blueprints.
This course is intended for true beginners, as it provides a thorough exploration of the basic concepts required to read and understand construction drawings.
Concepts and theories covered by this course include but are not limited to orthographic projection; plans, elevations, sections, and details; symbols, line, dimensions, and notations; architectural and engineering scales; architectural, construction, and engineering drawings. 
Participants will receive a Pace University Certificate of Completion.
Do you have experience with blueprint reading already? Learn more about our Intermediate Blueprint Reading and Advanced Construction Blueprint Reading classes.
Program Topics
Understand architectural and engineering scales, dimension and area drawings
Understand different drawing types and their usage
Understand the differences between a floor plan, section, and elevation, and how to read each layout's specific elements
Understand the concept of orthographic projection and its usage in drawing reading and development
Understand how to use symbols, notations, abbreviations, and material schedules
Have experience reading drawings for dimensions, finishes, and details
Understand in general terms the design process and the role of design professionals
Be able to find trade information using blueprints
Be able to answer basic construction questions related to the layout and installation
Be able to identify elementary problems or shortcomings of the blueprints
Additional Upcoming Courses
When: October 17, 2022 to November 9, 2022
Days: Mondays, Wednesdays
Time: 5:30 p.m.–8:30 p.m.
Location: Online
Cost: $595.00
Meet The Instructors
Michael Debiak
Michael Debiak joined Faithful+Gould in 2016 as a vice president and managing director leading the New York Metro Area office and infrastructure business line for the northeast, bringing more than 35 years of construction and program management experience to the firm."
John Delfino, Jr.
John Delfino, Jr. Assoc. IALD, is a lighting designer with Available Light, where he designs lighting for architecture and museum exhibits. John has an MFA in Theatrical Design with a focus in Lighting from CalArts, where he both studied under lighting designer Anne Militello and worked at Visual Terrain.