Pace University has partnered with the New York City Department of Education (NYCDOE) to support students' early literacy development. Working with the NYCDOE Department of Literacy and Academic Intervention Services, Pace University School of Education faculty and teacher candidates are learning about and utilizing the Data-Based Individualization approach to identify and provide ongoing support for NYC public school students requiring additional literacy interventions. According to School of Education NYC Office of School Partnerships Director, Lynn DeLuca, who initiated this partnership, the program "provides an opportunity for Pace teacher candidates to engage in ongoing NYCDOE professional development with their mentor teachers to improve the educational outcomes for students at risk."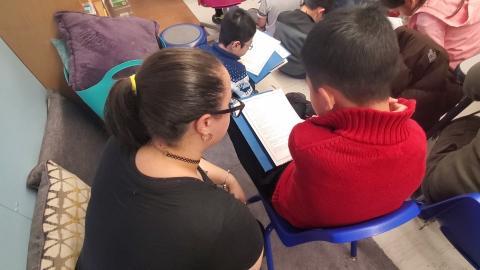 Through case studies, Pace teacher candidates are learning the techniques needed to assure their students learn critical academic skills by demonstrating competency in several domains of instructional practice:
intensive intervention,
explicit, systematic instruction,
high-leverage practices in word reading and comprehension,
data analysis to make instructional decisions, and
building independence within the intensive intervention model.
Director of Literacy and Academic Intervention Services of the NYCDOE Department of Literacy, Library Sciences, and Academic Intervention Services, Jason Borges, shares a little about why the program was created. "We observed that many teachers are not equipped to provide intensive intervention in reading. In response, my team worked with Dr. Devin Kearns to use a research-validated process, data-based individualization (DBI), to support systematic data-based decision-making to intensify supports for students. DBI has also allowed us to provide professional learning on the science of reading, discerning the differences of reading assessments, and training in research-validated intervention programs."
Regarding the program partnership with the School of Education, the first of its kind with a university partner, Jason indicated that things were "off to a terrific start," and that he looks forward to "reflecting on our first course with Pace and deepening the work as we look toward 2021-22."
The Pace University School of Education remains committed to preparing reflective professionals who promote justice, create caring classrooms and school communities, and enable all students to be successful learners. Utilizing this research-based approach in collaboration with the NYCDOE is preparing our future graduates to understand the relevance of their studies to affect positive change in the communities they serve.
What does the future hold for this early intervention literacy program? Jason Borges's main goal is to have this program become part of special education and literacy teacher–candidate training. "This course can give candidates the research-informed training needed as they enter the field to meet the unique needs of students who present difficulties with reading acquisition." Ultimately, Jason aspires to "see this program continue to build with District 2 in Manhattan and expand its reach to other districts in the NYC DOE." A truly remarkable vision for a remarkable program that will provide support for so many NYC public school students struggling with literacy.