Students
Meet Shayna Rosado
A good researcher sheds light on a probing question. Shayna Rosado, a senior studying Computer Science at Pace University and the Spring 2020 Virginia Letourneau Intern at Seidenberg's Blue CoLab asked, "Why don't we know the quality of our water before we drink it?"
The answer: Real-time detection of contaminants in drinking water is not a national policy; therefore, technology that can immediately analyze the quality of water before it reaches the tap is not a national priority.
Image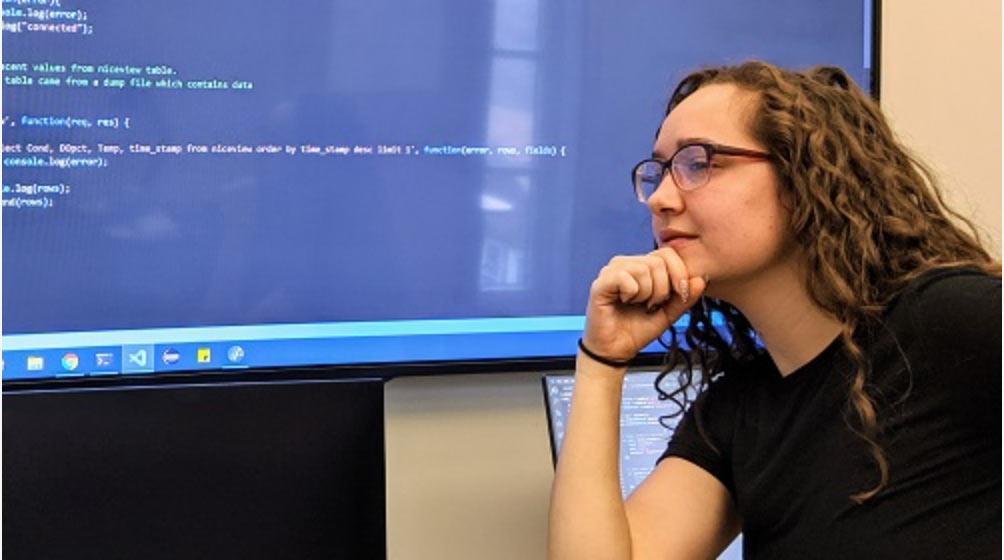 Real-time detection is a headline issue in the age of COVID-19, and water-borne disease can be as devastating as a pandemic. By way of example, Shay points to Milwaukee in 1993, where 403,000 people were sickened by a pathogen in their drinking water, and to current research from the University of Arizona that concluded pathogenic contamination still causes 1.5 million illnesses in U.S. water drinkers annually. Real-time monitoring could save lives, but innovation, like policy, is lagging.
Shay is the Software Development Engineer for the twelve-member Blue CoLab, Seidenberg's collaborative STEM laboratory that advances innovation in real-time water monitoring for the protection of human and environmental health. She is chief developer of Blue HomeLab, the mobile app to alert water users when a contaminant is detected. "If we demonstrate how a cell phone can be a warning system," she said, "maybe policymakers and developers will make a priority of innovating technologies, such as advanced sensors, that detect a wide range of contaminants in real-time."
Shay is a standout at Seidenberg and the Blue CoLab. A community college transfer and single mom who never gave up on her education, she will graduate summa cum laude in May 2020 with a BS in computer science. "I am fortunate to have a family that provides a loving support system that makes my education possible, and helps to keep Mackenzie cared-for and enriched," she said.
Mackenzie, Shay's two-year old daughter, is a familiar sight at the Goldstein Academic Center in Pleasantville - sometimes seen in her mother's arms during class, and at other times entertained by team members during the weekly scrums of the Blue CoLab, where Mackenzie is considered a part of the team.
When COVID-19 arrived, things changed all around. "Mackenzie misses Seidenberg and being part of the CoLab events. And although it is a drastic change to move an entire office staff and our collaborative area online, Seidenberg and Blue CoLab operate in a way that keeps everyone working, involved and supported, even at a distance."
We asked Shay about her app, her Blue CoLab experience, her years at the Seidenberg School and ahead.
What motivated you to choose Blue HomeLab for your Blue CoLab project?

Our bodies need water more than anything else. We can survive on food for weeks but, without water, only days. Yet, currently, water systems take samples on an occasional schedule, and days or weeks can pass before analytical results are evaluated and reported. The challenge that emerged from my discussions with Blue CoLab Director John Cronin was: If technology will someday be developed that monitors water 24/7, and delivers analytical results in an instant, how can real-time information about water quality be delivered to consumers? How will we serve the public's right-to-know?
What skills did you learn at the Blue CoLab?
The first is the importance of teamwork. The Blue CoLab is a collaborative team, a study group, a safety net, and a support system rolled into one. I made relationships that will last a lifetime. The next is all the aspects of deploying and operating a real-time monitoring system – from launching Ada, our monitoring platform in Choate Pond, to collecting, analyzing and presenting the data she produces. And, of course, the big one: transforming the Blue HomeLab from an abstract idea to the real thing.
What did that entail?
I had to design, from top to bottom, how data will be passed down and stored within the app's back-end on the web. I had to create functions that ran around-the-clock to fire off notifications when one of our sensors detected unsafe water quality, and build mechanisms for resetting conditions once the quality was again safe. I then had to create a method to prompt the user for feedback. The final major component was design of the HomeLab phone app itself.
Were you ever concerned that Blue HomeLab was too big a task?
At first, designing the HomeLab did seem like it would be a lot to handle. I knew we already had sensors for measuring water data, and software for delivering that data safely to our back-end. But my job was to design the system that would interact with those elements to evaluate water quality in real-time. The challenge of finding that solution was exciting and outside my comfort zone. But that creates space for me to grow. And, looking back, I am delighted I stepped up to the plate. Now, it's completed and ready for testing!
The pandemic has changed life at Pace. How have you and the team been able to continue your work?
I must say that I'm extremely grateful for having chosen a technology-related major. At Seidenberg, we were more prepared than most for what came next. For me specifically, I use GitHub to host the code for my project. That way it is easy to keep track of each new version of the app. I store all of my important files on Microsoft Teams, which is provided by Pace. Teams is a great tool for assigning tasks through Planner and communicating with other team members. Zoom allows us to hold Blue CoLab team meetings throughout the week and interact about keeping the various layers of our projects in synch. Sometimes Mackenzie is able to participate as well!
What impact did Blue CoLab have on your Seidenberg experience?
My involvement with the Blue CoLab has been a wonderful complement to my education here at Pace. During my first semester as a team member, I was taking Software Engineering where we were assigned a final project of building an Android app that used publicly available data in some way, shape, or form. After that was complete, and after my discussions with John Cronin about real-time delivery of water quality data, I was inspired to create the HomeLab app. Blue CoLab gave me the support and team members that made it possible, and, of course, the facilities – our data lab, tech lab and living lab on Choate Pond. And I would be remiss if I did not mention Leanne Keeley, the CoLab Program Coordinator, who was available to me on a moment's notice.
Seidenberg and Blue CoLab encourage interdisciplinarity, as Pace President Krislov mentioned in his State of the University Address. How did that enhance your education, and prepare you for a career?
It was fascinating to have been taking Biology during this semester as well - gaining a deeper lens into the importance of environmental issues such as water quality. On top of that, the back-end for the HomeLab app was designed using concepts I learned in the Internet Computing course I took that semester. Blue CoLab encouraged the applied, interdisciplinary problem-solving that gave me invaluable experience in app design, a very marketable skill in the technology industry. By providing the space to start big, and the assistance to break down the system into smaller modules, Blue CoLab enabled me to learn and exercise key skills that are needed from a Software Development Engineer in any firm.