Press Release
Pace University Partners on Opportunities in Africa Conference
In its Fourth Year, Representatives from Nigeria, Senegal, Rwanda, Ghana, Guinea-Bissau, Cabo-Verde, Angola, Tanzania, and Kenya to participate
Image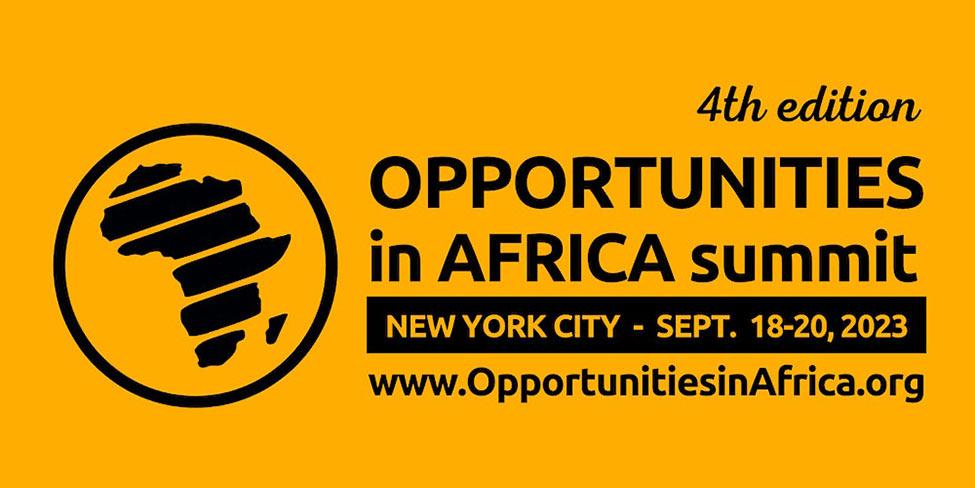 The fourth annual Opportunities in Africa Summit will be held in downtown New York City from September 18-20, 2023, at the Marriott Hotel Downtown.
Delegates from around the world will be attending the conference, which takes place alongside the United Nations General Assembly, to meet and engage with investors and entrepreneurs who are currently innovating business and economic growth opportunities in Africa.
"We are thrilled to host the fourth edition of our flagship conference, Opportunities in Africa Summit, in New York City once again," said Kémo Touré Jr., CEO of Wutiko. "Africa is full of exciting opportunities for growth and investment. We are building a platform that connects investment with opportunity and puts entrepreneurs in front of the people and organizations that can have a direct impact on their trajectory."
This year's theme is Access to Capital, the Wall Street Way, and will include multiple pitch sessions, as well as keynote and panel sessions with key individuals from the worlds of sport, real estate, and creative industries.
Amadou Gallo Fall, President of Basketball Africa League (BAL), alongside ex-Chicago Bulls player Joakim Noah will be speaking in a fireside chat about business opportunities in African sports. With many ties to the NBA, in particular through BAL's direct connection as the NBA's African league, the summit will include panel discussions with NBA professionals, including players.
One of the most impactful aspects of the summit is the opportunity for entrepreneurs to pitch their ideas during focused investor sessions. These pitch sessions enable entrepreneurs in the fields of technology, real estate, and creative industries to connect with opportunity for investment and support as they grow their businesses.
"Pace University is proud to be a partner with Wutiko and with Opportunities in Africa," said Dr. Christelle Scharff, Associate Dean and Professor of Computer Science at Pace University's Seidenberg School. "This conference builds strong partnerships with countries in Africa for Pace students and faculty. I look forward to more of these projects and opportunities to involve more students with Africa's rapidly evolving tech economy."
For more information about Opportunities in Africa 2023 and to register, please visit the website or write to press@opportunitiesinafrica.org.
About Pace University
Since 1906, Pace University has been transforming the lives of its diverse students—academically, professionally, and socioeconomically. With campuses in New York City and Westchester County, Pace offers bachelor, master, and doctoral degree programs to 13,600 students in its College of Health Professions, Dyson College of Arts and Sciences, Elisabeth Haub School of Law, Lubin School of Business, School of Education, Sands College of Performing Arts, and Seidenberg School of Computer Science and Information Systems.
About the Seidenberg School of Computer Science and Information Systems at Pace University
At Pace University's Seidenberg School of Computer Science and Information Systems, students experience a best-of-breed technology education at one of the first comprehensive schools of computing in the nation. Strategically located in the heart of NYC's tech scene, the Seidenberg School places students on the doorstep of New York's most promising companies, whether they are established tech giants or exciting new start-ups. The school offers a range of online and in-person masters programs, including an online Master of Science in Computer Science degree. Through partnerships with leading corporations, banks, federal agencies, and global entities, the school's curricula and programs are designed to give students the latest in computer science theory and invaluable hands-on practice to ground it. The faculty includes numerous cybersecurity experts who operate labs and centers providing students with practical experience and connections that lead to impressive internships and jobs.
About Opportunities in Africa
Opportunities in Africa is a platform for promoting investment and business opportunities in Africa. Launched in 2018, it aims to connect investors, entrepreneurs, and other stakeholders interested in exploring the potential of African markets and driving mutually beneficial partnerships. The platform provides information and resources, as well as networking opportunities, to support inclusive economic growth on the continent.