This exhibition was on view October 26-November 24, 2020
Pace University Art Gallery is pleased to present The Night Gardener, the first solo exhibition in New York by Brooklyn-based printmaker Simonette Quamina. Opening with a Zoom artist talk on Monday, October 26 at 3:00 p.m., the exhibit will be open for in-gallery viewing appointments through November 24, 2020 at the 41 Park Row location. Street-level window viewing will continue through January 17, 2021.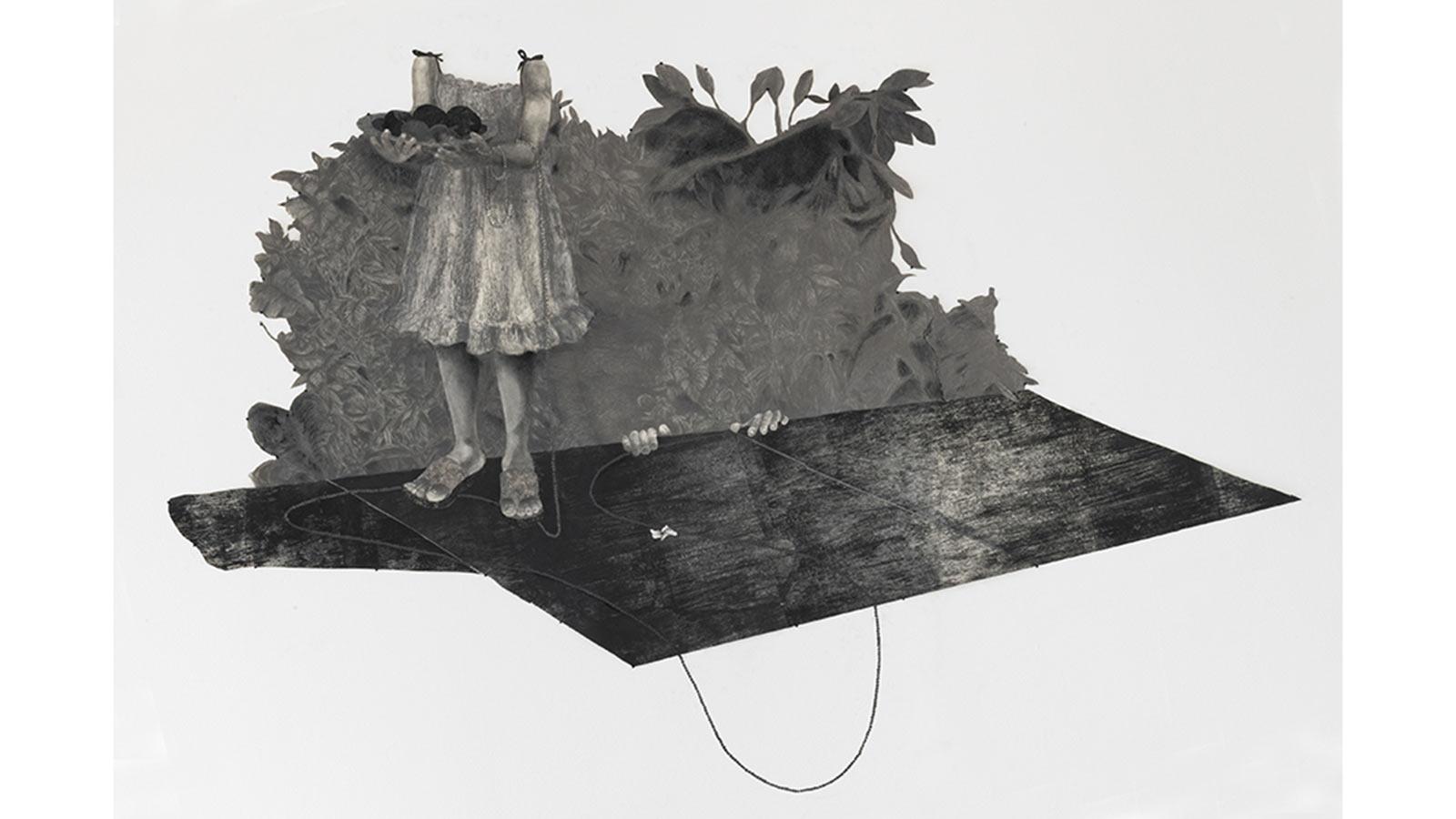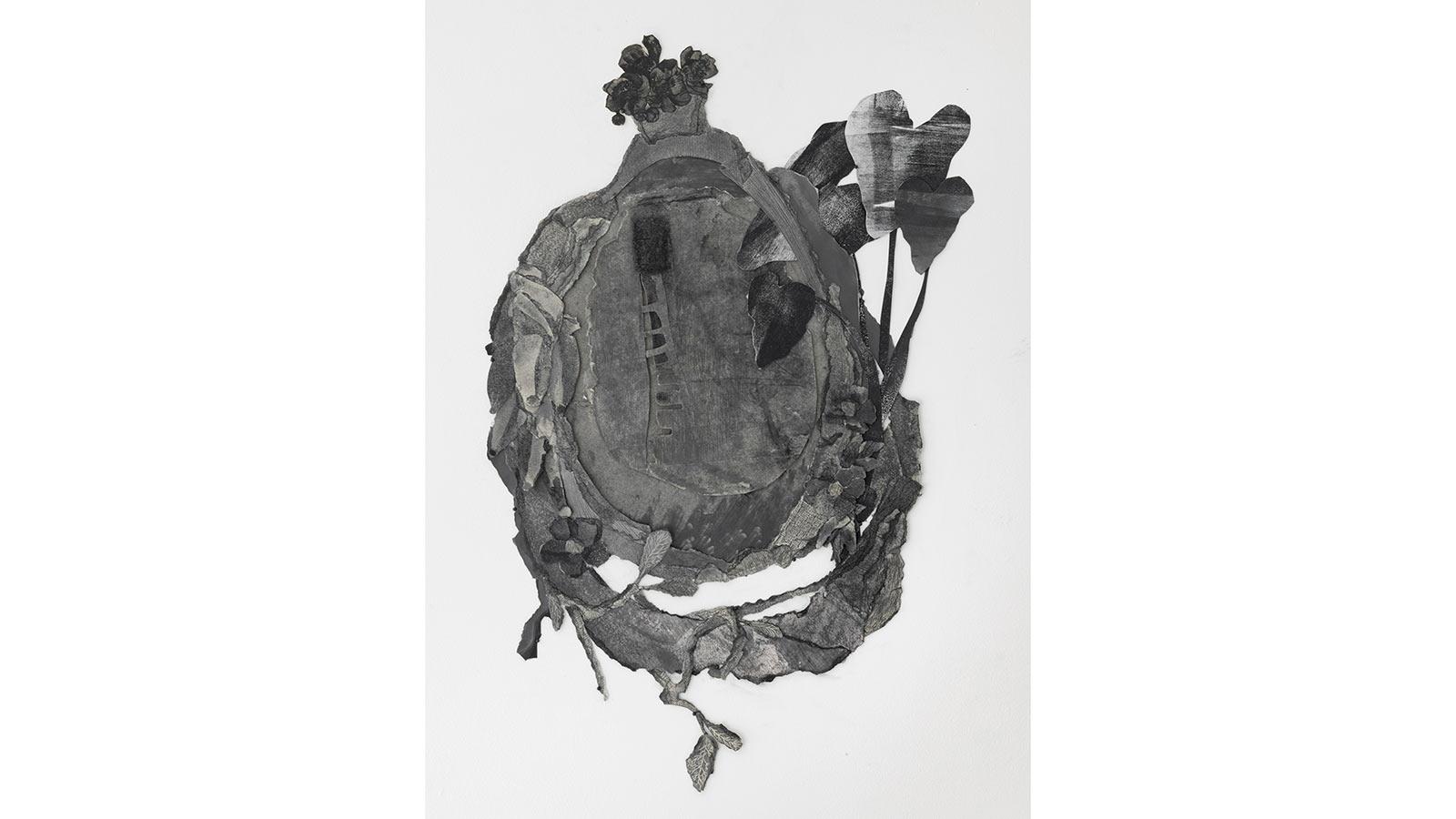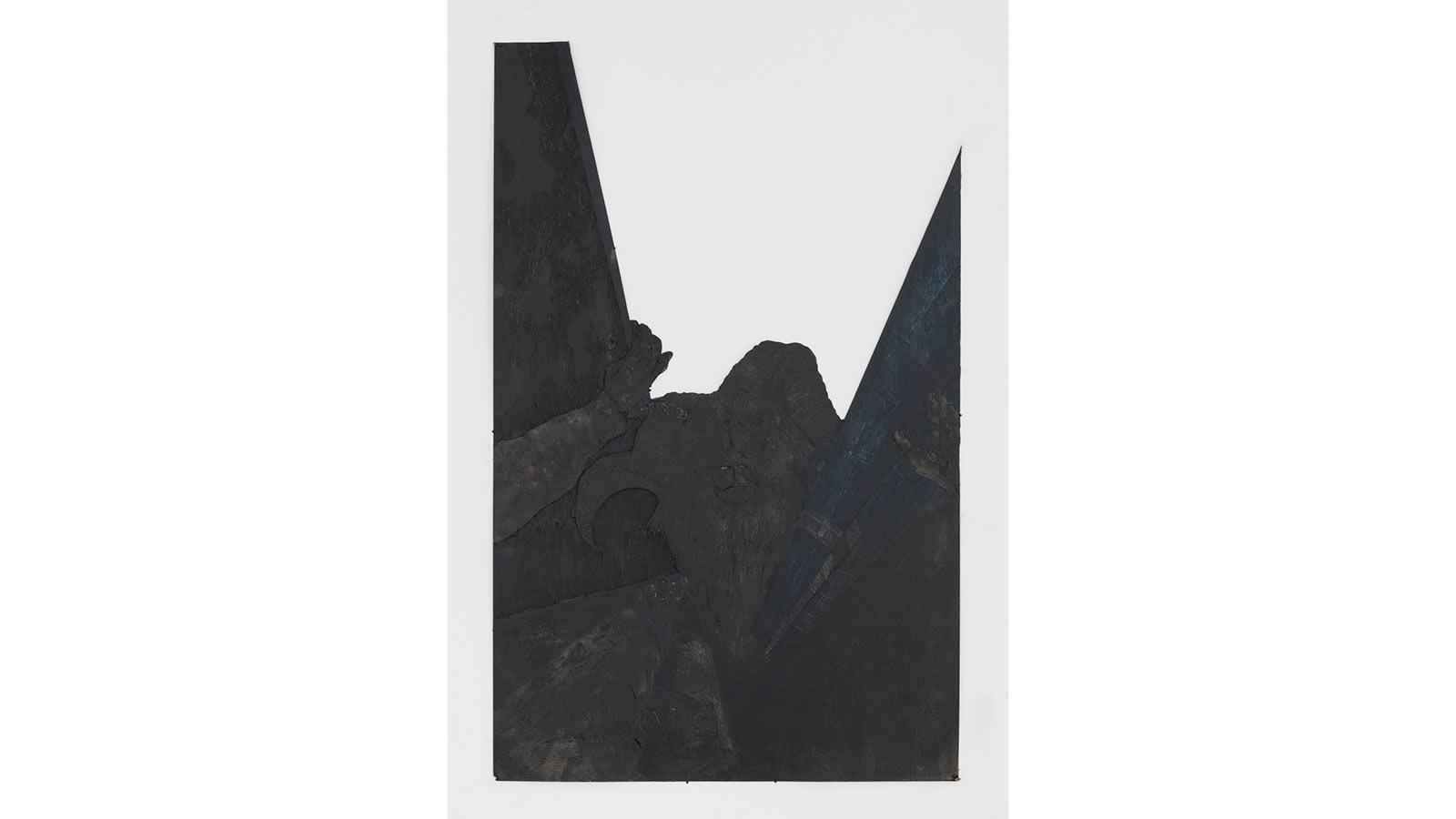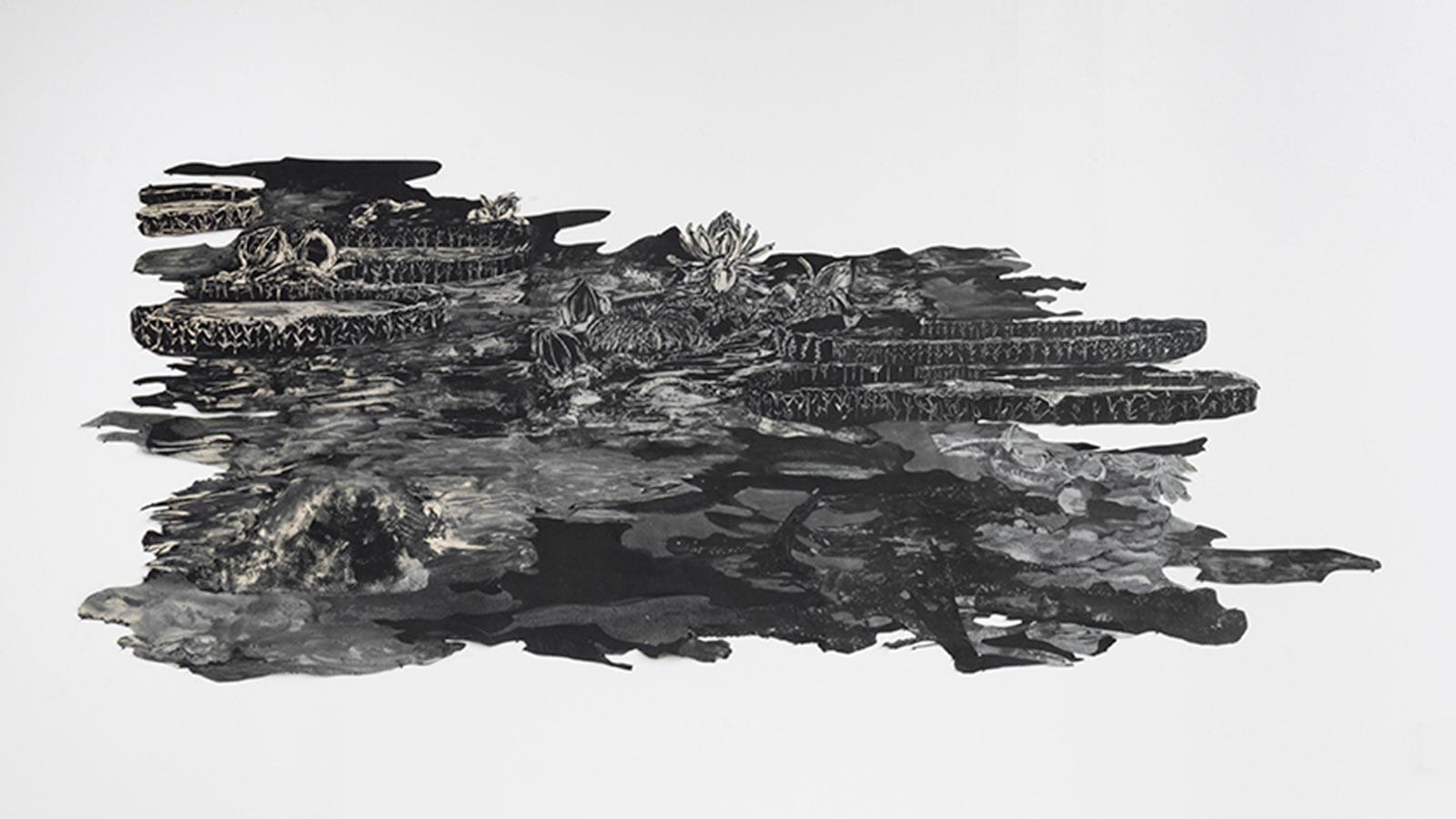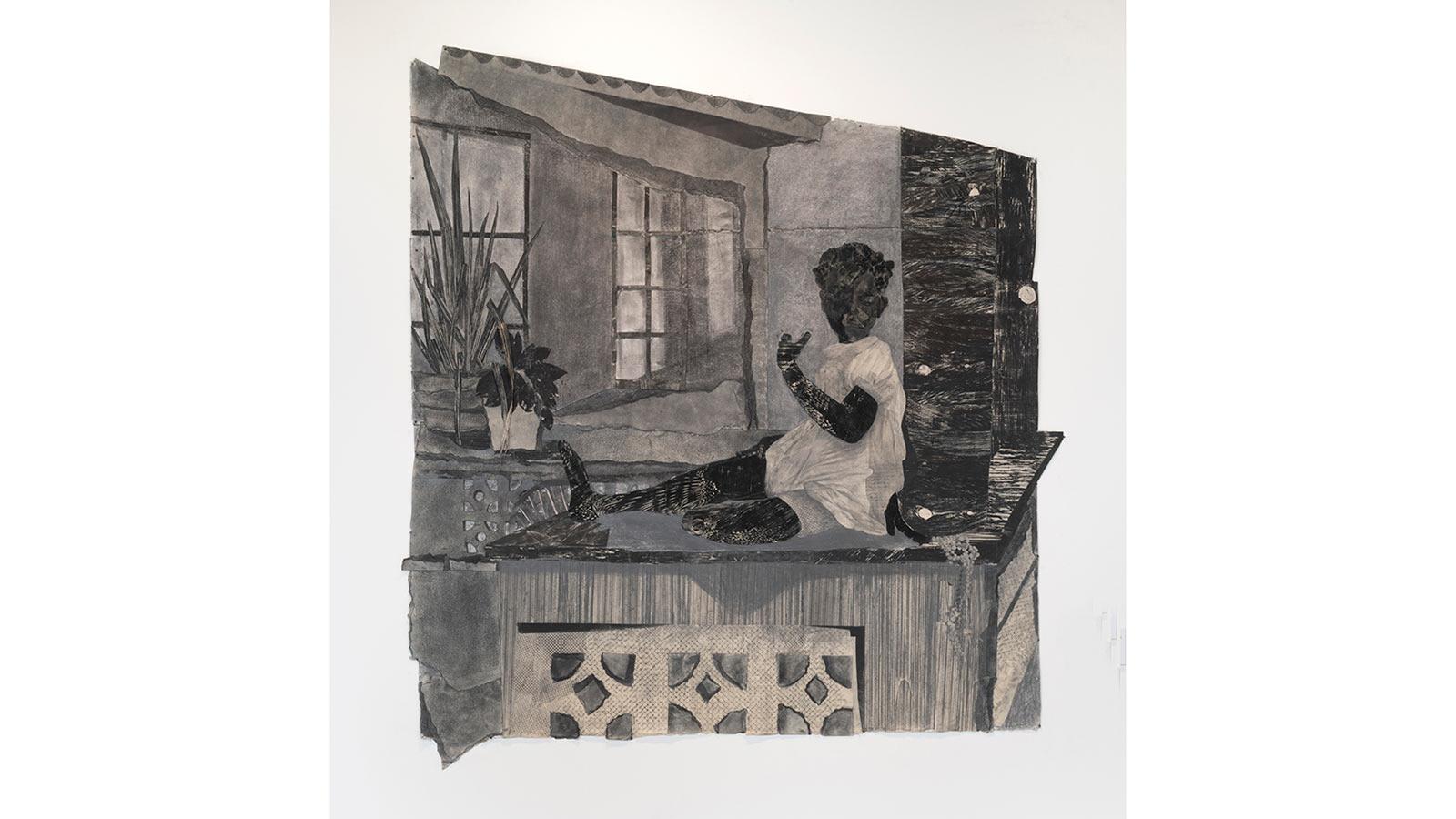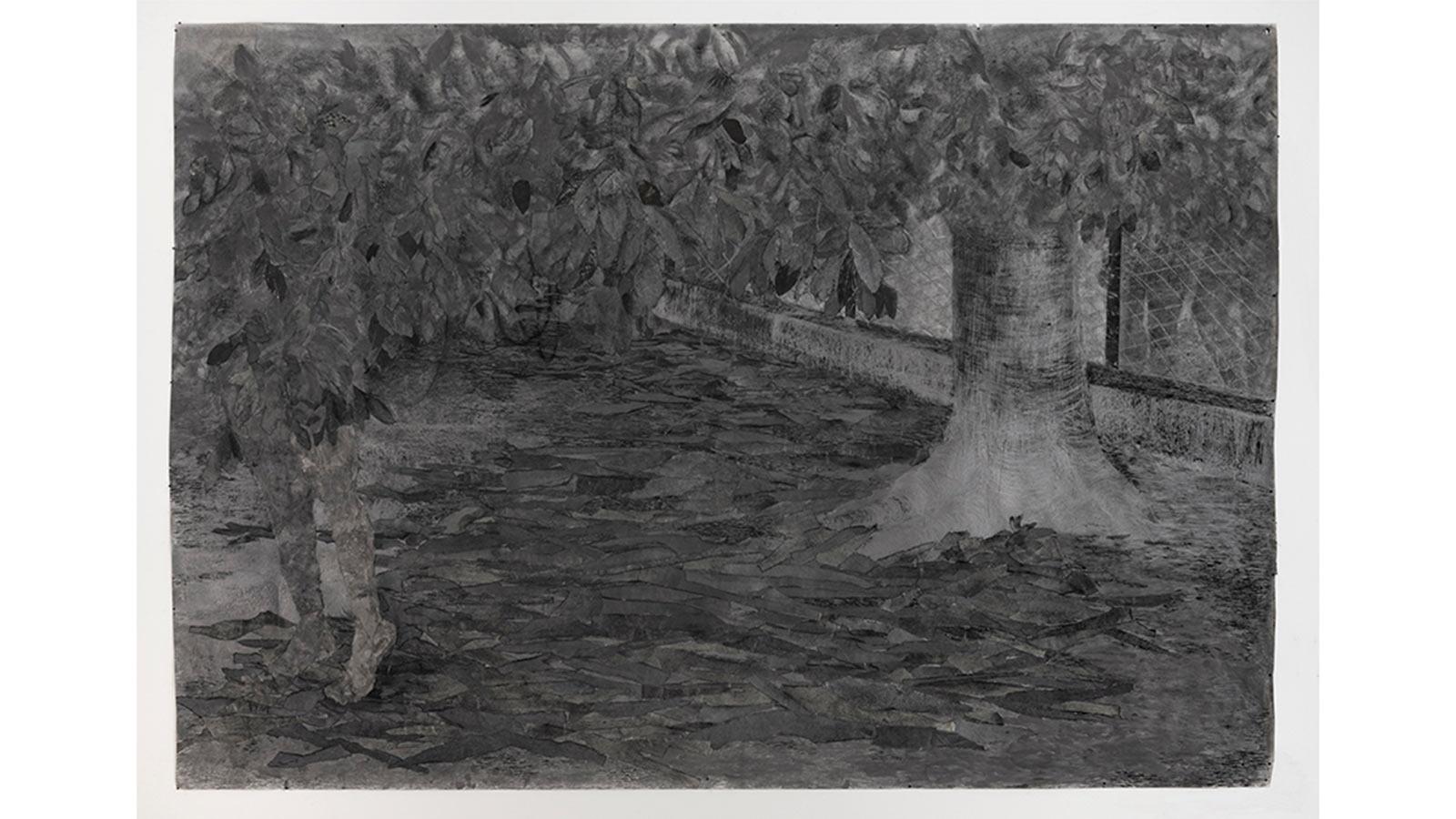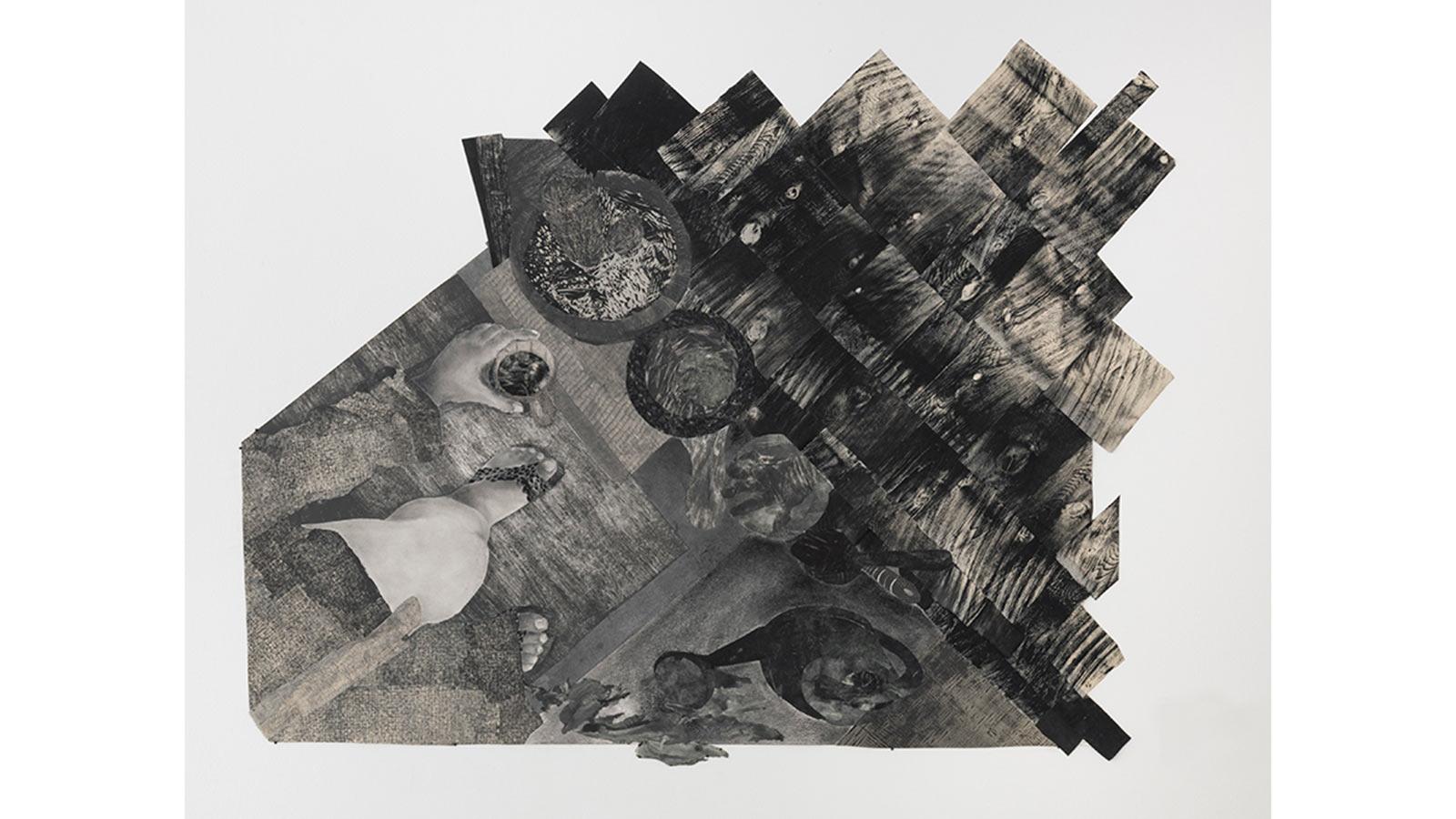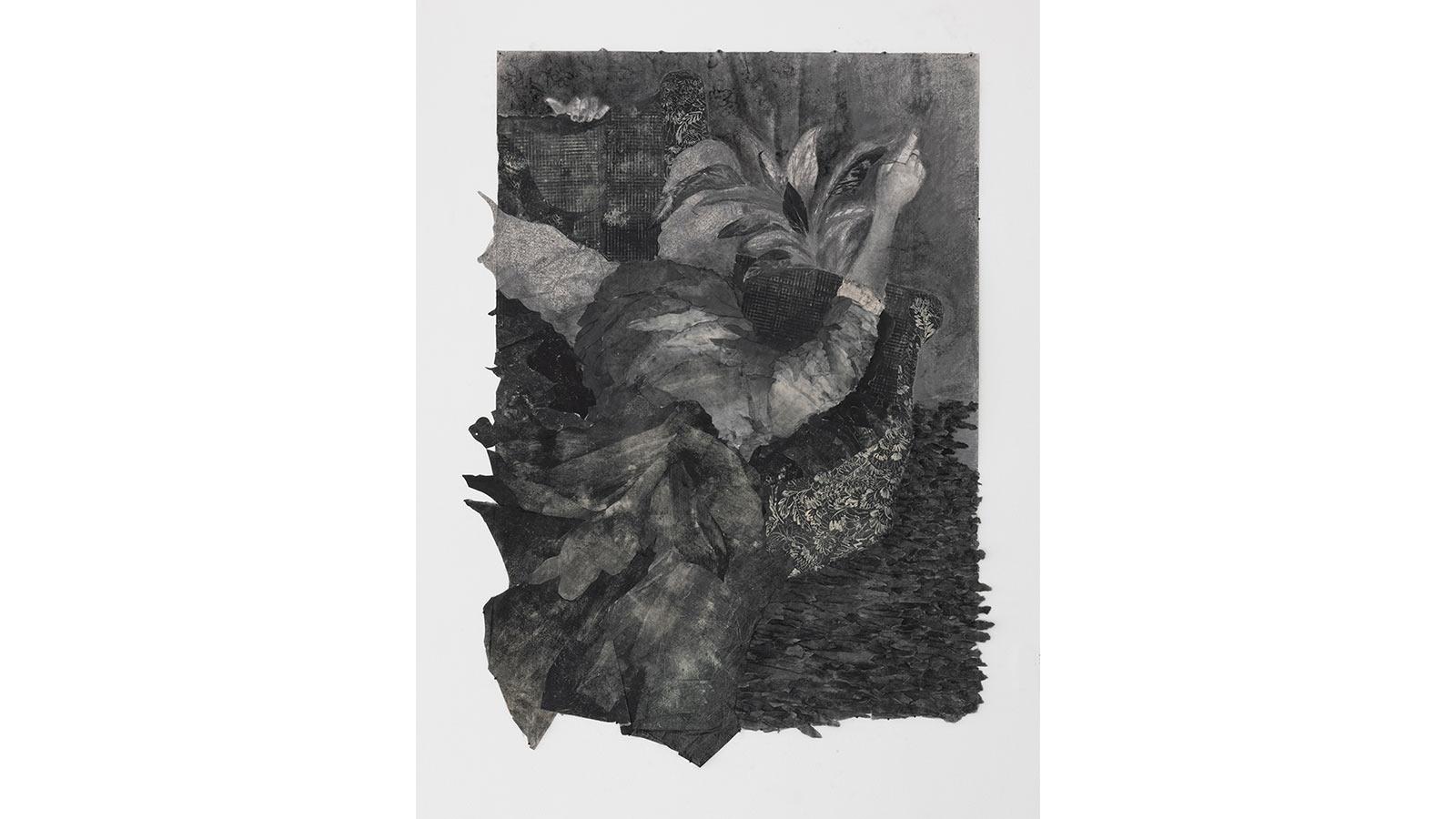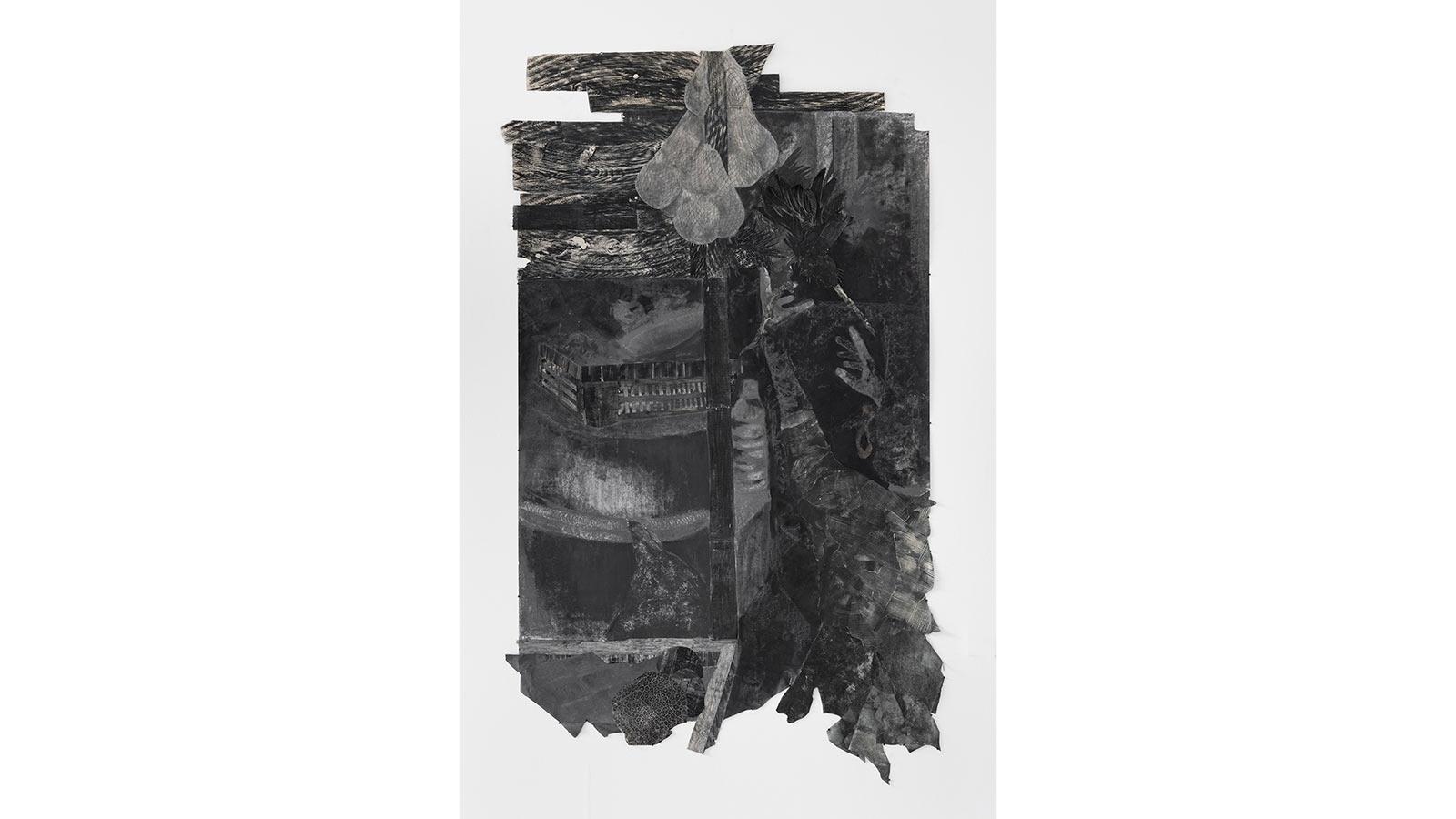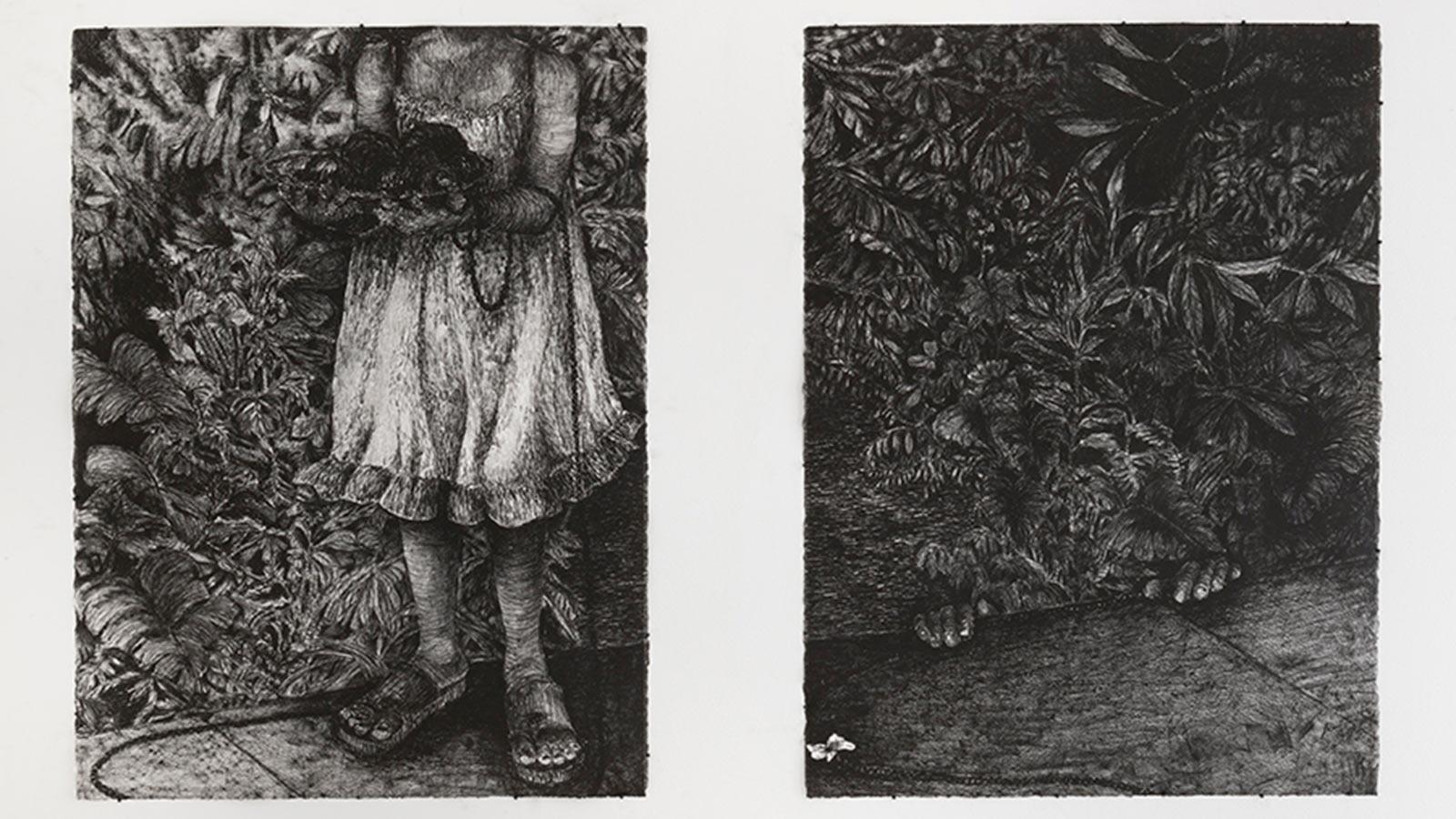 Night Gardener
graphite and relief print collaged on paper, 2020
Crest Piece
graphite, embossment, and monoprint collage on archival board, 2020
Ram Goat Salvation (matrix)
archival board, acrylic medium, tape, and relief ink, 2018
Confirmation in Victoria's Regia
graphite, monoprint on Kitakata paper, dry mounted on cotton paper, 2018
Pearl Snatcher
graphite, monoprint and relief print collaged on Kitakata paper, 2016
Mr. Farrel's Plumrose Tree
graphite and relief print collaged on paper, 2017
Omens of Things to Come
graphite, relief print, and silkscreen collaged on paper, 2019
Between Mary Jane's Shrouded Thoughts
graphite, monoprint, and frottage (from woodcut and linocut) collaged on paper, 2018
Bourda Market Massacre
graphite, monoprint, and relief print collaged on paper, 2018
The Night Gardener #1 and #2
lithograph prints, 2020
The inspiration for Quamina's new body of work in The Night Gardener exhibit came from one of her frequent late-night writings, "I left my story at the side of the road, carefully tucked away in a green glass bottle of hope." Quamina's artworks collectively function as a bildungsroman, a coming of age story told in layered black and white flashbacks to her childhood moving between Canada, Guyana, St. Vincent, and the United States. She states, "They are narratives that re-evaluate perceptions of cultural, racial and social norms, while simultaneously challenging preconceived, romanticized ideas of the Caribbean." Figures and places are literally and metaphorically pieced together and superimposed as the artist, perhaps entirely, reconstructs past events in her large-scale collages made of her graphite prints, drawings, and matrices. Describing her strictly grayscale work, Quamina states, "I've currently limited my color palette as a means of fully exploring the materiality of graphite and its ability to reflect, absorb and transcend the idea of memory." Although she exclusively uses one medium, she employs the graphite in many forms—solid, powder, wet—each marking multiple possible evolutions from past to present and place to place. Quamina's neo-diaspora experiences in assimilating to many new countries directly informs the way in which she uses traditional materials and methods to merge complex narratives.
Image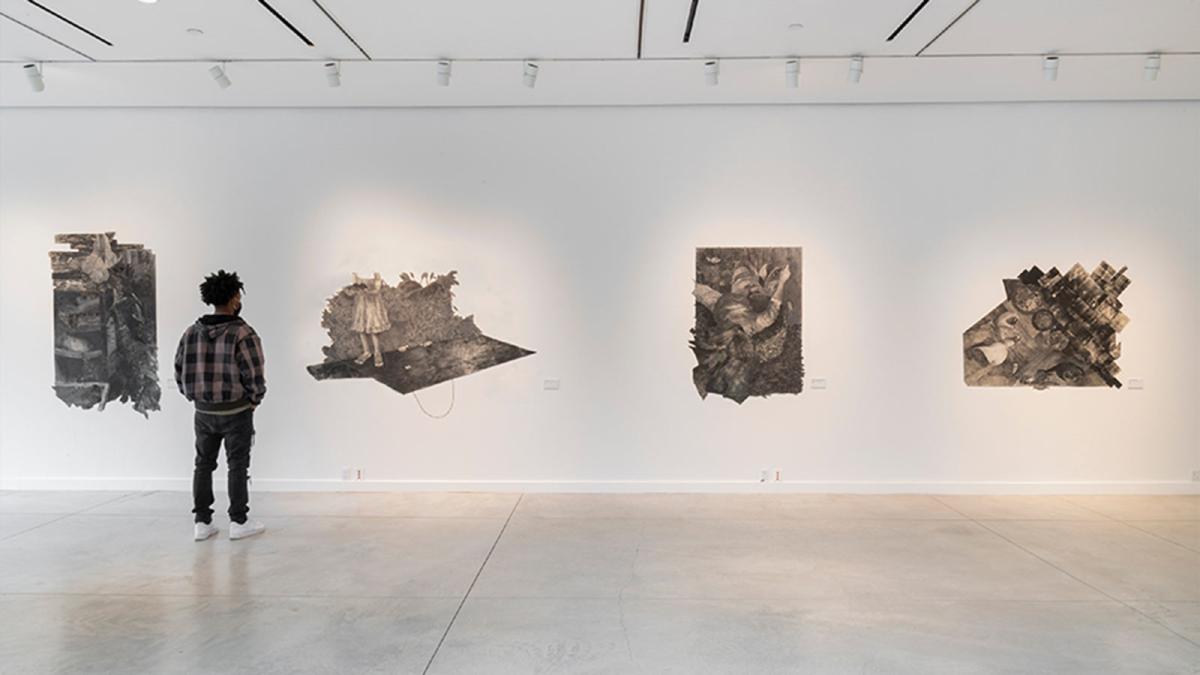 About the Artist
Simonette Quamina was born in Ontario Canada, and spent her early childhood living between South America, the Caribbean, and New York City. Her diverse upbringing is constantly woven into the narratives of her large-scale drawings, prints, and collages. She earned her Bachelor of Arts from the City College of New York and a Master of Fine Arts in Printmaking from the Rhode Island School of Design. She is the recipient of the Elizabeth Foundation for the Arts Studio Program in New York City, the recipient of the 2017-2018 Provincetown Fine Arts Works Center Residency and the 2017 Salem Art Works Fellowship as well as a current 2020 Queen Sonja Print Award nominee. Her work has shown both nationally and internationally. It has been acquired for private and public collections, including the Fleet Library's special collections. Her recent group exhibitions include Embody at The Mandeville Gallery, Figuring the Floral at Wave Hill Glyndor Gallery, Artist I steal from at Gallerie Thaddaeus Ropac in London, Coded at the Boston Center of the Arts, Mills Gallery, and Bathing at Planthouse Gallery in New York City. She maintains an active studio in New York City and is an Assistant Professor of Printmaking at the Massachusetts College of Art and Design.