Students
From engineering to empathy: a journey into UX research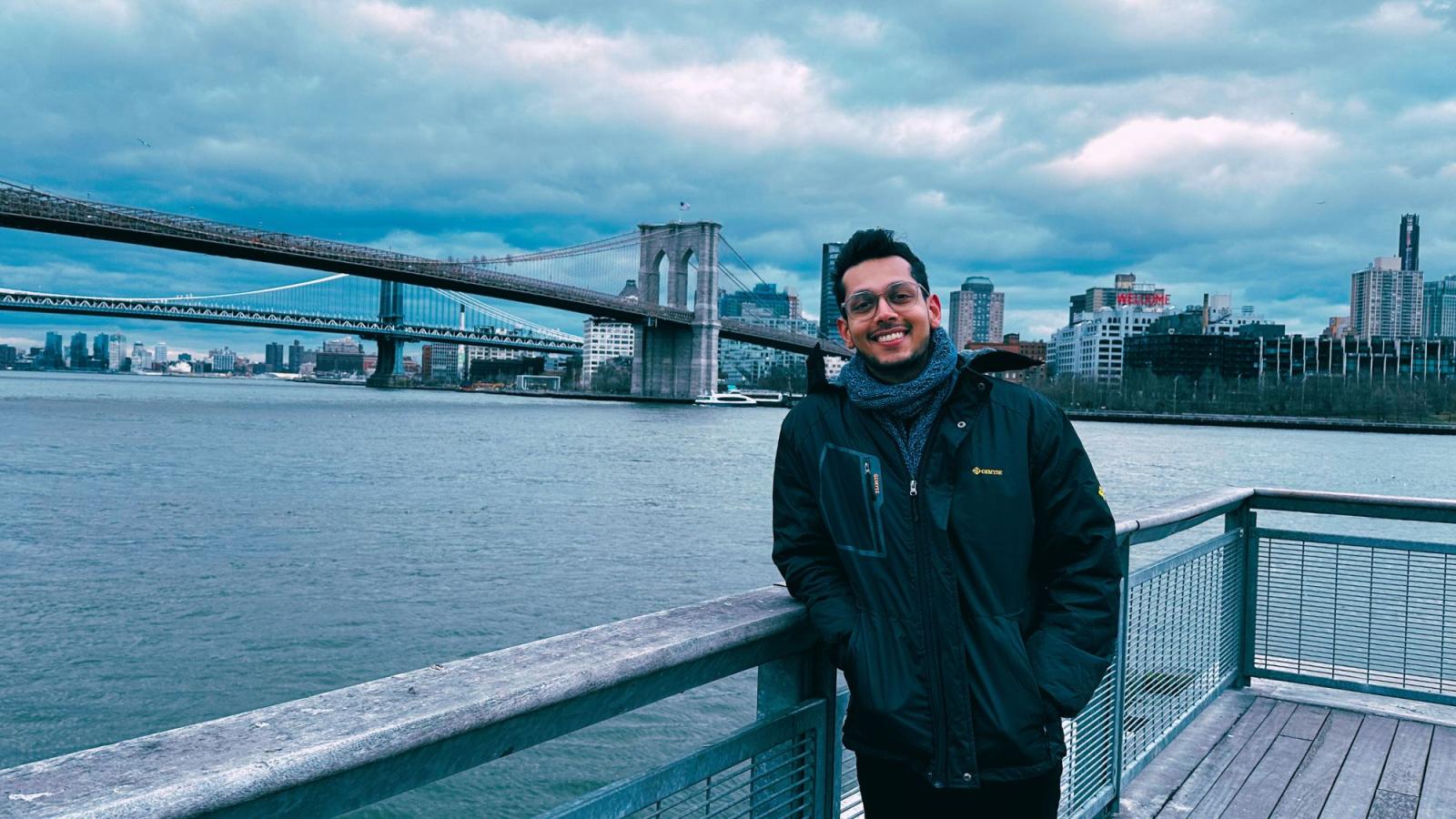 Nishant Doshi moved from India to New York to make the most of the opportunities Pace has to offer—and he's succeeding.
We caught up with Nishant for a few questions to learn all about his adventures in UX research, the many projects he's part of, and his advice for students considering human-centered design.
What brought you to Pace University?
During my undergraduate studies in computer engineering in India, I discovered a passion for graphic design while volunteering at a professional society. This experience sparked my interest in the intersection of technology and design, leading me to explore career opportunities in this domain. My journey led me to Pace University's MS in Human-Centered Design (HCD) program, where the curriculum aligned perfectly with my vision. Plus, the opportunity to study at the NYC downtown campus was impossible to resist! The location is very scenic, as stepping out you see the World Trade Center, which is a remarkable sight at night. My favorite spot in the city, pier 17, is also just a 10-minute walk away, which has a view of the Brooklyn Bridge that never gets boring!
What are some noteworthy projects you've worked on at Pace?
My academic journey at Pace University has afforded me the privilege of collaborating on a diverse range of projects with exceptionally talented peers and experienced faculty. One standout project was the "Access to Justice" project during the Research Methods for UX class, led by Professor Andreea Cotoranu. This multidisciplinary project spanned four months and involved regular collaborations with students from the Elisabeth Haub School of Law. It was both challenging and fulfilling, introducing me to teamwork across diverse backgrounds. Additionally, I had the opportunity to conduct remote user interviews to evaluate the usability of the Uber Eats app in a Human Factors & Usability Evaluation class under Professor Tony Wang.
The next project I'm embarking on is undoubtedly one of the most intriguing, thrilling, and intense endeavors of my academic journey. Under the NYC Design Factory, a select group of my peers and I have been chosen to participate in . . . a two week trip to Geneva, Switzerland, where we will work at CERN Ideasquare . . .
What have been your favorite classes so far, and what were they about?
One of my favorite classes to date has been Information Architecture, taught by Professor Lis Hubert. This course introduced me to the critical concept of structuring websites and applications with a focus on Users, Content, and Context. Our semester-long project involved evaluating the information architecture of Manduka.com, an e-commerce website specializing in yoga apparel and accessories. We conducted card sorts and tree tests to assess the website's effectiveness. The course was so enriching that many of us wished it were a core requirement rather than an elective.
Could you tell us about your role at the NYC Design Factory?
I'm incredibly fortunate to have been offered the role by Professor Cotoranu. As a Student Assistant, my responsibilities include planning and organizing design thinking workshops and activities, introducing the design thinking process to individuals new to the concept. I have the privilege of working in the newly constructed Seidenberg Design Factory Lounge, my favorite spot on campus (9th floor at 15 Beekman—ed). I'm also responsible for promoting the activities and events organized by the NYC Design Factory on social media. I'm excited about this opportunity and the chance to make a meaningful contribution.
What are your career aspirations upon graduating?
Upon graduating, I aspire to pursue a career as a UX researcher, which aligns with my ideal career path. I'm eager to work with outstanding companies and apply my knowledge to impactful, real-world projects. My strong interest in social work, which is rooted in the values of empathy, plays a significant role in my journey. These values were instilled in me from a young age, thanks to my family, and have greatly contributed to my development. It's worth noting that this strong foundation in empathy led to me being elected as the president of an international youth organization. I hope to contribute meaningfully to society in any way possible.
Tell us about the opportunities you've had at Pace
Pace University has consistently given me and my classmates many opportunities since the program started. One remarkable experience was my participation in a four-day design thinking virtual hackathon organized by Shenkar University of Art, Design, and Engineering in Israel through the NYC Design Factory. Working with people from diverse cultures and professional backgrounds, we ideated a solution for Monday.com, our client for the hackathon. This was the first project that allowed me to apply my academic knowledge to a non-academic context, resulting in an innovative extension to Monday.com's dashboard that utilizes AI, satellite imagery, and social media to aid first responders during disaster rescue missions by sourcing information from X (formerly Twitter) data. I've also had the privilege of interning at a tech startup in Chicago during summer of 2023, where I could apply my UX research and design skills to a real product. One memorable moment was when the CEO mentioned that students from the HCD program at Pace University that he had interviewed for the role stood out due to the experience and skills they portrayed. This is a testament to the quality of education at Pace University!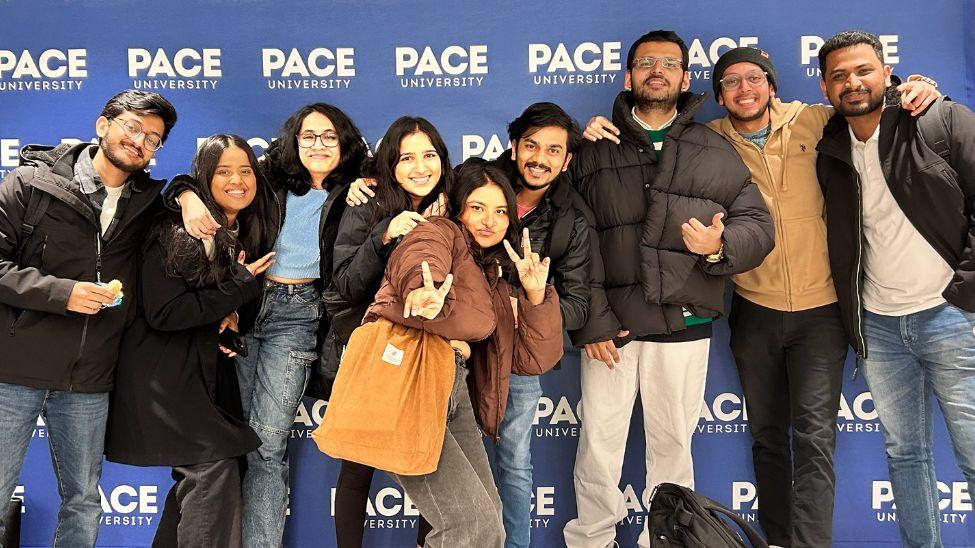 What's next for you?
The next project I'm embarking on is undoubtedly one of the most intriguing, thrilling, and intense endeavors of my academic journey. Under the NYC Design Factory, a select group of my peers and I have been chosen to participate in the Challenge-Based Innovation A3 project. This project involves a two-week trip to Geneva, Switzerland, where we will work at CERN Ideasquare, located within the CERN campus. This intensive two weeks marks the beginning of a seven-month-long project under the Product Development course, led by Professors Andreea Cotoranu and Luke Cantarella. Our objective is to leverage CERN and Attract's big data and deep technology to design solutions in alignment with the United Nations Sustainable Development Goal 12: Responsible Consumption and Production. I am incredibly excited about this opportunity and look forward to sharing more as the project unfolds. Track the journey of Team Oculus, of which I am a part, as we ideate solutions for the years 2030, 2035, and beyond.
Any advice for other students?
My advice for fellow students considering this program is to always remain open to conversations, as they are the breeding ground for fresh ideas. Do not shy away from asking questions; curiosity is a cornerstone of design thinking as it fosters creativity and ideation. Finally, practice empathy. Seek help when you need it and offer your assistance to others in their times of need. This approach has allowed me to establish meaningful connections and cultivate a network of talented friends.
Anything else you'd like to add?
When I am not busy with work, you could find me reading UX articles (Yes, I do that for fun!) or strumming to classic rock ballads from the 80s on my guitar! I am also a big football (Soccer) fan, and I never miss an FC Barcelona match! If you'd like to follow my UX journey, please visit my portfolio.