Image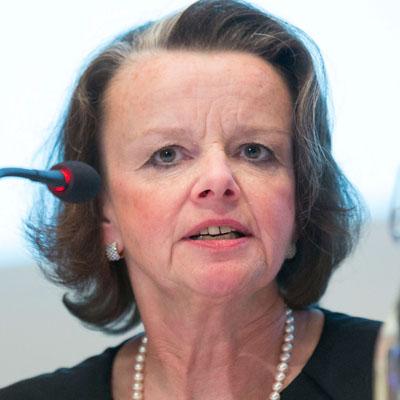 Can you switch from one intensely high-powered career to another that is equally demanding, without missing a beat? You bet—according to Elizabeth Mackay, Dyson Advisory Board member and in-house counsel for the (Hurricane) Sandy Recovery Division at the Department of Community Affairs in New Jersey. Mackay spent 20 years on Wall Street before embarking on a new journey that took her from law school to senior positions in the New Jersey Department of State and the Office of the New Jersey Attorney General. Among her accomplishments are advising on security fraud prevention, shaping important consumer protection legislation, and advocating for small businesses.
As a child, Mackay was a self-described "scrappy" go-getter, never letting the grass grow under her feet. She grew up in North Bergen, NJ, and attended the local high school. She was a good student, had plenty of friends, and was voted "Most Likely to Succeed" by her peers. Mackay was involved in the school's theatrical productions, and in the Russian Society; she studied Russian for four years. When she wasn't busy with school activities, she tutored younger students, read mail for a blind person, worked part-time at local retailers and had regular babysitting jobs.
Her college experience began at Rutgers University in New Jersey and segued to Pace University after her freshman year. Her father, an accountant at IBM, had attended Pace, but not graduated. Mackay was the first in her family to complete a college degree. At Pace, she majored in psychology, which she found fascinating on many levels. She also recalls her professors in the sociology and English departments, whose classes inspired curiosity, creativity, and an appreciation of the arts. Mackay credits her liberal arts education with encouraging her to read voraciously, write well, and think analytically—skills that have served her well.
"My [liberal arts] college education taught me to look at things from every possible perspective and explore all the options."
Graduating summa cum laude in 1980 and choosing not to go on to graduate school immediately, Mackay quickly found her place on Wall Street. "In those days," she explained, "going into banking was just another job—like going into the retail sector. It was a different environment from today; we weren't competing with Harvard business school graduates for positions." She started at a small financial firm that sent her to a class on "technical analysis." She loved it. Soon after she moved to Merrill Lynch, where she worked hard and rose through the ranks. In 1992, Mackay was hired as Chief Investment Strategist at Bear, Stearns and Co. where she remained for nine years. "I really enjoyed it," she said. "It was intense, but not as competitive as it is today. Which probably made it a lot more fun!"
Mackay notes that her liberal arts education was surprisingly relevant to her work as a financial analyst. "At Bear, Stearns, I had to consider all the different factors that might affect the market going forward: politics, economics, and societal changes. My college education taught me to look at things from every possible perspective and explore all the options."
Mackay had always been interested in the law. In fact, law school had been on her bucket list. When high-tech IPOs were booming in the stock market—a shift she was not entirely comfortable with—it felt like an opportune time to switch gears. Why not embark on a second career? It was a courageous move and a huge adjustment, but it proved to be a most gratifying change.
Attending Columbia University School of Law full time was a dramatically different experience from her previous work life. An already seasoned professional, Mackay found herself in classes with students who had recently graduated college and others with just a few years of work experience under their belts. Even some of her professors were younger than she. She also had to adapt to "just listening, instead of doing all the talking."
She also encourages taking on new challenges. "Don't be afraid to try new things. Ask yourself 'what's the worst that could happen?' You can have goals, but don't look too far down the road, because if an unexpected opportunity comes up you want to be able to act on it."
Unlike many of her classmates, Mackay felt no pressure about getting into a top law or consulting firm. She could afford to be more relaxed and enjoy the learning experience, regardless of where it might lead. She recalls attending a prosecutors' panel discussion on ethics, and finding it extremely compelling. Here was an opportunity to "do what's right." Ultimately, that steered her towards a new path.
After graduating from law school in 2003, Mackay went to work in the New Jersey Attorney General's office. The timing could not have been better. The business world was reeling from the repercussions of the Enron scandal, and securities fraud was a hot issue. With her Wall Street background, Mackay had the right combination of expertise and knowledge to tackle these pressing concerns. She spent two years as the Deputy Chief in the Bureau of Securities and then went on to the United States Attorney General's office in Brooklyn.
Prosecuting general crimes was both fascinating and challenging. But after a year Mackay knew that it was not for her. "I'm an optimist at heart," she explains. "I knew I'd lose that if I pursued a career as a criminal prosecutor." Instead, she moved to the New Jersey Division of Consumer Affairs at the Office of the New Jersey Attorney General, where she believed she could make meaningful long-term changes. In fact, one of her colleagues at the U.S. Attorney General's office had once told her: "Cases are great and big cases can make an impact. But if you really want to implement change, you do it through regulation." Her involvement with Consumer Affairs included a court ruling that ensured the same protection for used car buyers as new car buyers. Mackay said, "It is always lower income and less educated people who are most vulnerable to not getting a fair deal. And they're the ones who can least afford it."
In another role at the State, Mackay has worked on campaigns for Governor Chris Christie and Lieutenant Governor Kim Guadagno. She even wrote the memo that Guadagno presented to Christie outlining what her duties would be as a Lieutenant Governor. Prior to 2010, New Jersey was one of few states that did not have a Lieutenant Governor to assume governorship if the position became vacant. She has also been a procurer of professional services for the state at the New Jersey Treasury and in-house counsel for Hurricane Sandy disaster relief. She spearheaded a new initiative that made additional relief funds available to homeowners who were defrauded by a contractor while rebuilding their homes after Sandy. She observed, "Given climate change and the seeming increase in natural disasters, we need to approach these matters from a different angle. We have to be more focused on resiliency so we're not continually doing damage control."
Mackay received an Outstanding Alumni Achievement Award from Pace University in 1992, which prompted her to reactivate her involvement with the university. She became one of the founding members of the Dyson Advisory Board, which was reinvented by Nira Hermann in 2007. She has glowing praise for the college and is delighted to give back in any way she can. Mackay is most proud to have established a scholarship at Dyson for students who excel in biology and chemistry, given that "we don't have enough young people going into the sciences."
When asked if she had any words of wisdom for today's students, Mackay extols the value of a liberal arts education. "It teaches you to think and analyze. Reading a full spectrum of material helps you to write well in full sentences, which is becoming a dying art." She also encourages taking on new challenges. "Don't be afraid to try new things. Ask yourself 'what's the worst that could happen?' You can have goals, but don't look too far down the road, because if an unexpected opportunity comes up you want to be able to act on it." Her impressive curriculum vitae attests that Mackay doesn't just talk the talk. She has walked the walk.
What are her favorite travel destinations? Africa, unequivocally. She has been three times. "Watching a lion stroll by your jeep or the first time you see an elephant reminds you of the power of nature."
Books on her nightstand? The Geography of Bliss, by Eric Weiner; The Captain Class: The Hidden Force That Creates The World's Greatest Teams, by Sam Walker; and On My Own, about handling grief, by Diane Rehm.
Favorite indulgence? A pair of new shoes.
A historical figure she would like to meet? Winston Churchill. And perhaps a sports icon like Joe DiMaggio.
A last word? Be kind. My mother always said, " Saying 'good morning' is the least costly thing you can do."