Image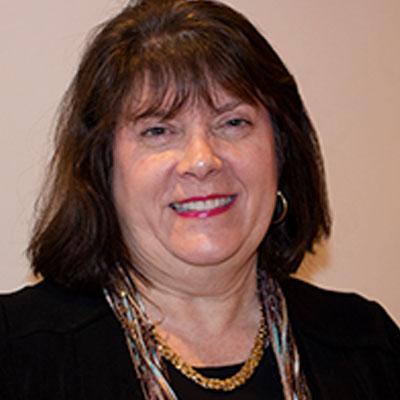 Thanks to her years at Pace, Judy Dennis was well-prepared to ride the rising tide of technology as it gathered force. In 1979, she was among the 20 students who first graduated in the new computer science major (12 of whom were women), which was created in her sophomore year. Many colleges did not even have a computer science major in the late 70s, and, in fact, Dennis had to begin at Pace as a math/ computer science major.
In high school in Norwalk, Connecticut, she enjoyed working with the tech crew of the school plays, but she described herself as the "quiet, studious type," who had always gravitated towards math and the sciences. A high school guidance counselor suggested she tour the Pace Pleasantville campus, and her parents were pleased that she wouldn't be too far from home and wouldn't get lost in an enormous school. A full academic scholarship based on her strong academic record sealed the deal.
"I had a student-centered education, I really emerged at Pace."
Dennis underscored the tremendous influence her parents had on her. Her dad ( a physicist who taught the top-secret Norden Bombsite in the Army-ARC Corp during World War II ) even borrowed her textbooks and taught himself Fortran, an early programming language. He also tested one of the very first computer games Pong, in the 70s. Her mom taught her how to stick up for herself and for others, and was highly respected in her Personnel work at Otis Elevators, almost a pioneer at the time. Both her parents valued education and pushed her to excel. "They encouraged us to defend the underdog, and to be honest and fair. We learned to not always trust first impressions and to give people a second chance."
Dennis also credited several committed Dyson professors with her success. Professor Charles Masiello, PhD, Mathematics department, organized extra help sessions that met on a regular basis, which enabled her (and others) to get through one of the advanced math classes, and who later became one of her personal references. Dan Farkas, professor of information technology, offered both theoretical and practical learning based on his own work in the computer industry. In Dennis' economics minor, she served as a research assistant for Professor Phil Young, which gave her solid job experience for her resume. "I had a student-centered education," she commented. "I really emerged at Pace."
Dyson's well-rounded education helped her develop other kinds of long-lasting job skills, too. She learned to speak on her feet, to write well and to express her own point of view. She feels that these skills can still help young graduates to excel in their careers. She also learned a great deal about deadlines, layout and production by working on the Pleasantville campus college newspaper, new morning.
"Focus. Don't be afraid to look for new opportunities and interests. It's important to know how to look for information, who to ask, how to work on a team."
Dennis admires today's Pace students, and she has some advice for recent graduates and job seekers too. "Focus. Do your homework. And don't be afraid to look for new opportunities and interests. It's important to know how to look for information, who to ask, how to work on a team. Opening new networks can help you expand your career options."
From her own career path, Dennis knows that there will be changes you cannot anticipate, and that you must adapt with the industry. In her 39 years with AT&T, beginning in White Plains, New York, Dennis relocated to New Jersey with the company (to AT&T Bell Labs in 1992). "I thought I would stay for a year, but ended up staying 39 years so far – for the work and the AT&T family, past and present." She has had several different positions, growing with the field and evolving with the company. "I flexed with the changes, and I still learn something new every day. The brain is a muscle; use it."
Heading up Y2K management for her organization at AT&T was one of "the toughest and the best" roles she had. "Twenty-eight million lines of code and no outages," she said proudly. Dennis started as a developer, moved into engineering, then back to IT, and is now a security liaison with Technology Development. She has a "bridge role" between business applications and the Chief Security Office, addressing compliance as well.
"I always wanted to pay Pace back for the scholarship I received, it's been wonderful to meet the [Harold T. and Mary F. Dennis Scholar] recipients."
Along the way, she completed a master's in management of technology in 1997 through Stevens Institute of Technology, a private research university in Hoboken, New Jersey. She also earned a management certificate through a cooperative Cornell-Pace program in 1984. The managerial certificate allowed her to bring her experience in line with her education, and the latter "kicked my brain back into gear," she added, improving her communication skills further and teaching her how to better bridge the gap between technological community and business people.
Not only did Judy Dennis begin a lifelong career at Pace, she also forged friendships that have lasted that long too. Her 10 or so close "Pace family and friends" are another enduring benefit of her Dyson experience for which she is grateful. The pals and their families have met yearly since the 90s for their own reunion, sometimes at the Jersey shore and other times in the Hudson Valley.
Dennis acknowledges that work-life balance can be tough sometimes. She learned how to balance better when each of her parents became ill beginning in 2001. She was able to work a four-day week in order to spend valuable time enjoying them and taking care of them in the last years of their lives. "As we get older, our priorities change," she reflected.
Through the creation of the Harold T. and Mary F. Dennis Scholarship in math, Dennis has honored the memory of her parents and their commitment to education and integrity. Alumni Development reached out to Dennis initially as a consistent donor. "I always wanted to pay Pace back for the scholarship I received," she said. This dialogue eventually led to the creation of the endowed scholarship four years ago. "It's been wonderful to meet the recipients," she added. Since then, she has joined the Dyson Advisory Board and has found the meetings fascinating. "The members are so sharp and so giving."
Learn something new? Dennis took up golf about five years ago. "It's a new interest with new people. I even joined a Wednesday night golf league." She is looking forward to golf travel now too, with her significant other, John, who has already retired from AT&T and Alcatel-Lucent, and is getting a head start on his golf game.
Bucket list destinations? She loves her yearly two weeks on Block Island, but has always wanted to visit Ireland, where her great grandparents emigrated from in the 1800s. Grand Canyon and Bryce Canyon are in her near future too.
And music? Irish music, which she enjoyed with her beloved parents, is a family tradition for Dennis. She has found Irish music fans as well among her colleagues at AT&T.
Crafty: Dennis has always enjoyed unique, handmade things, as her mom did. She enjoys passing down special pieces to her nieces and nephews.