Erica Johnson
Professor And Chair English, NYC
Image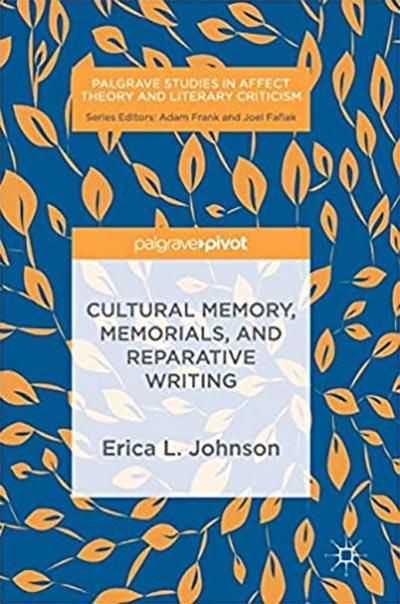 What is the central theme of your book?
Cultural Memory, Memorials, and Reparative Writing explores the ways in which personal and cultural memory are used in critical theory and memoir writing, and how cultural memory is signified by monuments and memorials in public space.
What inspired you to write this book?
My primary field of study has been Caribbean literature, and I was struck by the differences between memorial culture in the Caribbean and the U.S. although the regions are adjacent to one another and share many histories. Caribbean cultures tend toward remembering histories that the U.S. tends toward forgetting.
Why is this book important in your field? What does it contribute to the current body of knowledge on its topic?
This book crosses a number of fields of study, including Caribbean literature, cultural memory studies, and affect theory. By bringing these elements together in a culminating discussion of U.S. monuments and memorials, I offer a new take on what became a hotly debated and urgent issue while I was writing (ie. Confederate monuments and their removals among related topics).
Were students involved in any research related to your book? If so, please explain and name the student(s).
No students were directly involved although I learned a great deal from classroom discussions with students when I taught material related to my book.
Tell me about a particularly special moment in writing this book.
In writing the coda to the book in 2018, I was furiously trying to keep up with the ramifications of what had happened around Confederate monuments in Charlottesville in 2017 and I was able to honor the Peace and Justice Memorial that was unveiled in 2018—I was writing to current events as they unfolded thanks to my topic.
What is the one thing you hope readers take away from your book?
Monuments and memorials, for all of their limitations, are essential expressions of our shared memoryscapes. We cannot overlook the hundreds of monuments to oppression that still stand nor can we tolerate the absence of monuments to those who endured the rule of white supremacy. The landscape is in need of drastic change when it comes to collective memory about U.S. history as it is manifest in public art.
What other books have you had published?
Memory as Colonial Capital (co-edited with Éloïse Brezault, 2017), Jean Rhys: Twenty-First-Century Approaches (co-edited with Patricia Moran, 2015), The Female Face of Shame (co-edited with Patricia Moran, 2013), Caribbean Ghostwriting (2009), and Home, Maison, Casa (2003).
Fun Facts
When did you join Dyson College?
Fall, 2003.
What motivates you as a teacher?
Students' genuine curiosity and engagement, along with a firm belief in the power of literature to make the world a better place.
What do you do in your spare time; to relax/unwind?
Run, do yoga, spend time with friends and family, and go to as much theater as I can.
What are you reading right now?
I am mostly reading for class right now but I just picked up a copy of Colson Whitehead's, Sag Harbor; I'm a fan of his.