Antonia Garcia-Rodriguez, Professor of Modern Languages And Cultures, and Dan Greenberg, Professor of History
Image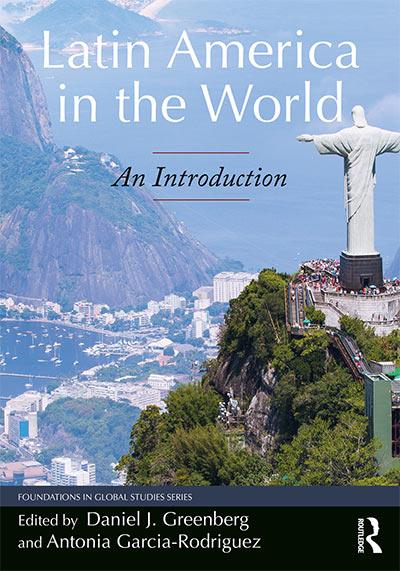 What is the central theme of your book?
Garcia-Rodriguez: The book is a volume of essays by acclaimed scholars of Latin American Studies. It offers a fresh, comprehensive, multidisciplinary entry point to Latin America and represents a major contribution to the field of Latin American Studies.
Greenberg: The main theme is that since the arrival of Christopher Columbus in 1492, Latin America has always been connected to the world in unique ways—through economic connections, language, culture, and political ideology—but despite those connections, each country retains a unique personality defined by distinct ethnicities (there is more race mixture than anywhere in the world), languages (several countries speak indigenous languages as their predominant tongues), and political movements. In a phrase, Latin America has learned to forge unity through diversity.
What inspired you to write this book?
Garcia-Rodriguez: It was a unique opportunity to coauthor a book and offer insights from multiple disciplines and traditions to provide a deeper mastery of the region.
Greenberg: I was fascinated and somewhat perplexed by the sweeping changes contemporary globalization brought to Latin America. As a specialist on Argentina, I witnessed the huge impacts of that process on virtually every aspect of life. Some of these were positive, like the rise of the national cinema to world prominence, but most—especially the economic impacts—were highly destructive.
Why is this book important in your field? What does it contribute to the current body of knowledge on its topic?
Garcia-Rodriguez: The book takes the reader on a compelling journey through Latin American studies, relative to contemporary issues and important in historical context.
Greenberg: Contemporary globalization is a subject that historians have mostly shied away from, probably because few are trained in economics, the main discipline involved. I was a partial exception, but still had to undergo a crash course in that discipline before writing my chapters. I would say that the original contributions the book makes on the impact of economic globalization is the most important contribution. Most people know that globalization has been embraced by many countries in the region. What they don't know, is how traumatic and destructive the changes were. The chapters on languages, Inca cosmology, and contemporary Latin cinema also contribute new ideas to understanding Latin American culture.
Were students involved in any research related to your book?
Garcia-Rodriguez: They were involved in the sense that I am always thinking of them when I write. I try to imagine what their questions and concerns would be and how this book would answer those questions and concerns.
Greenberg: I am very proud of the fact that our authors included one of our former students. Andrea Fernandez, PhD, who received her BA at Pace in art history, is the author of a chapter on ancient Inca cosmology.
Can you share a special moment when writing this book?
Garcia-Rodriguez: While writing the chapter on the languages of Latin America I came across many estimates of the number of languages that existed in the Americas before the conquest. The immensity of the loss and destruction of culture and language is impossible to quantify. The conquest was intimately linked with language. People and places were renamed and given new identities. Reflecting on these losses brought me back to my initial reasons for studying language and the close relationship between culture and language.
Greenberg: When my 15-year-old son, Ari, told me that the draft of my chapter on socialism in Cuba and Venezuela was "the best thing you've ever done, Dad."
What is the one thing you hope readers take away from your book?
Garcia-Rodriguez: I would hope that readers are inspired to continue to reflect on the topics on a deeper level. The richness of Latin American culture is the product of varied influences, many of which were represented in the book. Latin America has a complex and diverse history and there is no single ethnic category or identifier. Latin American or Latinx identity is also complex and has been referred to as "threads of color that intersect at various points to create an elaborate and intricate pattern of identities."
Greenberg: That Latin America's unique mix of cultures, languages and way of life makes it the most fascinating part of the world.
What other books have you had published?
Garcia-Rodriguez: Jesus Tato Laviera: An Exploration of the Transnational Nuyorican Poet (Boriken Press, 2017)
Greenberg: I am a contributor to The Seduction of Brazil, a volume by Antonio Pedro Tota, (University of Texas Press, 2009).
The book takes the reader on a compelling journey through Latin American studies, relative to contemporary issues and important in historical context.
Fun Facts
Antonia Garcia-Rodriguez
When did you join Dyson?
I have been a faculty member at Pace for over 30 wonderful years.
What motivates you as a teacher?
My most important motivation is my students. I strive to be a positive influence by opening their minds to new ideas and constructing knowledge that will be beneficial to them. I enjoy seeing the light in the eyes of those who discover a new fact or idea.
What do you do in your spare time; to relax/unwind?
I enjoy meeting with friends, travel, reading, walking on the beach, volunteering at church, going to museums, and off-Broadway theater.
What are you reading right now?
I just finished reading (for the second time) Puerto Rico: The Four-storeyed Country and Other Essays (Puerto Rico: El país de cuatro pisos) by José Luis González, a renowned twentieth century Puerto Rican author. This book examines Puerto Rican society and culture and it is gaining renewed interest with the growing population and importance of Latinx in the United States.
Dan Greenberg
When did you join Dyson?
I joined in 1990.
What motivates you as a teacher?
Trying to develop young minds and "making a difference" by encouraging the development of a social conscience.
What do you do in your spare time; to relax/unwind?
I am a "jack of all trades" in the sense that I do just about all the repairs and home improvement work on our Westchester County home, which is almost 100 years old. Just this week, I spent several hours on the roof and up on a ladder, fixing a busted gutter.
What are you reading right now?
Zealot: The Life & Times of Jesus of Nazareth by Reza Aslan.