Marcella Szablewicz
Assistant Professor Communication Studies
Image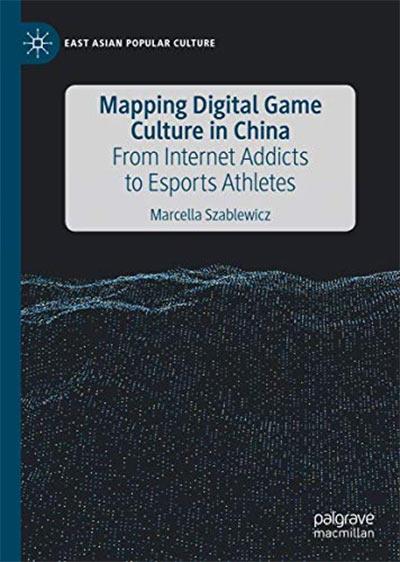 What is the central theme of your book?
Mapping Digital Game Culture in China is, as the title suggests, about digital game culture in China—think games like World of Warcraft, League of Legends, and DOTA 2.
Specifically, the book is about how digital games are positioned at the center of ideological battles about what it means to be a productive citizen in urban China. On one hand, those who immerse themselves in online games are accused of engaging in wasteful behavior—they are depicted as anti-social losers, school dropouts, and Internet addicts. On the other hand, China is home to a burgeoning esports culture, and successful online gamers can earn fame and fortune by competing in professional digital game competitions that are hosted throughout the world. For many urban youth, digital games have also become a source of sociality and solace; young people in China today face intense competition to secure housing, jobs, and even romantic partners. I argue that digital games offer a kind of virtual mobility in cases where real life socio-economic mobility seems unlikely. For these gamers, determined to fight back against the dominant perception that they are simply "losers" or "addicts," games and gamer identity are politically charged.
By closely examining the way digital games are discussed by the Chinese government, the state media, and the players themselves, my book pits differing narratives against each other in the attempt to elucidate the process by which digital media are culturally and socially constructed.
What inspired you to write this book?
The book grew out of my extensive fieldwork and observations of digital culture in urban China. From my first visit to Beijing in 1997, the year that witnessed the emergence of publically accessible Internet cafés, to fieldwork at professional digital gaming competitions in Kunshan, China in 2014 and 2015, I estimate that I have spent somewhere between three and five years' worth of time living and working in China. During the course of my travels, I witnessed how rapidly Chinese youth were embracing the Internet as a source of sociality and leisure.
While the Internet has certainly had a major impact throughout the globe, in China, controversy over the adoption of the Internet—and leisure practices such as digital gaming—has highlighted central tensions between the government and the people. Along with the complex ways in which Chinese citizens absorb and contest dominant ideas about what it means to be a productive member of society.
Why is this book important in your field? What does it contribute to the current body of knowledge on this topic?
In a great deal of the Western literature on the Chinese Internet, the perpetual question seems to be: Will the Internet democratize China? While this is a legitimate question, it has also become a trope that dominates the Western imagination of the Internet and the way it operates in authoritarian regimes. Rather than focusing on digital media's democratizing potential, Mapping Digital Game Culture in China focuses on how digital media is being used in everyday life, arguing that one overlooked contribution has been digital culture's role in filtering and solidifying popular affect, which refers to those collective emotions and states of being that often defy articulation. While acknowledging that digital gaming is implicated in issues of censorship, resistance, and politics, my book also examines how aspects of digital culture such as memes, games, and web series are outlets for structures of feeling that shed light on the collective hopes and fears of Chinese youth.
Tell me about a particularly special moment in writing this book.
The greatest part about writing this book was being able to infuse it with the stories of my informants, those people without whom this book would not have been possible. Ethnography, one of the few academic methodologies that invites authors to become storytellers, and writing stories that highlight the struggles and complexities of everyday life is a profoundly rewarding experience.
What is the one thing you hope readers take away from your book?
A study of Chinese digital gaming culture may seem obscure, but I believe that anyone can engage with this book as a way to think about their own relationship to technology.
If there is one thing I would like readers to take away from my book, it is that we need to be critical of news stories that employ simplistic binaries to think about digital media and its so-called "effects." Digital media is no one thing—it is constantly being shaped and reshaped by the people who create it, engage with it, and write about it.
I can't tell you how many news headlines I see in the United States that focus on the problems associated with spending too much time on the Internet or a mobile phone. On the other side of the coin, many news articles seem to invest blind faith in the ability of the Internet and digital media to solve all the world's problems; technology is seen as the panacea for all forms of inequality and injustice. While touting the possibility of the Internet to spread democracy around the globe, articles such as these fail to adequately consider the ways in which technology also creates new avenues for surveilling, controlling, and suppressing the free exchange of ideas.
Is there anything else you would like to share about your book?
This is my first book, and after over ten years of working on this topic, it is a great feeling to finally have it out in the world!
Rather than focusing on digital media's democratizing potential, Mapping Digital Game Culture in China focuses on how digital media is being used in everyday life…
Fun Facts
When did you join Dyson?
I joined Dyson in January 2014.
What motivates you as a teacher?
As a teacher, I am motivated by my desire to help students think critically about the ways that production and consumption of media impact our understanding of the world. I wish to impart the fact that knowledge is fluid and contested. Assumptions about what is necessarily "normal," or "natural" are deeply embedded in our language and social interactions; As a communication studies professor I hope to highlight and challenge these assumptions to help students uncover issues of power and knowledge that lie hidden within everyday discourse and practice.
What do you do to relax and unwind in your spare time?
I spend time with my husband and three-year-old daughter, Ramona! Some of my favorite hobbies are baking and hiking.
What are you reading right now?
To be honest, with a toddler in the house, the thing I read most often is children's story books (Two favorites right now are The Book with No Pictures by B.J. Novak and Island Born by Junot Diaz), but I am currently attempting to read two adult titles. The Amazing Adventures of Kavalier & Clay by Michael Chabon is a novel that was recommended by a Pace student, given that I lecture on comic books and the comic book moral panic of the 1950s. I'm also reading Algorithms of Oppression: How Search Engines Reinforce Racism by Safiya Umoja Noble in preparation for a lecture on algorithmic culture in my COS 244: Digital Cultures class.