Alumni
The Art of the Memoir
Nadia Owusu '05 and Marcos Gonsalez '15, both authored memoirs that have been published to critical acclaim. Here's what they had to say about their work.
Nadia Owusu, Aftershocks (Simon and Schuster)
Image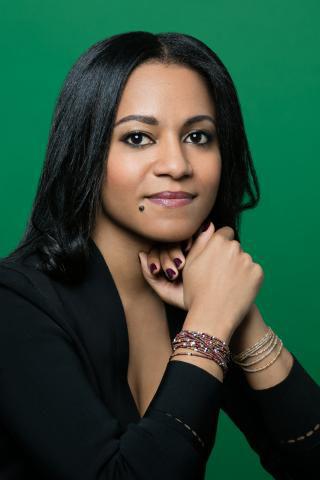 Nadia Owusu '05, political science, describes Aftershocks as "a literary memoir with threads of cultural history that explores themes like the complexities of family, the multiplicity of identity, the ripple effects, both personal and generational, of trauma, and the meaning of home." Owusu is truly a citizen of the world. Her father, who was from Ghana, worked for the United Nations's World Food Program, and her maternal ancestry is Armenian. Growing up she spent time in Rome, London, and East Africa. As well as being a writer, Owusu works as a racial justice organizer and on issues of equitable urban policy.
Released in January 2021, Aftershocks has topped many most-anticipated lists, including The New York Times, O, The Oprah Magazine, Vogue, and TIME. It was well reviewed by The Washington Post, The New York Times, The New Yorker, and others, and Owusu has had the opportunity to speak about it on NPR, podcasts, and at virtual events with independent bookstores across the country. She wrote the book as part of her thesis for an MFA in Creative Nonfiction from Southern New Hampshire University's Mountainview Low-Residency Program. Her first publication, a lyric essay chapbook titled So Devilish a Fire (2018), is a winner of The Atlas Review chapbook series, and her work has also appeared in publications including The New York Times, The Literary Review, and Catapult. In 2019, she was honored with a Whiting Award, given annually by the Whiting Foundation to ten emerging writers in fiction, nonfiction, poetry, and drama. Writers are awarded "based on early accomplishment and the promise of great work to come." Past recipients include literary giants Tony Kushner, David Foster Wallace, August Wilson, and Jonathan Franzen.
When did you first start writing?
I've been writing since I was very young. I can remember being five or six, and I would sit on the floor in my father's home office while he worked, writing what I called novels. I'd illustrate them myself and staple the pieces of paper together, and give them to my father to edit.
Describe yourself as a writer.
I write most days. I work full-time for a nonprofit, and I also teach creative writing in an MFA program, so I have to be disciplined about holding time on my calendar to write. That time is sacred. Some days, I only manage to write one sentence. I can revise a single sentence all day. But, writing is a big part of who I am. It's how I process the world. Most of the time, I'm writing to process questions I'm wrestling with—about myself and about the world. I write to understand more deeply. I don't always find answers. Sometimes what is revealed is a more precise articulation of the question.
What is your writing process like?
It depends. In an ideal world, I'd have hours and hours to write. I'd sit down in the morning and write until lunch. After lunch, I'd go for a walk to allow the ideas to breathe. Then, I'd come back and revise what I wrote in the morning for a few hours. I'm lucky, though, to have one day like that a month. Most of the time, I'm working with an hour or two between meetings, reading student work, and working on various projects for my day job. I set a timer and I start wherever I left off the day before. Some days, I do very little actual writing. In order to move forward, I find that I need to do a little research. Or, I'll realize that something doesn't feel quite right about the voice. So I'll take notes. I'll read poetry. I'll go down a rabbit hole of academic studies. Sometimes, if the writing feels stiff, I'll take a dance break. Movement is part of my process. How a piece of writing comes together is sort of a mystery to me, even after I've finished it.
How did the idea for Aftershocks: A Memoir come about?
I started writing Aftershocks as a private project. I didn't initially intend to publish it. I was working on a novel at the same time, and I thought the novel was the project I'd share with readers. But, as I said, I write to think through questions, and some of those questions are: Who am I in the world? Where do I fit into the histories of my family? I grew up outside of my parents' cultures; I wanted a deeper understanding of where they came from. It wasn't until years later that I went back to that material and wondered if I could make art out of it. Once I started working on that, it just took over. I set the novel aside and focused on this project that became a memoir.
What will you take away from your experience of writing Aftershocks?
Writing the book changed my life in so many ways. I starting writing the book from a place of grief. My mother left when I was two and my father died when I was thirteen. Through the writing, I was able to process what those losses meant in a way I never had before. But, I also found that I was writing toward love and connection. Love is on the other side of grief. Writing the book opened me up to new possibilities and new ways of seeing my relationships to people and places. It also gave me the opportunity to rewrite and revise harmful narratives I had internalized about my history—African history and the history of the Armenian genocide that brought my ancestors to America. Those histories are often ill-treated, as are the stories of families like mine—immigrant families, Black families, families from the so-called developing world. I wanted to narrate myself to deeper understanding of the beautiful and rich histories and cultures of the places my family came from and the forces and private choices that shaped my life.
What do you hope readers take away from the story?
So many of us are struggling with feelings of isolation, dislocation, and disconnection right now. Those are the feelings I reckon with in the book. Through the writing, I discovered how actively people in my life worked to love me, and how actively I held on to love for them, across oceans and continents, and estrangements. We can persevere in loving each other, even when, especially when distance or other forces make it difficult. That's the biggest message I took away from the experience of writing the book and I hope it's one that readers can connect to as they navigate these uncertain times.
Aftershocks is your first full-length book. How was crafting this work different than your other short pieces?
I approach everything I write one sentence at a time. I didn't know that I was writing a book when I started writing Aftershocks. I was just following my curiosities and seeing where they led me. That is a principle that I hope to continue to hold as I write essays, stories, and hopefully, my next book.
What has the response to Aftershocks been like so far?
I am so grateful for the reception it has received and for the conversations it has opened up. The book topped many most-anticipated lists, including The New York Times, O, The Oprah Magazine, Vogue, and TIME. It was thoughtfully and generously reviewed by The Washington Post, The New York Times, The New Yorker, and many others. And, it has been such a joy to get to talk about it on NPR, podcasts, and at virtual events with many incredible independent bookstores. I've also had the opportunity, through the launch of the book, to meet so many writers I admire. Building community has been the biggest gift to come from this process.
How do you entwine your work in community development and social change with your writing?
My work as a writer informs my approach to my social justice work, and my social justice work informs my work as a writer.
What's next?
I'm working on a novel. Its early days, but I'm enjoying the process.
Marcos Gonsalez, Pedro's Theory (Penguin Random House)
Image
According to author Marcos Gonsalez '15, English, Pedro's Theory "is about the quest for understanding one's past. Putting into perspective the social, historical, and political contexts that shape a childhood which might not have been fully apprehended until later in life. It is about how we work through trauma, and find some way in which to live with it for a better future. The book is about carving out spaces for queer people of color, for seeing how we can make a better and kinder world for all types of people."
Published in January 2021, the book was named one of 22 LGBTQ+ Books You Absolutely Need to Read This Year by The Advocate, and a Most Anticipated Book of 2021 by LitHub. It was well-reviewed by The New York Timesand Kirkus Reviews.
Gonsalez, an assistant professor of English, is best known as an essayist. His work has appeared in Inside Higher Education, Catapult, The Los Angeles Review, and The New Inquiry.
When did you first start writing?
I actively started writing around age 20. Besides literary criticism for undergraduate papers, I was writing personal essays. Around 24 or 25 is when I started writing more seriously, for publication.
What is your writing process like?
I'm a slow writer. I have to sit with an idea for some time to actually write on it, and once I do start writing, I fuss over the words and syntax I use. Constantly. But this fussing over words, semantics, and language is my favorite part of writing, toying around in order to get to precisely the feel I want, to say exactly what I want how I want to say it. Slow and steady is my motto!
How did the idea for Pedro's Theory come about?
Pedro's Theory came about after I started writing my doctoral dissertation. The questions I was asking of literature and critical theory in my dissertation were sparking investigations into my own life and mind. I was seeing linkages between the critical, professional, and personal, and I eventually realized Pedro's Theory was a separate project from my dissertation. That was when I knew I wanted to write for all kinds of audiences. It was a really exhilarating time.
What do you hope readers take away from the story?
I hope readers see how the critical and theoretical can emerge from life writing. Particularly for marginalized writers, that our lives and experiences can be the stuff of theory.
Pedro's Theory is your first memoir, correct? How was crafting a memoir different that your other work as an essayist?
Writing a full-length memoir is really tough! You have to think of the through-lines, how all the parts fit together to form some kind of whole. There's a constant tug-of-war to make sure the book is cohesive. Essays are different, and I love them more, primarily because they are self-contained. I see them as little morsels: small, compact, and you can devour them in a short span of time. I had to adjust my sense of attention and labor when I undertook writing Pedro's Theory.
What has the response to your work been like so far?
The response has been very great. A New York Times review is something a writer can only dream of! Readers and critics are seeing how this book moves, and what it does, which is motivating since it was a strange little book mixing memoir and literary criticism and cultural commentary. I have had different kinds of readers reaching out to express how moved they felt by the book. I look forward to seeing what further conversations and responses it generates.
What's next?
I'm working now on a book-length study on how queer of color theory speaks to the issues and concerns facing our world. I'm organizing the book around one significant theorist who has shaped my own writing and thinking. I'm really looking forward to sharing this project because it combines biography, theory, history, literary criticism, and autobiography to address a field of study and thinkers that have really changed my life for the better.