Students
Get Outside! 6 Ways to Celebrate Earth Month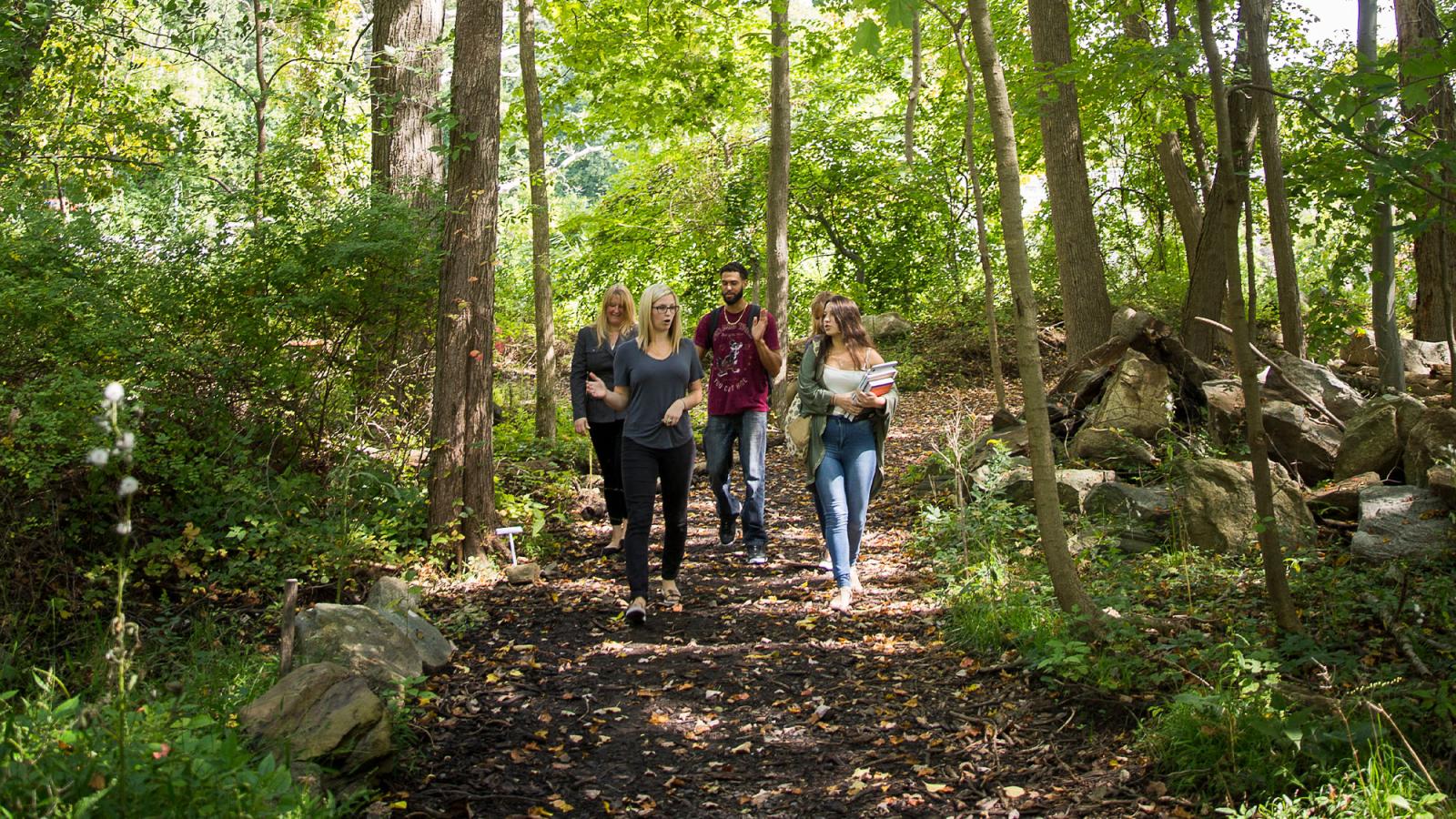 April is Earth Month, a time to enjoy all that nature has to offer, while reflecting on our role in protecting it. After two years of seemingly non-stop Zoom meetings, celebrating Earth Month presents a perfect opportunity to relieve our screen fatigue and get outside.
"There is interesting research, both in the lab and in the field, that finds that when individuals are exposed to natural settings, they show reductions in stress," says Associate Professor of Psychology Paul Griffin, PhD.
It's an important reminder, especially in a time when so many of us are ensconced at home usually staring at screens, that we not only take time to look outside, but be outside.
This Earth Month, consider taking advantage of all our beautiful world has to offer through the following suggestions, as well as the Earth Month events offered by Pace University and the Dyson College Institute for Sustainability and the Environment (DCISE).
1. Practice yoga or meditate outside
Yoga and meditation are, of course, beneficial ways to calm your mind and body—and practicing them outside is an added bonus!
"Practices such as meditation, yoga, or spending time in nature can be beneficial by activating systems that can lead to restorative shifts psychologically and physiologically," Professor of Psychology and certified yoga instructor Sally Dickerson, PhD, told WalletHub.
Allow the sound of the birds and the scent of blooming flowers to add to the experience as you find a sense of calm through movement or mindfulness.
2. Get your hands dirty
April is prime growing season! In addition to the benefits of simply being outside, seeing the (sometimes literal) fruits of your own labor through gardening can be a rewarding way to welcome the warmer months.
A "Get Dirty" Garden Workshop will be held at the Environmental Center on the Pleasantville Campus on Tuesday, April 28 from 12:30 p.m.–2:00 p.m. The workshops will provide information about the regenerative gardening principles used in preparing the soil and planting vegetables in Pace's Organic Vegetable Garden. Preregister by sending an email to aspillo@pace.edu.
3. Tap into your creative side
Professor of Art Jillian McDonald, MFA, notes that her favorite place to create art is outside and mentions that anyone can participate. She recommends grabbing a notebook and pen or pencil and heading outside to try a contour drawing.
"Contour drawings are observational line drawings of a subject—for example, a tree or a group of rocks—where an outline of the subject is drawn slowly and carefully, with no expectation to get it exactly right," she says. "The idea is to practice looking and keep your eyes on the object you are drawing instead of the paper. You can see where your line takes you and appreciate the things that grow and live around us."
While McDonald, who has been drawing a series of holes and underground roots, doesn't advocate for taking things from nature without specific knowledge of what you're considering using, she recommends taking a look at how New York artist Nina Katchadourian incorporates nature and art.
"Her Uninvited Collaborations with Nature, for example, don't require 'art materials' but rather her associative and curious mind, wit, and patience," says McDonald. "She mends spider webs, patches broken mushrooms, among many other projects."
4. Take a hike
Strolling through nature is an active and restorative way to enjoy the outdoors. In fact, Griffin notes, "A number of studies have found a link to spending more time in natural environments ('green spaces') with a lower risk for a number of mental illnesses, including depression."
Join DCISE Program Manager Sam Miller for a Fit Walk on the Pleasantville Campus Nature Trail on Friday, April 22, from 12:00 p.m.–1:00 p.m. through the beautiful, wooded area that surrounds campus and showcases a variety of wildlife and flora. The walk features several hills. RSVP by emailing smiller3@pace.edu.
5. Grab a camera
McDonald mentions that photography and videography are also accessible ways to embrace and capture the connection between art and nature, even without a professional camera.
"With mobile devices we can take photos or videos in natural settings – trying different compositions or camera angles or focusing on tiny details instead of the whole picture," says McDonald, who created a video chronicling all the different mosses she encountered in a year. "We can film strange happenings, or curious objects we find in nature. Countless apps exist to edit, manipulate, and augment our images."
In fact, Pace students from a class titled "Nature Exposed" have been engaged in nature photography, exploring "Man's Intrusion into Nature." Their photos will be mounted and showcased for public viewing on the Pleasantville Campus beginning on May 9.
6. Embrace the concrete jungle
City dwellers can still seek out and enjoy nature—even if it looks a bit different.  According to Griffin, psychological research confirms the benefits of getting outside, even in urban settings.
"There is so much inspiration in every tree and park," says McDonald. "Sometimes it seems like there is no nature left in New York, but we're so close to natural settings if we can take a bus and go for a hike, or even explore our urban parks. Those are planned nature, but you can only plan so much—what wants to grow will grow."