Students
Leveraging Connections in Sports Marketing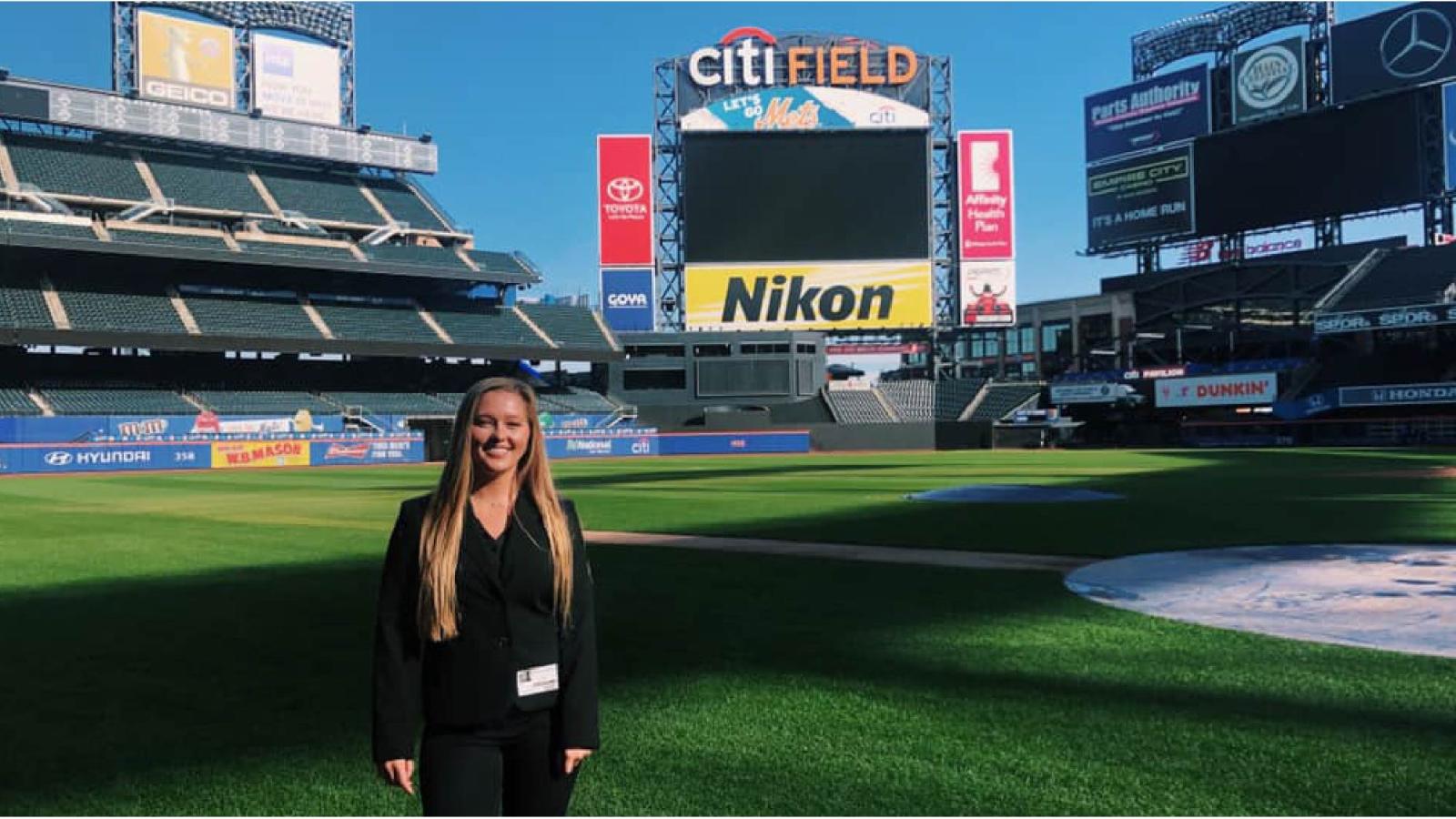 Jillian Lewandoski
Marketing & On-Air Promotions Associate Producer, MSG Networks
Class of 2021
BBA in Sports Marketing with a minor in Arts and Entertainment
Member Of: National Society of Leadership and Success, Trustee Recognition Award Recipient
Meet Jillian Lewandoski, a Sports Marketing major who constantly knows how to keep an ear to the ground to make sure that she is taking advantage of all of the opportunities that come her way. In the Spring of 2020, Jillian will be adding a third internship to her resume as part of the Student Associate Internship Program at Madison Square Garden in the Marketing Department. But her efforts have taken her beyond landing great internship opportunities. By staying in touch with her advisors, Jillian had the chance to attend the Leigh Steinberg Sports Conference for free. Additionally, last month she traveled all the way to Chicago representing Pace at the Sports Marketing Association Conference. We talked to her about how her experiences beyond the classroom have helped her keep her career moving forward.
Why did you choose Pace University and the Lubin School of Business?
I always kind of knew that I wanted to pursue a career in sports. When it came time to apply to colleges that offered a degree in Sports Marketing, which isn't that common, no school grabbed my attention until I visited Pace University. When I learned that Pace has such unique specialized concentrations, such as Sports Marketing and Arts and Entertainment Management, I knew that I would get an experience here that other schools could not offer. Being in New York City and getting the chance to study within a highly accredited business school made this a very easy decision for me.
What type of opportunities and resources have you been taking advantage of as a student at Lubin?
I am constantly on the lookout for events that pop up. Pace has a large professional network based right here in New York City and I make sure to take advantage of that whenever I can. Recently, Pace hosted the Leigh Steinberg Sports Career Conference. By staying up-to-date with Lubin's social media and with my advisor, I was able to attend this conference for free and meet many professionals from companies such as the NFL, ESPN, the New York Daily News, MSG, the New York Mets, Open Sponsorship, and more.
You recently attended the Sport Marketing Association's Conference in Chicago. Can you tell us a bit about that experience and what it meant to you as a student?
It was an awesome experience to say the least. I got the chance to build relationships with numerous professionals within the industry, renowned professors from all over the country, and aspiring students, like myself, who have the drive to excel on the business side of the sports industry. It meant so much to represent Pace and our Sports Marketing program. Getting a private tour of Wrigley Field was memorable too.
To me, #LubinLife means having my professors and peers push me to be the best version of myself. The atmosphere everywhere in Lubin is so motivating and inspiring, it pushes me to want to be the better than I was the day before.
Tell us about your internship experiences. What have you learned and how will you apply what you have learned to the rest of your career?
To date, I have held two internship positions. My first was in Business Development and Marketing at the Institute of Management Accountants and my current position is at the Rutgers University Athletic Department, working in Sports Marketing and Fan Experience. In both positions, I have accumulated an array of skills involving the creation of new promotional strategies, and currently I am learning what it takes to implement in-game promotions during collegiate sporting events. Knowing when to use both my analytical and creative skills in future positions is something I definitely will carry with me for the entirety of my career.
What motivates you to work hard and seek opportunities outside of the classroom?
I have a big drive to build an amazing future and career for myself. While the classroom work is incredibly important, getting real-world, hands-on experience is something you cannot learn from a textbook. My own motivation for wanting to reach a high level of success, in both my personal and professional life, is what pushes me to keep looking for more outside the classroom.
Do you have any advice for other Lubin students looking to take on new challenges and opportunities?
My greatest advice would be to never let fear decide your fate. It can be overwhelming to go through a very transformational and important phase in your life, but you never want your fears to control your future. Take advantage of every opportunity and new challenge, even if they are scary; this is so crucial to your growth in any aspect of your life.
What does #LubinLife mean to you?
To me, #LubinLife means having my professors and peers push me to be the best version of myself. The atmosphere everywhere in Lubin is so motivating and inspiring, it pushes me to want to be the better than I was the day before