Students
From Paris to New York City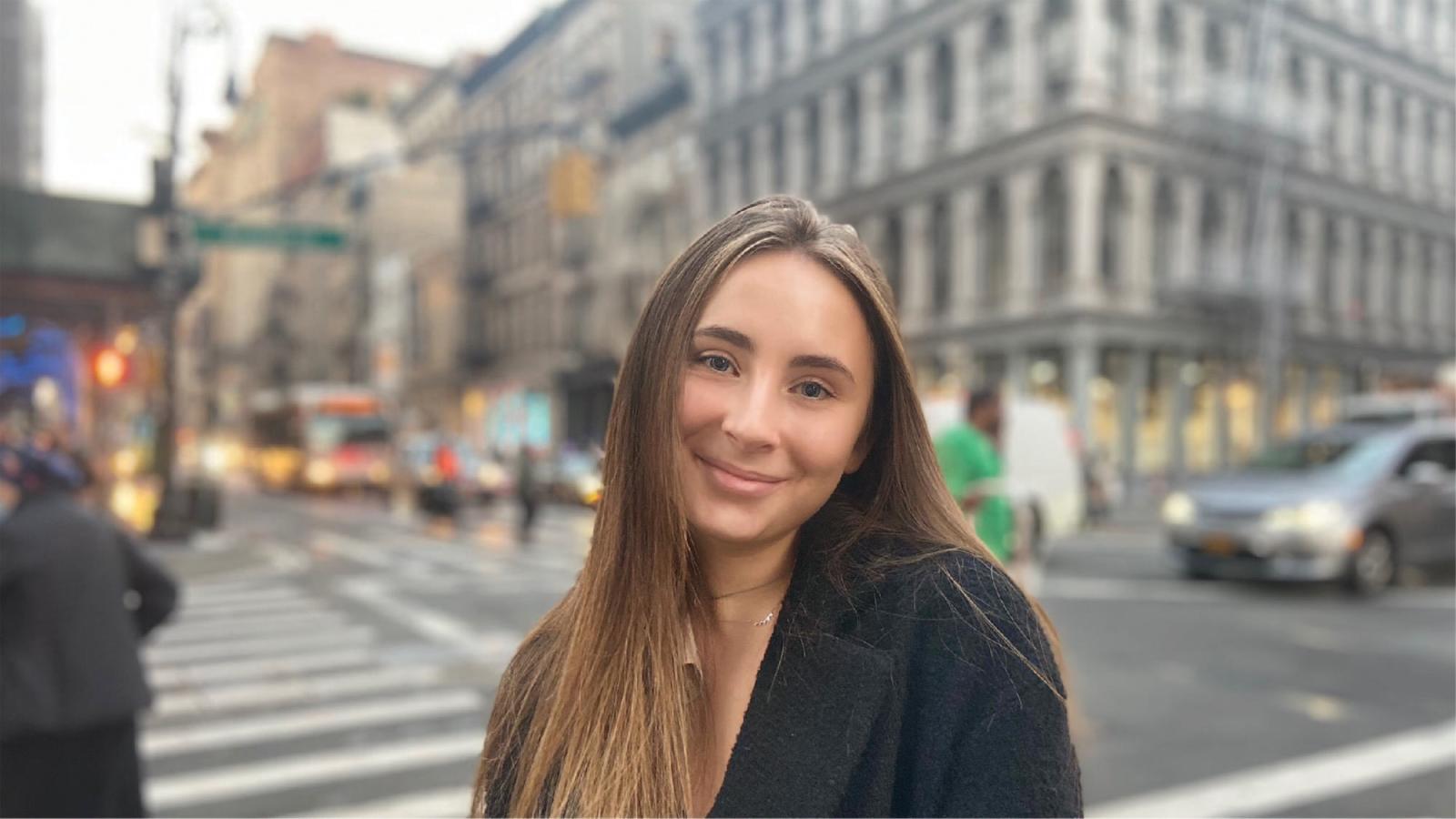 Maud-Amelie Mingoia
Class of 2024, Exchange student
The COVID-19 pandemic changed Maud-Amelie's original plans of studying abroad in Australia. She decided to attend Pace and this Fall she is one of the 120 exchange students hailing from France, Norway, and Portugal. The students are participating in a custom program offered by Lubin's Center for Global Business Programs. Studying in New York City has always been a dream of Maud-Amelie's. We talked to her about her time at Pace and how the relationships she has been building here have impacted her studies.
Why did you choose Pace University and the Lubin School of Business for your study abroad experience?
Studying in the United States has always been a dream of mine because of the concept of the American dream that we have in France. I appreciate the opportunity to practice my English and become completely fluent; this will help me to become a multicultural professional. I had visited New York before attending Pace, so I already felt very comfortable and enthusiastic about studying on the East Coast.
When choosing a school, I considered different factors and was very quickly convinced that Pace was the place for me. I became very excited about the New York City campus because of its location; presently, studying in the heart of the Financial District in Manhattan is both stimulating and motivating. What really convinced me to attend Pace was when I read about the school's placement in different rankings, reviews, and articles. Pace is a place that teaches respect for individuals and community. This has allowed me to feel confident in my choice. By choosing Pace I knew that I would study essential subjects for my career with renowned professors in a dynamic and modern environment.
What has been your favorite part about living in NYC?
My favorite thing about New York is that there is always something to do or see no matter where you go. The city is so big and the neighborhoods are so different from one another that you are never disappointed. There is something for everyone to discover all the time! This is the reason New York City is called "the city that never sleeps." Some of my peers have used their weekends to discover other cities in the United States such as Los Angeles, Chicago, or Washington, D.C. As for me, there is so much more for me to explore in New York. No matter where you are in the city, you feel like you are no more than 20 minutes away from everything; you can do so many different things in one day. You will never get bored.
I have grown as a person thanks to this academic exchange.
Are there any connections you made while at Pace that have been impactful?
I have had the pleasure of meeting a lot of students here, both exchange and local students. I have new friends from many different backgrounds; they are American, Norwegian, Israeli, French, and Portuguese. This has helped me to improve my language skills and has developed my perception of the world and myself. I have grown as a person thanks to this academic exchange.
Our foreign exchange student advisor, Jaclyn Callery, has been a tremendous help to me this semester. She is always available and attentive, and I am able to talk to her regularly. Jaclyn has helped me discover different things to do at Pace and she always gives me good advice. My stay has been made easier thanks to her help; I can't thank her enough for that.
The professors are also a great source of support. They are very understanding and their teaching styles are highly effective. I'd like to shout out my Comparative Management Systems professor, Professor O'Keefe, who always makes time during class to ask us how we are doing and on a weekly basis she asks us what new things we have discovered in New York. Further, she provides valuable advice about how to learn and write effectively. This has enhanced the way I study for exams.
Do you have any advice for exchange students looking to make the most of their time here?
The primary advice I would give to students who want to study in New York, specifically at Pace University, is to be open to venture into the unknown and talk to new people you do not know. If you need help, it's okay to ask for it! Americans have an approachability that is not found everywhere and it is generally enjoyable to talk to them. Moreover, in New York, people are very open-minded and welcoming. I have never regretted asking for help from the people around me and I have always been pleasantly surprised by my conversations with strangers. Of course though, remain cautious when approaching strangers!
Additionally, it is essential to have things worked out before arriving in New York, especially accommodations. Things can quickly become complicated if you have a list of what you are looking for in an apartment. It is essential to organize your departure well and not to neglect the paperwork and documents required for you travel and apartment leases.
What does #LubinLife mean to you?
In my opinion, my #LubinLife has probably been the most rewarding time of my life (I'm in my 20s). The Lubin culture has given me a lot to do every day between community, opportunity, and encounters with others, with myself, and with the world. I have been able to develop ideas and find a rhythm to my days thanks to all of the resources offered by Pace/Lubin and its environment.
#LubinLife is ambition and discovery.