Students
Turning Real-life Research into Impactful Advocacy
Image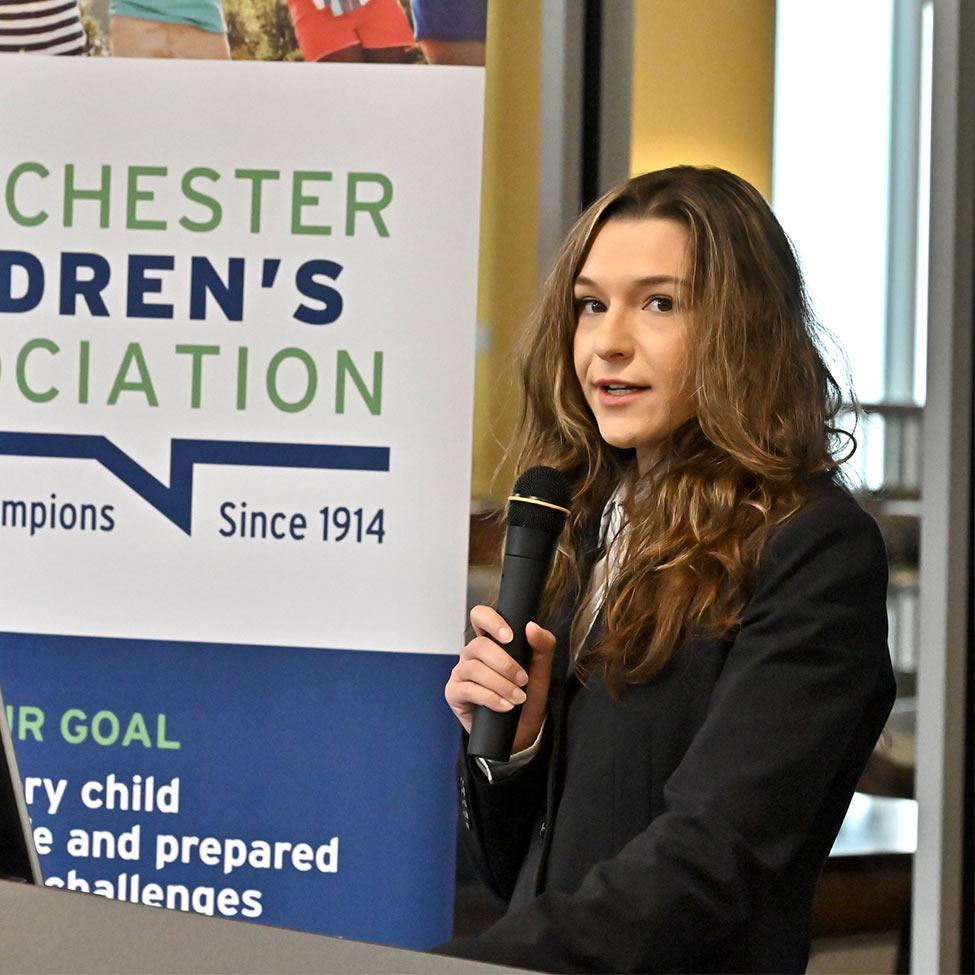 At the heart of Pace University's Master of Public Administration (MPA) program is the conviction that thoughtful research has the power to spur meaningful change. Sydney Moraitis '22, MPA, has experienced that firsthand.
In partnership with the Westchester Children's Association (WCA), Moraitis and Associate Professor and Director of MPA Gina Scutelnicu-Todoran, PhD, spearheaded the "Digital Access Survey: Perceptions of Parents in the K-12 Schools of Westchester County, New York," which surveyed families on their digital access, skills, and knowledge. Moraitis and WCA then presented the findings of the survey at a press conference on Pace's Westchester campus in October.
"The Covid-19 pandemic affected both students and families as their daily use of technology increased, which exacerbated the pre-pandemic digital divide," said Moraitis. "To provide support for those who lack technology access in terms of devices and skills by means of training, identifying what the needs are in a community is an important first step."
Embracing the Process
This survey was a follow-up to a study conducted during the height of the pandemic that MPA graduate Greg Rivera '21 had assisted WCA in conducting as part of his capstone project, focusing on the impact of remote learning on K-12 families in Westchester. Rivera and his mentor, Scutelnicu-Todoran, presented the recommendation for a follow-up survey a year later.
Moraitis's involvement was a bit serendipitous. She inquired about working on a project with Scutelnicu-Todoran and mentioned an interest in educational policy. Scutelnicu-Todoran connected Moraitis with WCA, and this time, the Pace MPA team owned the entire survey process, from origination to dissemination to evaluation. While the original survey focused specifically on remote learning, this year's iteration focuses more broadly on families' access to and comfortability with reliable internet and technological devices.
Moraitis noted that the biggest challenge in conducting this year's study was getting the survey to as many families as possible. "We believed that it was important to make efforts to include the voices of those who didn't have access to an electronic device," she said.
Moraitis and the team then met with a number of WCA's partner organizations in the area, persuading them to distribute hard copies of the survey to families in both English and Spanish and set up physical drop boxes for collection.
Presenting the Results
Upon analyzing the results, the survey demonstrated an inequity in technological access between children and families from under-represented groups and their peers in Westchester County. Among the 511 parents and guardians surveyed, 27 percent said they experienced stress related to technology at least once a week, while 31 percent felt technology made their children's learning more difficult. The survey also revealed evidence that participants who were of Hispanic/Latinx descent and whose primary language was not English were less likely to have internet access.
"We hope the survey findings will assist local leaders and stakeholders in determining the best ways to provide services to improve digital access and digital literacy so that both children and their families are well equipped to participate online," said Moraitis.
Scutelnicu-Todoran connected the results directly to recommended policy and action aimed at narrowing the digital divide: "School districts and the NYSED should provide digital resources that are geared towards different constituent groups – whether it's providing access to devices and internet, offering digital training, raising awareness about internet affordability programs, or ensuring multiple communication channels between educators, parents and students."
WCA proposed the idea of presenting these results and recommendations at a press conference. With the help of the Pace University Public Affairs team, the event on October 4 drew a diverse crowd, including Westchester County legislators, representatives from nonprofit organizations, news outlets, and members of the Pace community.
Putting Skills into Practice
The Pace Path aims to connect students to immersive, applicable experiences to enhance their learning. Moraitis is grateful for the opportunity through the MPA program and with WCA to have been wholly involved in the survey process from its design to the presentation of the results.
Image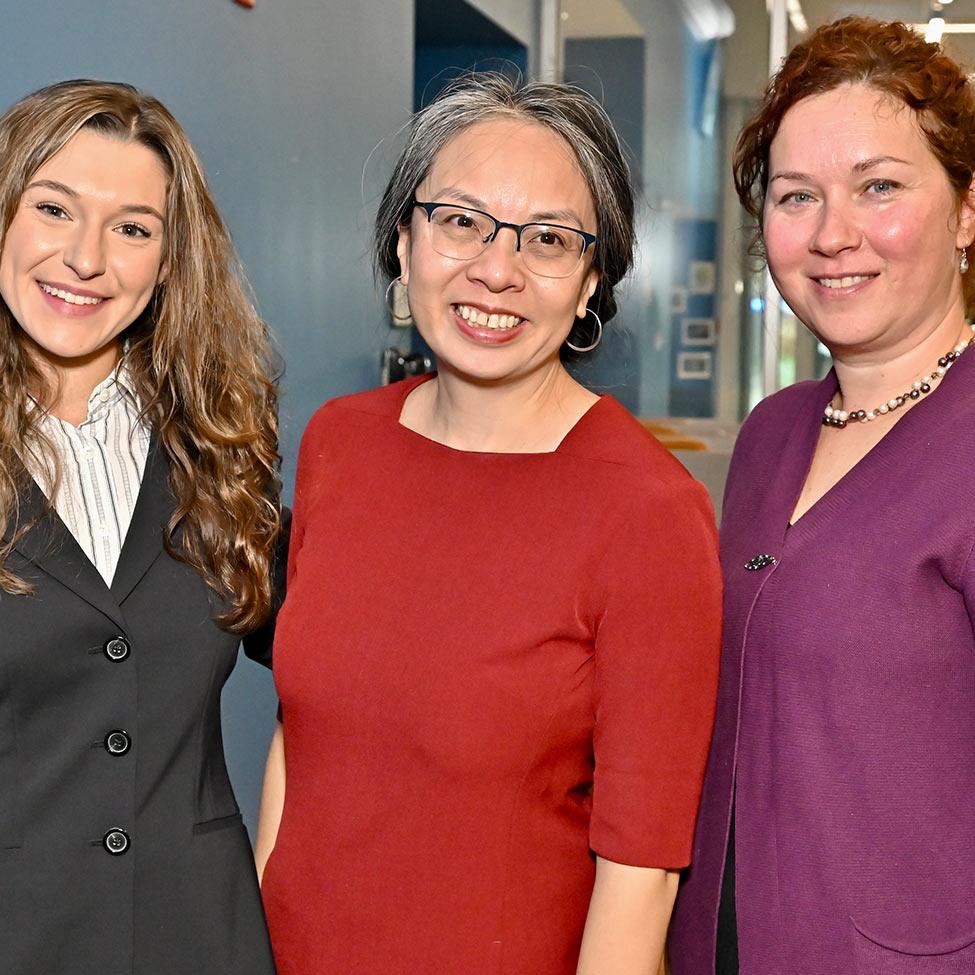 "This was a rewarding opportunity working with an advocacy organization as I learned the importance of forming relationships and partnering with other relevant organizations," said Moraitis. "I want to especially thank Limarie Cabrera at WCA who took me under her wing during my internship, providing me with opportunities to learn about creative and innovative ways to express data."
Scutelnicu-Todoran notes that these kinds of opportunities help set the Pace MPA program apart.
"Real-life learning experiences such as this provide our students with the opportunity to acquire practical skills, participate in policy making, network with potential employers and make a difference in their communities," she said. "Once our students graduate, they have the necessary skills to be successful and secure a job in their area of expertise whether it's in the nonprofit, public or healthcare industry."
Real-life learning experiences such as this provide our students with the opportunity to acquire practical skills, participate in policy making, network with potential employers and make a difference in their communities.
And in learning these skills, students are empowered to enact real change. As a result of the survey, WCA is advocating for Westchester County to earmark $125,000 in the 2023 budget to establish a digital equity and inclusion director position. Additionally, WCA has created a digital access workgroup, consisting of school district officials, representatives from country departments and community organizations, children's advocates, and local elected officials to spearhead initiatives to increase and improve digital access and literacy for Westchester families. Additionally, WCA has launched awareness campaigns to notify families of available resources and trainings.
"Collaborating with stakeholders in the county who are also passionate about digital equity enlightened me on the power of working together to bring forward meaningful change," said Moraitis, who hopes to work for a nonprofit focused on youth social-emotional wellness upon her graduation in December. "I look forward to putting what I have learned into practice moving forward."