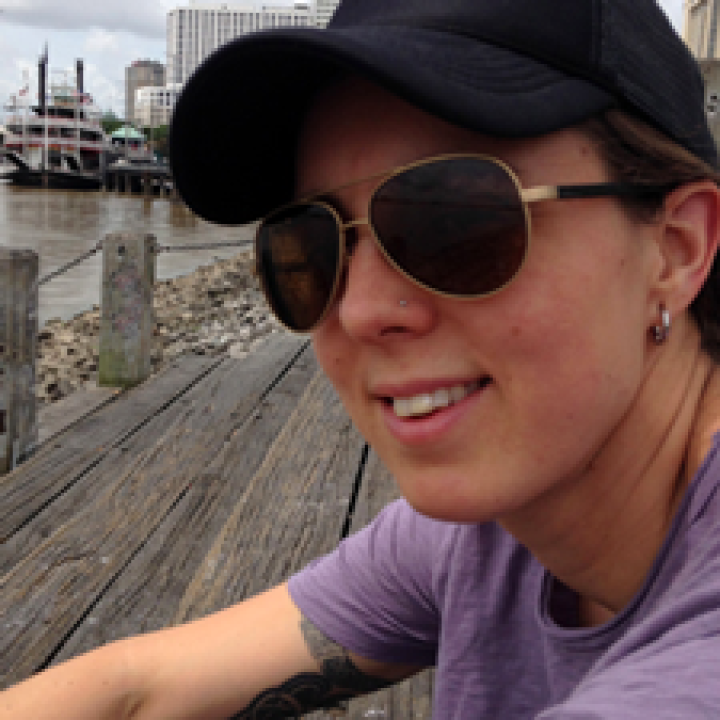 Charlotte Becket
Associate Professor
Associate Dean
Dyson College of Arts and Sciences
Art
Biography
Faculty Bio
Charlotte Becket lives and works in New York City where she is also an Associate Professor in the Art Department at Pace University. She received her BFA from the Cleveland Institute of Art and an MFA from Hunter College in New York City. Recent solo and two person exhibitions include RuSalon in Brooklyn NY, Crisp Gallery in London, LEAP in Berlin and Taxter and Spengemann in New York City. Her work has also been included in group exhibitions at Gazelli Art House in London, the Contemporary Art Center in Cincinnati, and Anna Kustera, NY Studio Gallery, Leslie Heller, Passerby and the Invitational Exhibition Academy of Arts and Letters, among others in New York City. She has been invited to lecture on her work at various galleries and universities and has been the recipient of grants from The New York Foundation for the Arts, The Joan Mitchell Foundation, The Tony Smith Foundation, and the Verizon Foundation. Her work has been reviewed in; The New York Times, TimeOut London, ArtForum, and Art in America. Her work was recently included, 100 Artists, a compendium of interviews with 100 international contemporary artists by Francesca Gavin.
Awards and Honors
Socrates Sculpture Park & the New York Cultural Commission, 2015, Socrates Sculpture Park Artist in Residence
Research and Creative Works
Research Interest
My work includes kinetic sculptures and installations that create projected imagery produced through analogue methods. The sculptures contain lights and curved glass lenses to project images of themselves onto the surrounding space. The light projections allude to digital screens, surveillance, hallucinations and mirages. The relationship between the physical sculptures and their projected images initiate a dialogue between physical and perceived boundaries, agency and power. Our environment is one where automation, information, consumerism, progress and erosion are collapsed into a muddle that both celebrates and questions its status quo. The mechanical sculptures I construct explore the complexities of this ambivalence through errant machinery, polished forms that collapse and resume composure, and illuminated projections or screens that depict only the looping and chattering mechanisms behind them. The work aims to imbue these absurd and irrational scenarios with a pathos, humor and aesthetic seduction so as to draw out a conversation about our own relationship to speed, progress, technology and survival within perpetually fracturing and rearranging circumstances. The work's looping, rhythmic motion transforms the sculptures from motorized machines to figural abstractions or landscapes. The mechanization in these pieces work in opposition to what we demand of the mechanized world around us. It seeks to offer something else, something that is slow and inefficient but more closely aligned with our selves.
Artistic and Professional Performances and Exhibits
Emerging Artist's Fellowship Exhibition
[Art - Exhibition, Competitive] Charlotte Becket and Roger Sayre, Socrates Sculpture Park, Queen, New YorkSmall Towns
[Art - Exhibition, Competitive] Charlotte Becket and Roger Sayre, Eastern Washington University, Cheney, WAFluid
[Art - Exhibition, Competitive] Charlotte Becket, New House Center for Contemporary Art, Staten Island, New YorkMono No Aware
[Art - Exhibition, Competitive] Charlotte Becket, Mono No Aware at Light Space Studios, Brooklyn, NYExit; Cartografia de la Creatividad
[Art - Exhibition, Competitive] Charlotte Becket, Museo de Arte de Sinaloa, Culiacan Mexico, Culiacan MexicoNYFA Hall of Fame Benefit
[Art - Exhibition, Competitive] Charlotte Becket, New York Foundation for the Arts, New YorkBeyond 1.1
[Art - Exhibition, Competitive] Charlotte Becket, Tanya Grunert Gallery, New YorkNo Egress: Dark Ecologies
[Art - Exhibition, Competitive] Charlotte Becket, Heliopolis Gallery, BrooklynIN-­-SITE: The Intersection of Art and Architecture
[Art - Exhibition, Competitive] Charlotte Becket and Roger Sayre, The Lennie Pierro Memorial Art Foundation with The Village of South, South Orange, NJCritical Review of Exhibition "Dlectricity"
[Art - Art Works in Publication] Charlotte Becket, Midtown Detroit Inc., Detroit, MIDlectricity Nuit Blanche, Detroit, MI
[Art - Exhibition, Competitive] Charlotte Becket, Midtown Detroit Inc., Detroit, MIArtist Interview for the art blog Platinum Cheese
[Art - Art Works in Publication] Charlotte Becket, Platinum Cheese Art and Culture Blog, BrooklynKings and Queens
[Art - Exhibition, Competitive] Charlotte Becket, Lorimoto Gallery, Bushwick Brooklyn, Brooklyn, NYIt Ain't What You Make It's What Makes You Do It
[Art - Exhibition, Competitive] Charlotte Becket, Valentine Gallery, Ridgewood Queens, Queens, NYCritical Review of Exhibition "NEWD Art Show"
[Art - Art Works in Publication] Charlotte Becket, COED Contemporáneo, BrooklynNEWD Art Show
[Art - Exhibition, Competitive] Charlotte Becket, The 1896, Brooklyn, NYCritical Review of Exhibition "Kings and Queens"
[Art - Art Works in Publication] Charlotte Becket, Lorimoto Gallery, Bushwick Brooklyn, BrooklynCritical Review of Exhibition "It Ain't What You Make It's What Makes You Do It"
[Art - Art Works in Publication] Charlotte Becket, Valentine Gallery, Ridgewood Queens, QueensCritical Review of Exhibition "It Ain't What You Make It's What Makes You Do It"
[Art - Art Works in Publication] Charlotte Becket, Valentine Gallery, Ridgewood Queens, QueensSolo Exhibition- "Nothing on Top"
[Art - Exhibition, One-Person] Charlotte Becket, Brunswick Window, Jersey City, NJ, Brooklyn
Courses Taught
Past Courses
ART 130: Sculpture I
ART 140: Drawing I
ART 164: Principles of Design
ART 169: 3D Design
ART 169: Three-Dimensional Design
ART 233: Public Art in Urban Context
ART 241: Drawing II
ART 297: Topics:Casting and Mold Making
ART 298: Topics: Installation Art
ART 306: Project Studio A
ART 307: Project Studio B
ART 330: Sculpture II
ART 390: Art Sdo, Msm or Gllry Intrnshp
ART 395: Indpndnt Study in Art & Design
UNV 101: First-Year Smnr Unvrsty Cmmnty

Professional Contributions and Service
Professional Memberships
American Alliance of Museums