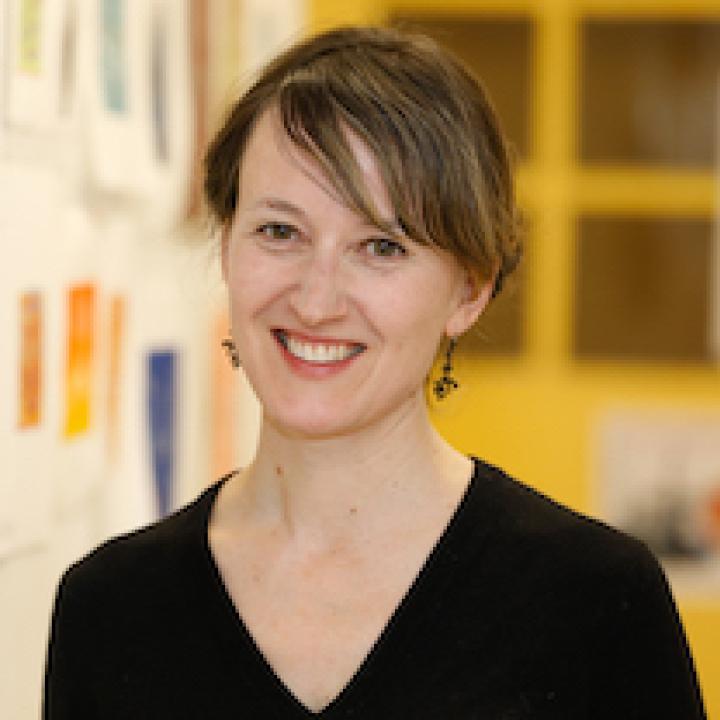 Jillian McDonald
Professor
Interim Department Chairperson
Dyson College of Arts and Sciences
Art
Biography
Faculty Bio
Jillian McDonald is a Canadian artist who received her MFA from Hunter College at CUNY. She is a Professor of Art at Pace University, where she also co-directed the Pace Digital Gallery from 2003 - 2014.

Solo shows and projects include Air Circulation and Moti Hasson Galleries in New York, Hallwalls in Buffalo, Esker Foundation in Calgary, Clark Gallery in Montréal, and Lilith Performance Studio in Sweden. Group exhibitions featuring her work include Five Myles in Brooklyn, The Edith Russ Haus for Media Art in Germany, The Whitney Museum's Artport, The Sundance Film Festival in Utah, La Biennale de Montréal, Montehermoso in Spain, The Chelsea Museum in New York, and the Centre d'Art Contemporain de Basse-Normandie in France. Commissions include performances and videos for Nuit Blanche Toronto and New Forms Society, Vancouver.



McDonald has received grants from The Canada Council for the Arts, The New York Foundation for the Arts, Soil New Media, Turbulence.org, The Verizon Foundation, The New York State Council on the Arts, The Experimental Television Center, and Pace University. She lectures regularly about her work and has attended numerous artist residencies including the Headlands Center for the Arts in California, the Lower Manhattan Cultural Council's Workspace and Artspace Programs in New York, the Western Front in Vancouver, the Banff Centre for the Arts in Alberta, La Chambre Blanche in Québec, and The Arctic Circle Residency in Svalbard; she was also awarded the Glenfiddich Canadian Art Prize in Scotland.



McDonald's work has been reviewed in The New York Times, Art Papers, The Globe and Mail, The Toronto Star, and Border Crossings, among others. A discussion of her work appears in several books including Deconstructing Brad Pitt edted by Christopher Schaberg, Better Off Dead, edited by Sarah Juliet Lauro, Stalking by Bran Nicol, and Art and the Subway by Tracy Fitzpatrick. Her work was the subject of a feature length CBC radio documentary, a Swedish television show Zombier Skräckministeriet for SVT, and a documentary for Kulturzeit, on Channel ZDF/3Sat in Germany.
Awards and Honors
Canada Council for the Arts, 2021, Media Arts Grant
The Farm Inc, 2017, Arctic Circle Artist Residency
Klondike Institute of Arts and Culture, 2016, Artist Residency
Lower Manhattan Cultural Council, 2016, Process Space Residency
Art Gallery of Southwestern Manitoba, Brandon, Canada, 2015, Artist Residency
Signal Culture, Owego, NY, 2014, Artist Residency
Glenfiddich, Dufftown, Scotland, 2012, International Artist Residency
Arizona State University Art Museum, Tempe, AZ, 2009, Artist Residency
Lilith Performance Studio, Malmö, Sweden, 2009, Artist Residency
The Headlands Center for the Arts, Marin County, CA, 2008, Artist Residency
La Chambre Blanche, Québec City, Canada, 2008, Artist Residency
Western Front, Vancouver, Canada, 2006, Artist Residency, Media Arts
Lower Manhattan Cultural Council, New York, NY, 2006, World Views Studio program - Artist's Residency
Education
MFA, Hunter College at CUNY, New York, New York, 1999
Combined Media

BFA, University of Manitoba, School of Art, Honours, Winnipeg, Manitoba, Canada, 1993
Fine Arts


Research and Creative Works
Research Interest
I make films, performances, drawings and new media artworks inspired by popular film genres like horror and romance. Horror and paranormal themes and cautionary tales are central to recent projects, which feature archetypes like zombies or masked figures, magnificent landscapes, and local actors.
Artistic and Professional Performances and Exhibits
Valley of the Deer, solo show
[Art - Exhibition, One-Person] University of Waterloo Art Gallery, Waterloo, Ontario, CanadaThe Thaw, solo show
[Art - Exhibition, One-Person] Art Gallery of Southwestern Manitoba, Brandon, Manitoba, CanadaValley of the Deer, solo show
[Art - Exhibition, One-Person] Squeaky Wheel Gallery, Buffalo, New YorkValley of the Deer
[Art - Exhibition, One-Person] C e n t r e C l a r k, M o n t r é a l , CanadaValley of the Deer, solo show
[Art - Exhibition, One-Person] Atkinson Art Gallery, Santa Barbara, CAValley of the Deer, solo show
[Art - Exhibition, One-Person] Jillian McDonald, Air Circulation Gallery, BrooklynSomething Wicked This Way Comes, solo show
[Art - Exhibition, One-Person] New Media Artspace at Baruch College, New York, NYValley of the Deer, solo show
[Art - Exhibition, One-Person] La Bande Vide´o Gallery, Qu´ébec City, CanadaValley of the Deer, solo show
[Art - Exhibition, One-Person] Kenderdine Gallery, University of Saskatchewan, Saskatoon, CanadaValley of the Deer, solo show
[Art - Exhibition, One-Person] Esker Foundation Gallery, Calgary, CanadaJillian McDonald - solo show
[Art - Exhibition, One-Person] Terminal Gallery, Austin Peay State University, Clarksville, TNBody Count, solo show
[Art - Exhibition, One-Person] Peter Fingesten Gallery, Pace University, New York, NYZombies! - solo show
[Art - Exhibition, One-Person] Korn Gallery, Drew University, Madison, NJRedRum - solo show
[Art - Exhibition, One-Person] Gallery One One One, University of Manitoba, Winnipeg, CanadaRedRum - solo show
[Art - Exhibition, One-Person] Hallwalls Contemporary Arts Center, Buffalo, New York
Courses Taught
Past Courses
ART 140: Drawing I
ART 164: Principles of Design
ART 186: Basic Computer Design
ART 186: Basic Digital Design
ART 186: Basic Digital Design - LC
ART 186: Digital Design I
ART 186: Digital Design I - LC
ART 196: Topics: Digital Photography I
ART 283: Live Art - Performance
ART 285: Digital Animation
ART 285: Flash Animation
ART 286: Design for the Internet
ART 289: Video Animation
ART 289: Video I
ART 293: Internship in Art I
ART 296: TPC: Project Studio (B)
ART 296: Video Animation
ART 296: Web Design: Learning Community
ART 297: Project Studio (C)
ART 297: Topic: Artists Lecture Series
ART 297: Topic: Performance Art
ART 297: Video II
ART 306: Project Studio A
ART 307: Project Studio B
ART 385: Advanced Digital Animation
ART 395: Indpndnt Study in Art & Design

Professional Contributions and Service
Professional Memberships
MediaNoche [Board of Advisors]