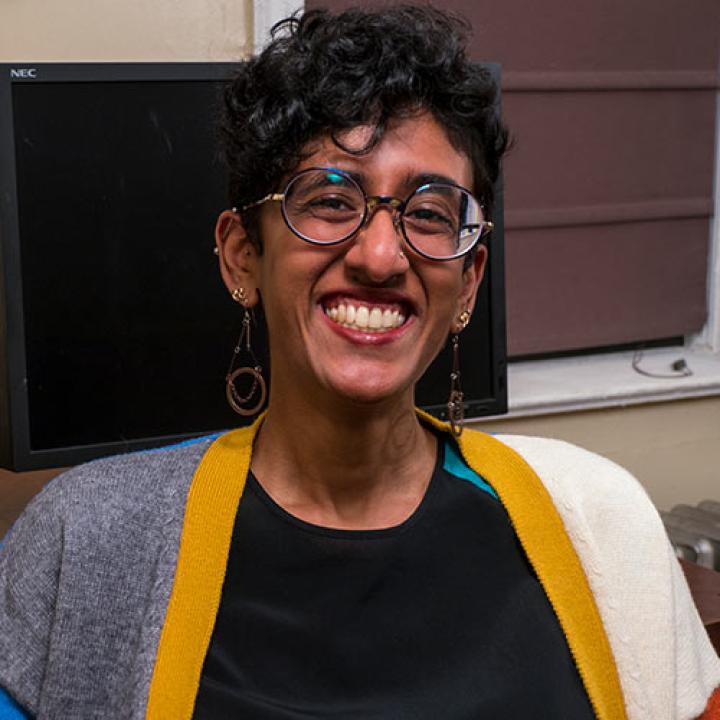 Vyshali Manivannan
Clinical Assistant Professor
Dyson College of Arts and Sciences
Writing and Cultural Studies
Westchester
255
Choate House
| Office Hours: Tue, Thu 11:00am-2:00pm
Biography
Faculty Bio
Vyshali Manivannan holds a Ph.D. in Communication, Information, and Media from Rutgers University and an M.F.A. in Fiction Writing from Columbia University. Her scholarship has appeared in Spark, Digital Health, Fibreculture, and Platform, among other journals, and her creative work has been featured in literary magazines such as Fourth Genre, Paris Review online, Consequence, The Fanzine, and DIAGRAM. She was nominated for a 2015 Pushcart Prize in Nonfiction and was among those listed in "Notable Essays and Literary Nonfiction of 2014" in Best American Essays 2015.
Awards and Honors
Rutgers University School of Graduate Studies, 2023, Distinguished Scholarly Achievement Award
Kairos: A Journal of Rhetoric, Technology, and Pedagogy, 2022, Kairos Scholarship/Research Award for Graduate Students and Adjuncts
Office of Residential Life and Housing, 2020, "Honoring Excellence" Faculty Award for Supporting Academic Achievement
Dept. of Journalism & Media Studies, Rutgers University, 2018, Distinguished Achievement as Part-Time Lecturer
Best American Essays 2015, 2015, Notable Essay
Education
PhD, Rutgers University, New Brunswick, NJ, 2022
Communication, Information, and Media

M.F.A., Columbia University School of the Arts, New York, NY, 2007
Fiction Writing

BA, Dartmouth College, Hanover, NH, 2005
English


Research and Creative Works
Research Interest
Discourses around the ailing body, biomedical technologies intended to make chronic pain visible, and the ableist imperatives of academic style, as well as the rhetorics of health and medicine and post-truth rhetoric. Qualitative research methods, particularly autoethnography, fictocriticism, and counterstory. Decolonial praxis.
Artistic and Professional Performances and Exhibits
The Author Draws a Blank
[Creative-Critical Performance] Lancaster, PA, USAThe Author Is in Pain
[Creative-Critical Performance] Lancaster, PA, USAI am always in transition when disaster strikes/r.kv.r.y. Literary Journal
[Nonfiction - Online Journal] Numerology/DIAGRAM
[Nonfiction - Online Journal] The meaning of a machete/CONSEQUENCE Literary Magazine
[Nonfiction - Print Journal] ThisIsMyManifesto.htm/The Fanzine
[Creative Nonfiction - Online Journal] Notes to self/theNewerYork
[Nonfiction - Online Journal] White van fear/Black Clock
[Nonfiction - Print Journal] I don't know how to end this
[Author of performance piece] Yoni Ki Baat: South Asian Vagina Monologues, Washington DC
Courses Taught
Past Courses
ENG 105: Composition & Rhetoric I (CAP)
ENG 110: Composition
ENG 110: Composition (CAP)
ENG 120: Critical Writing
ENG 201: Writing in the Disciplines
ENG 206: Intro to Writing Studies
ENG 214: Intro to Rhetorical Theory
LIT 205: Intro to Lit, Culture & Media