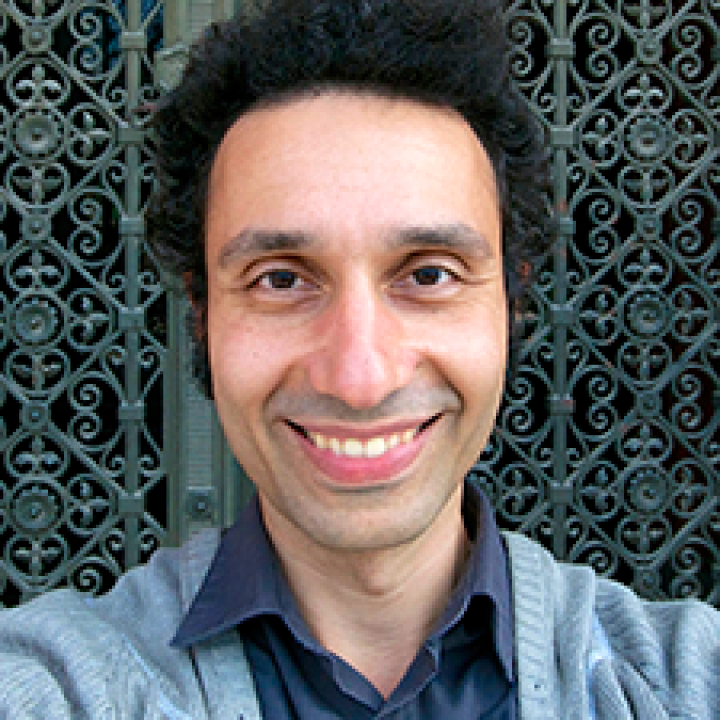 Zafir Buraei
Associate Professor
Department Chairperson
Dyson College of Arts and Sciences
Biology
Biography
Faculty Bio
Dr. Buraei is an Assistant Professor at Pace University focused on elucidating the molecular mechanisms of cardiovascular and neurological disease. He completed his B.Sc. and M.Sc. at Belgrade University, a Ph.D. in Neuroscience at Tulane University, and postdoctoral studies at Columbia University.
Awards and Honors
Tulane University, 2003, Tulane University Medical Center Chancellor's Award
Belgrade University, 1996, Undergraduate tuition waived for academic excellence
Education
Postdoctoral Studies, Columbia University, New York, NY, 2012
Neuroscience

PhD, Tulane University, 2006
Neuroscience

BS, Belgrade University, Serbia, 2000
Molecular Biology and Physiology

MS, Institute for Molecular Genetics and Genetic Engineering, Serbia, 2000
Human Genetics


Research and Creative Works
Research Interest
The electrical activity of nerve cells underlies brain function. This electrical activity arises when ions (e.g. calcium) surge into or out of nerve cells through ion channels - specialized proteins embedded in the cell's membrane. There are hundreds of different ion channels that control brain functions such as vision, hearing, memory formation, neurotransmitter release, and muscle control. Not surprisingly, many neurological and cardiovascular diseases are caused by mutations in ion channels. One of our main interests is to investigate how mutations alter ion channel function: Does the mutant channel not open? Does it open faster than normally? Is it not desensitizing as it should? Can the difference between normal and mutant channels explain human disease? Pursuing these questions not only helps us understand human disease, but may also point to cures. Indeed, 20% of all drugs target ion channels. Thus, another area of interest in my laboratory is neuropharmacology. We study the behavior of different ion channels in the presence of drugs, plant extracts or other chemicals. Students are guided through literature searches, some bioinformatics, cutting edge molecular biology tools, pharmacology and, most importantly, electrophysiology, giving rise to an exciting journey of research for the benefit of humankind.
Grants, Sponsored Research and Contracts
Development of a Year-long, Research-based Laboratory Integrated within Core Genetics and Cellular & Molecular Biology Courses
Buraei, Z. K., Kelly, M. A., Strahs, D. & Birney, L. July 2013 - June 2015. NSF, Federal, $180,272.00. Funded.


Courses Taught
Past Courses
BIO 101: General Biology I
BIO 102: General Biology II
BIO 124: Intro to Neuroscience
BIO 231: Genetics
BIO 325: Neurobiology
BIO 335: Molecular & Cellular Biology
BIO 395: Independent Study in Biology
BIO 396: Guided Study in Biology
BIO 480: Research in Biology
BIO 481: Research in Biology II
BIO 490: Intro to Rsrch in Biolgcl Sci
BIO 491: Internship in Biology
BIO 492: Internship in Biology II
BMB 710: Research I
BMB 711: Research II
BNS 410: System Behavioral Neuroscience
INT 299: System Behavioral Neuroscience
UNV 101: First-Year Smnr Unvrsty Cmmnty

Publications and Presentations
Publications
Single channel measurements demonstrate the voltage dependence of permeation through N-type and L-type CaV channels.
Buraei, Z. K., Lee, H. K. & Elmslie, K. S. (2015, February). Channels (Austin, Tex.). , pages 0.

RGK regulation of voltage-gated calcium channels.
Buraei, Z. K., Lumen, E., Kaur, S. & Yang, J. (2015, January (1st Quarter/Winter)). Science China. Life sciences. Vol 58 (Issue 1) , pages 28-38.

Voltage control of Ca²? permeation through N-type calcium (Ca(V)2.2) channels.
Buraei, Z. K., Liang, H. & Elmslie, K. S. (2014, September). The Journal of general physiology. Vol 144 (Issue 3) , pages 207-20.

Structure and function of the ß subunit of voltage-gated Ca²? channels.
Buraei, Z. K. & Yang, J. (2013, July (3rd Quarter/Summer)). Biochimica et biophysica acta. Vol 1828 (Issue 7) , pages 1530-40.

Not very funny: how a single mutation causes heritable bradycardia.
Buraei, Z. K. & Yang, J. (2012, December). Structure (London, England : 1993). Vol 20 (Issue 12) , pages 1991-2.

The ß subunit of voltage-gated Ca2+ channels.
Buraei, Z. K. & Yang, J. (2010, October (4th Quarter/Autumn)). Physiological reviews. Vol 90 (Issue 4) , pages 1461-506.

Direct inhibition of P/Q-type voltage-gated Ca2+ channels by Gem does not require a direct Gem/Cavbeta interaction.
Fan, M., Buraei, Z. K., Luo, H. R., Levenson-Palmer, R. & Yang, J. (2010, August). Proceedings of the National Academy of Sciences of the United States of America. Vol 107 (Issue 33) , pages 14887-92.

Structural and molecular basis of the assembly of the TRPP2/PKD1 complex.
Yu, Y., Ulbrich, M. H., Li , M. H., Buraei, Z. K., Chen, X. Z., Ong, A. C., Tong, L., Isacoff, E. Y. & Yang, J. (2009, July (3rd Quarter/Summer)). Proceedings of the National Academy of Sciences of the United States of America. Vol 106 (Issue 28) , pages 11558-63.

The separation of antagonist from agonist effects of trisubstituted purines on CaV2.2 (N-type) channels.
Buraei, Z. K. & Elmslie, K. S. (2008, May). Journal of neurochemistry. Vol 105 (Issue 4) , pages 1450-61.

Roscovitine differentially affects CaV2 and Kv channels by binding to the open state.
Buraei, Z. K., Schofield, G. & Elmslie, K. S. (2007, March). Neuropharmacology. Vol 52 (Issue 3) , pages 883-94.

Slowed N-type calcium channel (CaV2.2) deactivation by the cyclin-dependent kinase inhibitor roscovitine.
Buraei, Z. K., Anghelescu, M. & Elmslie, K. S. (2005, September). Biophysical journal. Vol 89 (Issue 3) , pages 1681-91.
Professional Contributions and Service
Professional Memberships
Biophysical Society
Society for Neuroscience
Department Service
Assistant Professor Search Committee [Committee Member]
Curriculum Committee [Committee Member]
iPAD committee [Committee Chair]
University Service
First Year Student Orientation [Faculty Advisor]
New Faculty Orientation [Guest Speaker]
Professional Service
Cell - Structure [Reviewer, Journal Article]
Journal of Cell Biology [Reviewer, Journal Article]
Journal of Neuroscience [Reviewer, Journal Article]
Proceeding of the National Academy of Sciences of the U.S.A. [Reviewer, Journal Article]

Public Service
School for Democracy and Leadership's 9th Annual Science Fair [Poster Judge]