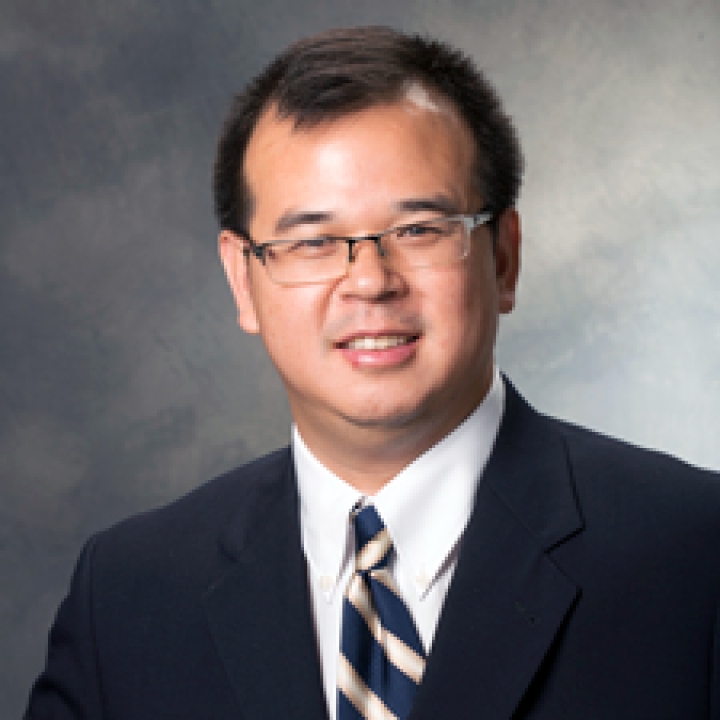 Zhaohua Dai
Professor
Associate Director
Dyson College of Arts and Sciences
Chemistry and Physical Sciences
Biography
Faculty Bio
Zhaohua Dai obtained his B.S. in 1996 from Wuhan University, the namesake of the capital city of his home province of Hubei in central China. After getting his M.S. in 1999 from the Chinese Academy of Sciences in Beijing, he was admitted to New York University, where he received his Ph.D in chemistry in 2004. After a postdoctoral stint with Prof. David S. Lawrence at Albert Einstein College of Medicine, he joined Pace University as an assistant professor in January, 2006. He was promoted to the rank of Associate Professor in 2010 and to Professor in 2013. His research interests include the development of sensing systems for analytes that are of environmental, biological and forensic importance.
Awards and Honors
Yilida Corporation, Hong Kong, 1997, Yilida Fellowship
Wuhan University, 1996, Outstanding Graduate
Wang and Luo Family through Wuhan University, 1995, Wang and Luo Fellowship
Huikai Corporation through Wuhan University, 1994, Huikai Fellowship
Wuhan University, 1993, Wuhan University Fellowship
Licensures and Certificates
Drug Enforcement Administration, Federal Controlled Substance License
NYS Department of Health, New York State Controlled Substance License
Education
PhD, New York University, New York, 2004
Chemistry

MS, New York University, New York, 2001
Chemistry

MS, The Chinese Academy of Sciences, Beijing, 1999
Chemistry

BS, Wuhan University, Wuhan, Hubei, China, 1996
Chemistry


Research and Creative Works
Research Interest
Fluorescent sensors for metal ions and enzyme activities Chirality
Grants, Sponsored Research and Contracts
Raman spectroscopy as a teaching tool in the Forensic Science and Chemistry courses.
Mojica, E. & Dai, Z. Verizon Thinkfinity Foundation through Pace Provost's Office, Pace University, $14,524.32. Funded.


Courses Taught
Past Courses
BMB 710: Research I
BMB 711: Research II
CHE 111: General Chemistry I
CHE 112: General Chemistry II
CHE 112: General Chemistry II (Lab)
CHE 112: General Chemistry II (Lecture)
CHE 213: Foundations of Organic Chem
CHE 223: Organic Chemistry I
CHE 223: Organic Chemistry I (Lab)
CHE 223: Organic Chemistry I (Lecture)
CHE 223: Organic Chemistry I Recitation
CHE 224: Organic Chemistry II
CHE 224: Organic Chemistry II (Lab)
CHE 224: Organic Chemistry II (Lecture)
CHE 224: Orgnc Chmstry II Recitation
CHE 330: Advanced Inorganic Chemistry
CHE 331: Instrumental Analysis
CHE 392: Chemistry Seminar I
CHE 395: Independent Study in Chemistry
CHE 480: Research in Chemistry
CHE 492: Chemistry Seminar II
ENS 622: Quantitative Methods in Env Sc
FOR 502: Analytical Chem & Instrumental
FOR 502: Quntttve & Instrmntl Analysis
FOR 615: Forensic Separations Chemistry
FOR 615: Separations Chemistry
FOR 620: Analytical Spectroscopy
FOR 621: Internship
FOR 699: Forensic Science Seminar
FOR 798: Research Mthd in Forensic Sci
FOR 798: Thesis I
FOR 799: Thesis
FOR 799: Thesis II
SCI 101: The Planet Earth

Publications and Presentations
Publications
Chiroptical Sensors
Dai, Z., Canary, J., Duan, X., , . & , . Elsevier.


Professional Contributions and Service
Intellectual Property
Patent: Chiral piperidine and quinulclidine ligands [Non-Provisional] , United States


Professional Memberships
The American Academy of Forensic Science
The American Chemical Society
Professional Service
CUNY Research Fund [Reviewer, Grant Proposal]
MDPI [Reviewer, Journal Article]
New York University Ph.D Thesis Defense Committee [Committee Member]
Petroleum Research Fund [Reviewer, Grant Proposal]
Royal Society of Chemistry Journals [Reviewer, Journal Article]