Teaching English to Speakers of Other Languages (TESOL) International, MS
Location
New York City

Westchester
Teach Globally
Want to go out and see the world? The growth of the English language worldwide is creating opportunities for teachers around the globe. The MS in Teaching English to Speakers of Other Languages (TESOL) International is a 30-credit program that prepares teachers of English who want to work in international settings or with adult learners in the US. This non-certification program doesn't even require an undergraduate degree in education.
Today's Globalized Classroom
Because of our commitment to fostering international collaboration and preparing globally minded teachers, we are one of the only education schools in the region to offer faculty-led, international courses that provide our teacher candidates a hands-on learning experience in Italy and Ecuador.
Get hired. Our strong partnerships with local school districts mean that our students are getting hired before they even graduate.
Our coursework integrates key knowledge and dispositions necessary to teach in today's modern classrooms, using technology to address the specific needs of all learners, including students with disabilities and culturally and linguistically diverse students.
TAKE COURSES LIKE…
Learn the theories, strategies, and methods for teaching English to create engaging learning environments. Special emphasis is given to the teaching of writing and the use of technology for today's globalized classrooms.
Image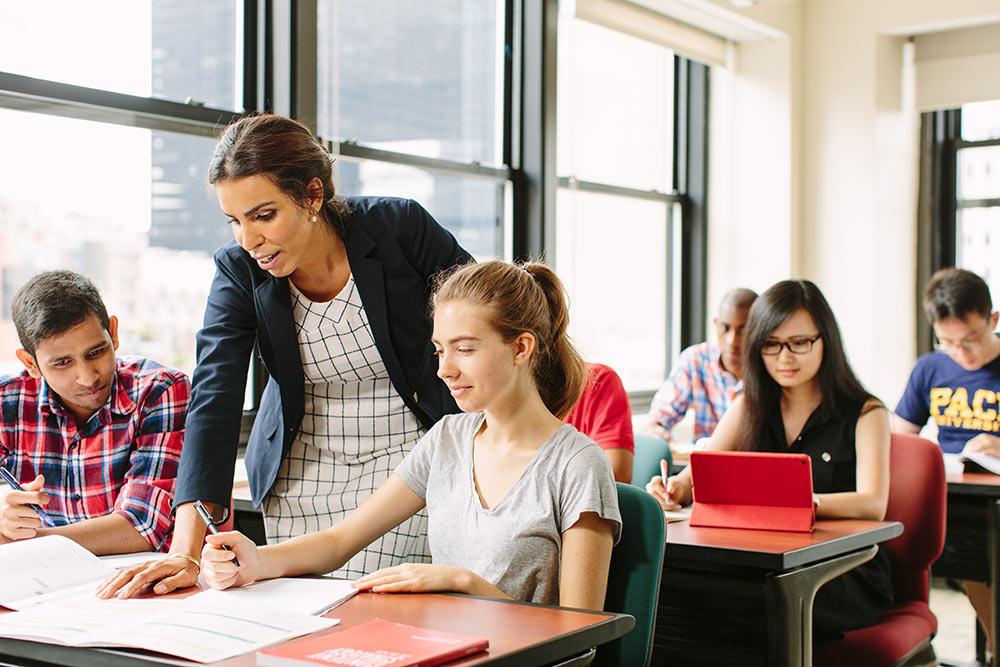 ADD OPPORTUNITIES AND EXPERIENCES 
Experience a range of fieldwork and hands-on practice teaching under the guidance of supervisors, faculty, and mentor-teachers. This program has been designed in a flexible fashion, so that students can have a practicum experience teaching in New York City or their country of origin. As a 30-credit program, it can be completed in one year or be extended to two years.
CHOOSE YOUR CAREER
Once you successfully complete the program, you will have the skills and knowledge to teach ESL domestically and internationally. Sample career opportunities include:
ESL (English as a Second Language) Teachers at colleges or community-based organizations in the United States.
Teach EFL (English as a Foreign Language) in a variety of classroom environments internationally.
of our graduates are employed or continuing their education (Source: Pace University Career Services)
best education schools in the US (Source: College Factual)
special education job placement (Source: Intelligent.com)