Matthew Bolton, PhD
Associate Professor, Political Science
Image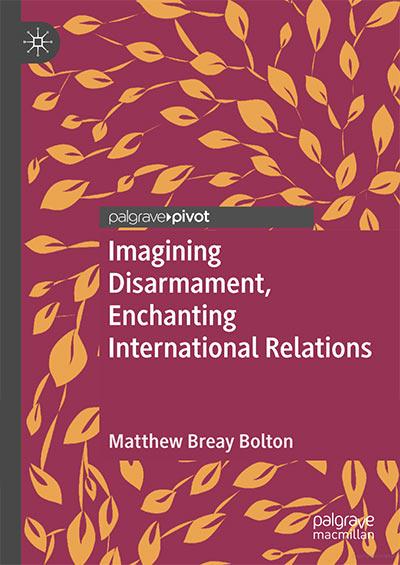 What is the central theme of your book?
Each night, to save her own life, Shahrazad spins a web of enthralling tales around her murderous husband, the king. She is spared by her discursive skill, persuading an arbitrary ruler to stay her execution. This ancient story, from 1001 Nights, is a potent metaphor for disarmament advocacy, which seeks to persuade violent people to moderate their behavior. Activists and diplomats seeking limits on technologies of violence - from landmines to nuclear bombs - have intuited that weapons are artifacts embedded in mythology and mystique. The successful campaigns that banned landmines, cluster munitions, and nuclear weapons have imagined that other worlds are possible. They tell humanizing stories of those affected by weapons and those who heal them. They draw on religious and mythic texts to prophesy and condemn harm. They aim to stay our collective execution. This book explores the role of myth, narrative, discourse, and ritual in global politics. Each chapter reflects on an aspect of contemporary activism on weapons through an analogous story from literary tradition, including 1001 Nights, Don Quixote, Lysistrata and The Tempest.
What inspired you to write this book
I've had the privilege to participate in global campaigns on landmines, cluster munitions, the arms trade, killer robots, and, most recently, the 2017 Nobel Prize-winning International Campaign to Abolish Nuclear Weapons (ICAN). I wanted to tell the stories of the extraordinary impact these people had in changing how the United Nations and diplomatic processes address weapons. I have learned that we are not passive subjects of politics or technological development. Ordinary people have the capacity to shape the world to be a more humane, just, and peaceful place. And, they do so often by telling new narratives about how the world is, can, and should be.
Why is this book important in your field? What does it contribute to the current body of knowledge on this topic?
International Relations (IR) as a discipline has traditionally ignored the role of discourse, narrative and myth in shaping how people engage in global politics. IR scholars are also fixated on what drives arms races and insecurity, but rarely bother to understand their opposites - disarmament and de-escalation. I wanted to try to address both of these oversights at once. The book is a call for a re-enchantment of IR theory and practice, an engagement with story, song, ritual, and collective action. This is how those of us who are unarmed can find agency in global politics.
Were students involved in any research related to your book? If so, please explain and name the student(s).
In my work on this book and other research on disarmament issues, I am very grateful for the help of Pace University student research assistants. They brainstormed ideas, gathered together news articles, tracked down scholarly literature, and checked facts.
Tell me about a particularly special moment in writing this book.
I spent an evening at a restaurant in Times Square chatting with two other academics studying disarmament issues and we began to talk about how the politics of killer robots was shaped by people's understandings of science fiction. Movies like The Terminator helped people imagine how technologies could have inhumane and indiscriminate effects. But they also distracted people from very real-world issues with autonomous weapons technology. This got me thinking about the role of stories in disarmament and arms control, eventually leading me to write this book.
What is the one thing you hope readers take away from your book?
Through telling stories of international relations in a strange and unfamiliar way, I seek to enchant you, the reader. I want to embolden your imagination and persuade you of the possibility of disarmament.
What other books have you published?
I recently published Political Minefields: The Struggle against Automated Killing (I.B. Tauris, 2020), a political history of explosive traps: landmines, booby traps, unexploded ordnance, improvised explosive devices, automated bombing systems, and killer robots. Last year, I also coedited Global Activism and Humanitarian Disarmament (Palgrave Macmillan), a volume of essays. You can find out more about my recent books on my website.
In my work on this book and other research on disarmament issues, I am very grateful for the help of Pace University student research assistants. They brainstormed ideas, gathered together news articles, tracked down scholarly literature, and checked facts.
Fun Facts
When did you join Dyson?
I came to Pace in January 2011, so more than 10 years now!
What motivates you as a teacher?
I am inspired by the determination and curiosity of the diverse student body at Pace! I feel privileged to be a part of their journey at this crucial moment in their lives.
What do you do in your spare time; to relax/unwind?
I am an avid, though unimpressive, surfer. It is humbling to be subject to the wild power of the ocean, learning not to fight being tumbled by a wave or panic when you wipe out. It requires complete concentration on the interaction between one's body and the water, which is very therapeutic for people like me, whose work gets them wrapped up in their own head!
What are you reading right now?
I am trying to learn more about the global politics of the environmental movement, so I am going back to read Rachel Carson's classic, Silent Spring. Since I write about the environment contamination caused by nuclear weapons, I have been inspired by how she makes the somewhat invisible and complex effects of pollution so compelling.