Alumni
Committed to Climate Action: Q+A with Raimundo Espinoza '04
Image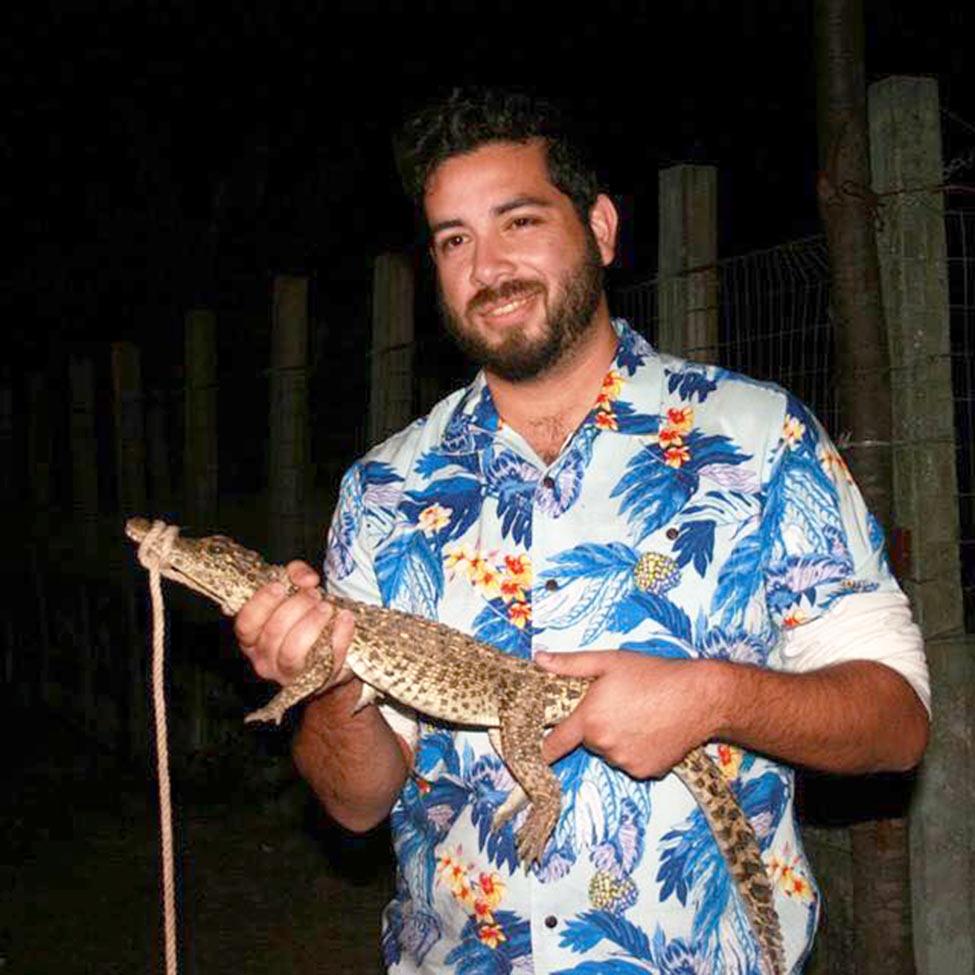 Raimundo Espinoza
Class of 2004
Environmental Studies, BA
Recognized as one of 100 Latinos Most Committed to Climate Action in 2022 from the Sachamama organization, Raimundo Espinoza '04 is also the founder and executive director of Conservación ConCiencia (a play on words, meaning "Conservation with Science and Conservation with a Conscience"), where he brings his extensive experience in marine conservation and natural resource management.
What was it like to receive such an honor? How is it meaningful to you?
Being recognized by the Sachamama organization is an incredible honor and overwhelmingly meaningful because I've dedicated my career and a great part of my life to making a positive impact, and being recognized in this way lets me know I'm on the right path. Being included on this list with so many talented people making our world a better place is a high point in my professional life.
What motivated you to start your own non-profit and in what ways do you wish to affect change?
The idea of starting my own environmental organization began during my second year at Pace, and the idea just kept developing throughout the years. I ultimately created Conservación ConCiencia because I saw an opportunity to implement sustainable conservation actions that placed people at the heart of environmental protection, so that frontline communities could participate, lead, and benefit not only from the end result of conservation, but also from the process. The organization is dedicated to environmental research and conservation that promotes sustainable development by working in collaboration with communities, NGOs, governments, academia, and the private sector.
You graduated with a Bachelor of Arts in Environmental Studies from Pace University. What attracted you to pursue this course of study?
A very simple idea that any place in nature, be it a mountain, a forest, or a beach could be my office, my workplace.
The Environmental Studies program at Pace required courses in environmental ethics, economics, and policy, and the interdisciplinary approach was something very unique for me when I was comparing it to other undergraduate programs.
Why did you choose to enroll at Pace University?
I was looking at many schools, but the Environmental Studies program at Pace really called out to me. I didn't want to be a biology or other science major, and, although the Environmental Studies program at Pace did require me to take a lot of courses in the sciences, it also required those in environmental ethics, economics, and policy, and the interdisciplinary approach was something very unique for me when I was comparing it to other undergraduate programs.
How were Dyson or other faculty in the Pace community instrumental in your personal and/or professional journey?
Attending Pace was one of the best experiences I had in my life and definitely one of the best choices I have ever made. I'm deeply grateful to so many who were instrumental in my journey.
Professor George Martinez, PhD, taught Political Science in a manner that drew me in; Professor Joshua Schwartz, PhD, provided insight into amphibian behavior; Professor James Eyring provided hands-on experiences with animals; Professor Betty Torrance, PhD, gave me the opportunity to be a student aid in her Costa Rica culture and language course; instructor John Cronin showed me what it meant to be conservationist; and Professor Angelo Spillo, MPA, of the Environmental Center was also supportive.
Two professors within the Environmental Studies program had a profound impact on everything I've done professionally. Professor Robert Chapman, PhD, broke down conservation and environmentalism to its core philosophical components; and Professor Ghassan Karam, PhD, opened my mind to the world of sustainability and introduced me to ecological economics, one of the main reasons I pursued graduate studies in Sustainable Development at the University of Maryland.
Tell us more about your Latino heritage and how this has inspired your work.
I am from Quito, Ecuador, born and raised; however, both of my parents are from Peru and immigrated to Ecuador to raise their family. Growing up in Ecuador provided incredible experiences that would guide me to my career path. At the age of 12, I went on weekend camping trips with friends to the Pasochoa Wildlife Refuge, with condors flying above and tapirs entering our campsite; a high school trip took us to the Galápagos; and I experienced white water rafting in the Amazon, hikes in the Cloud forests of Costa Rica, and surfing on the Pacific coast. At the time, I didn't see any of these activities as nature based; it was just part of life, and this was one of the main factors that drew me into a conservation career. Being Latino has inspired much of my work because nature plays such a critical role in our diverse Latino cultures by providing an abundance of joy through places that are sacred, that are used for recreation, that have provided for our cuisines to flourish, and so much more.
What advice would you give to our students as they navigate their undergraduate academic life?
Explore the courses you have at your disposal and use your elective courses to step outside your comfort zone into interest areas that provide you different perspectives into other fields you might potentially be interested in. Your electives can be used to create a minor outside your major's subject, and you'll have a broader knowledge base that will serve you in the long run. During this moment, your daytime job is to learn, a privilege that does not occur often in life. Enjoy your time at Pace.