Faculty and Staff
Dean Tresmaine R. Grimes, PhD, is Honored as National Jefferson Award Finalist
In partnership with the Jefferson Awards Foundation, Pace engages in meaningful public service and celebrates those who improve the quality of life in their communities with Jefferson Awards for Public Service and Multiplying Good. In the 2022-2023 academic year, half of the Bronze Medal Award winners at Pace were from the Dyson College of Arts and Sciences. And this year's Jefferson Award Finalist, selected by Multiplying Good's board of directors to represent Pace at their national ceremony in October, is Tresmaine R. Grimes, PhD, Dean of the Dyson College of Arts and Science and School of Education. Congratulations to her and all our winners!
We sat down with Dean Grimes to learn more about her volunteer work.
Image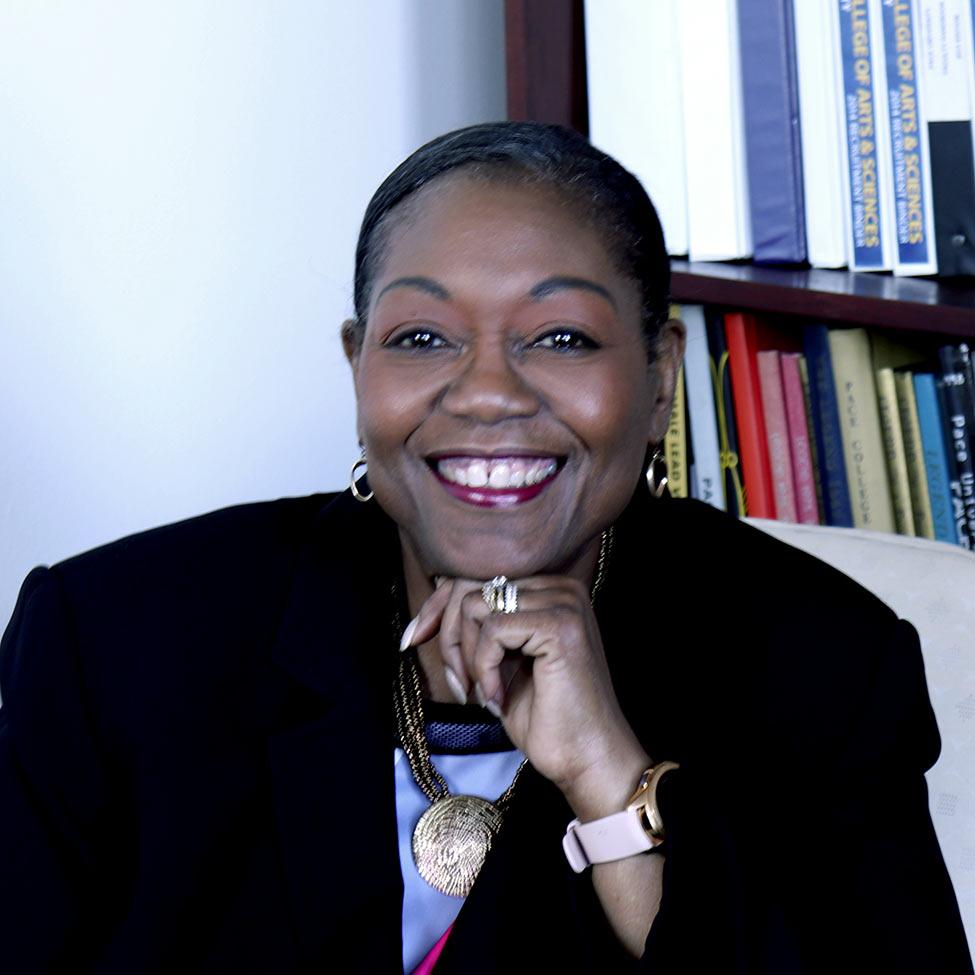 How is this recognition meaningful to you?
This is a tremendous honor. I lived most of my life with the idea that you are supposed to serve others or do something to give back. And you don't do those things thinking that someone is going to recognize you. That's sort of the whole point; giving back to others in a way that you're not doing it for yourself, but to basically bless someone else's life. So, this means the world to me that someone would think that the things that I do are worth recognizing.
What aspect of your community and public service are you most proud of and why?
Helping young people or children has always been part of my early life. Before I could even work legally, I was helping to take care of younger kids. By the time I got to college, I tutored as part of my work-study, and that felt good to me. About a decade ago, I established a nonprofit that helps the faith community understand and get to the truth of domestic violence. I'm proud of that work and the fact that we have raised money to help people coming out of those situations and have even been recognized for this by the Robert Wood Johnson Foundation. On the academic side, I've enjoyed being a faculty advisor and mentor to my students since my first teaching days. When my students, who are now professionals with their own lives, still keep in touch, that's a nice reminder that what I did was worth it. My sorority, Delta Sigma Theta, is dedicated to serving the public and community. Whether it is feeding the hungry or raising money for scholarships, those things continue to mean the world to me now and in my own personal life.
As dean of Dyson College and the School of Education, what have your observations been of our community and Pace at large regarding the importance of public service?
One of the nicest things about being at Pace is seeing what people are doing outside of the classroom, and both Dyson and the School of Education (SOE) have tremendous faculty and student involvement in community service. We're working very hard to make sure that our students have that civic engagement experience outside of the classroom. I see faculty involved in a lot of community work, as well: artists and writers taking their classes into the community, for example, and making an impact there. So, we have a lot of really exciting people in both Dyson and SOE, and I will also say, the Sands College of Performing Arts, because our faculty there are also involved in the larger community. And so, everybody has their niche, and their way to connect. It's also exciting to see us writing grants to try and connect with our folks in New York City, in our neighborhoods, and in Chinatown. Just a whole lot of exciting things. I'm impressed.
What are the things that you see are missing in the world? Sometimes, we are looking for other people to fill gaps, but maybe you're the only one that sees that.
Who inspired you to volunteer?
I think because I grew up in a faith community, there was always the assumption that you don't just sit around, that you give. Certainly, my mom and grandmother were always giving. My grandmother was a wonderful cook; my grandparents were immigrants from the Caribbean, and my grandmother would make traditional foods and give them to people at Christmas instead of buying gifts. My mom was a musician and would play in church and for people at their weddings, and my mother's brother was a social worker, helping people make positive changes in their lives. They weren't looking for anything in return. So, I grew up around that.
You also never know who you are an inspiration to. When I was planning my wedding more than 39 years ago, I asked the mother of a little girl in my faith community if she could be a flower girl. The mother said 'yes, of course,' that 'she looks up to you' and 'wants to be like you.' That was the first time someone had said that to me. If you look at statistics, I wasn't supposed to be anything: where I was raised, divorced parents, my mom was a single mom and not wealthy. But that's not the way it turned out.
Do you have any advice on first steps, for those interested in making a positive impact and improving the life of others?
Follow your heart. What are the things that interest you; what is your passion? Also, what are the things that you see are missing in the world? Sometimes, we are looking for other people to fill gaps, but maybe you're the only one that sees that, right? So, start small with the things that you notice are missing, and you don't have to do this by yourself. Partner with others; they will be happy to have you, and you can learn from them, too. I attended workshops about domestic violence and human trafficking through Not on My Watch, a training program for faith leaders. It was something I was grateful to be a part of, because I learned a lot about human trafficking, areas where girls were at risk, and how to spot this in our own communities. So, begin to think about how you can be a positive impact. There are so many ways you can make a difference.
What are you most excited about in the future?
I think, in general, I'm excited about a lot of things. I'm excited about continuing to make meaningful connections with other community organizations that are focused upon the things that Pace has already had success with. I'm also excited about the Jefferson Awards Ceremony in October and making connections with other people who are doing amazing things in their communities. You know, I want to live long enough to see what happens next and to determine how I can continue to be of help to others.
Dyson Digital Digest: Summer 2023
Faculty and Staff
As the newly appointed director of experiential learning and the Pace Path, Associate Professor of English Kelley Kreitz, PhD, is exploring how Pace's approach to hands-on pedagogy enhances student success and sets the University apart.
Students
The Animal Policy Project, an initiative through the Environmental Studies and Science department, is giving students first-hand opportunities to advocate for legislation surrounding animal issues.
Students
As the Class of 2023 prepares to cross the stage on May 15 at the USTA Billie Jean King National Tennis Center, graduating students in the arts and humanities shared their plans for the future and reflected on their most memorable moments from their time at Pace.