Faculty and Staff
Defining Experiential Learning: Kelley Kreitz, PhD, Embraces New Role in Provost's Office
Associate Professor of English Kelley Kreitz, PhD, is ready to tackle a new challenge. In addition to her teaching and research, Kreitz began work as the director of experiential learning and the Pace Path, a reimagined position in the Provost's Office, in January. Kreitz has exciting plans for building on Pace's strong foundation of learning by doing, while continuing to move forward in student success.
We chatted with Kreitz to learn more.
What does this role encompass and what interested you in taking it on?
Image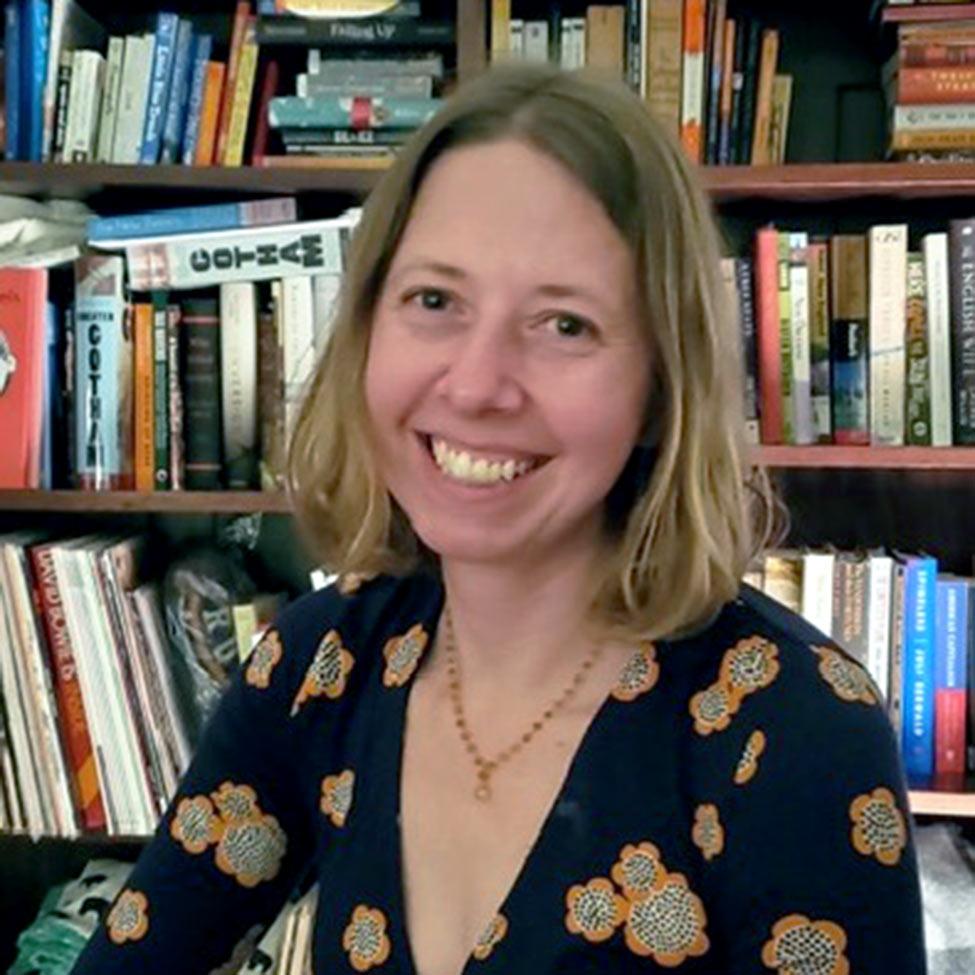 My charge in the role centers on working within the University and externally to make progress on our strategic plan goal of being the leader in our region in experiential education. I was excited to have the opportunity to take on this role because I was involved in the strategic plan work itself as a faculty representative for the New York Faculty Council. We identified experiential learning as the source of many of our greatest successes—one that, with additional focus and support, can also help us to differentiate ourselves and appeal to students even more.
Our strengths in experiential learning run throughout our schools and our liberal arts core curriculum, which includes opportunities to participate in classroom-based research and civic engagement projects.
These strengths include:
How in Dyson, an emphasis on learning through making and doing runs through our programs in the sciences, social sciences, arts, and humanities, including our Pace University Art Gallery, which serves as a learning lab for our students and our Animal Advocacy Clinic, which is run as an experiential course.
How Lubin takes advantage of our locations in New York City and the Hudson Valley to provide students with opportunities to work with real companies—in the classroom and in co-curricular initiatives, such as the student-led businesses run through our Center for Student Enterprise.
How Seidenberg has a project-based approach, as modeled by the Design Factory and the Blue CoLab.
How School of Education students develop their own hands-on pedagogy for their future students, as in our Science Methods course.
How the College of Health Professions students' practicum and field work requirements provide opportunities to learn in and with our communities, as do their classroom experiences, such as a recent Occupational Therapy and Analysis course in which students created their own podcasts about the course content.
How experiential learning defined and regulated in Haub Law School through the American Bar Association takes the form of initiatives meeting local needs, such as the Environmental Litigation Clinic and the Immigration Justice Clinic.
And how our new Sands College of Performing Arts will provide students hands-on experience in producing, directing, acting, and dancing in their own shows.
How do you hope Pace can make its work in experiential learning clearer to both internal and external communities and continue to build on an already strong foundation?
For the first phase of the work, which started in January and will continue through August, I have focused on two main goals: the first is clarifying internally how we define experiential learning. I have met with faculty members and administrative leaders to better understand experiential learning from different perspectives and throughout our schools. The second goal centers on increasing understanding Pace's approach to experiential learning in comparison to what other institutions of higher learning are doing.
Your job title includes both experiential learning and the Pace Path. In your own words, what is the Pace Path? What is its relationship to experiential learning?
The Pace Path is a mechanism for ensuring that all students have consistent, high-quality experiential opportunities throughout their undergraduate education at Pace. This is why I started with clarifying and building community around our experiential pedagogy. That clarity will enable us to strengthen our delivery of the Pace Path, which provides our students with a competitive advantage.
Our students start with opportunities in the first year to explore academically and to engage in research, community-engagement, and other projects. Those projects help students build their resumes and identify possible career interests, which they can explore further through the Career Communities, launched this past fall by Career Services. The Career Communities help students to determine how to communicate their academic and co-curricular experiences on a resume, while also guiding them in identifying internships that are best connected to their interests and skill sets. Students might try several different career possibilities through internships (for some, the Pace Path may include some loops and dead ends), giving them a chance to achieve clarity about their personal and professional goals, in addition to developing relevant academic knowledge and professional skills by the time they graduate.
I would also like to add that the Pace Path is about the undergraduate experience, but experiential education is not limited to undergraduate education. Many graduate programs are highly experiential, and they also contribute to our reputation as a leader in experiential education.
In your experience, why is experiential learning such an effective pedagogical technique?
At its best, experiential learning empowers students to take charge of their own learning. At its most ambitious, experiential learning also represents a sea change in pedagogy. Classrooms at all kinds of educational institutions, including institutions of higher learning, have historically provided a one-way flow of information from the professor-as-expert to the student-as-learner. Experiential pedagogy moves toward more of a partnership model. Students become partners in learning and, at times, in producing knowledge. This happens in different forms across all of our schools.
For example, when I teach introductory Latinx literature courses, we start with the 19th century, and we talk about the Spanish-language publishing that was happening right around this neighborhood as a beginning of Latinx writing in the United States. In one assignment, students create a digital map for which they each research a site of the Spanish-language press in the 19th century. Their combined sites on the map reveal that there was a vast, thriving Spanish-language publishing community in the neighborhood where Pace's Lower Manhattan campus now resides. We build on that assignment with an additional archival research assignment, through which the students contribute their own analyses of understudied materials.
When we are engaging students in experiential learning, we are giving them the chance to do their own research and learning. And in turn, those projects become demonstrations of students' independence, creativity, ability to collaborate, and more. In other words, experiential learning is about making students competitive for great internships and jobs—and it is also about so much more. Experiential pedagogy is also a means of increasing student participation in the production of knowledge. It is about empowering students to become makers of the world in which they want to live, through whichever of the many career paths and roles in their communities that our comprehensive university prepares them to choose.
In addition, student participation—especially when combined with community collaboration—in creating understanding of the past and present can help universities to define new roles in knowledge production, such as stewardship of and partnership in conversations and collaborations that extend beyond university walls.
Experiential pedagogy is a means of increasing student participation in the production of knowledge. It is about empowering students to become makers of the world in which they want to live...
Both you and Associate Professor of English Sarah Blackwood, PhD, have recently published pieces (in The New Yorker and New York Review of Books) about the importance of studying the humanities, particularly English. Subsequently, the Pace English major has also been featured in Chronicle of Higher Education and Inside Higher Ed. Why do you think experiential learning is especially important in the humanities? And how can Pace as a community embrace experiential learning in the disciplines that don't inherently have a "hands-on" component?
The role of experiential pedagogy in the humanities is grounded in a transformation that has been underway for some time. This transformation in the humanities is in part about recognizing that the archival record has been built in such a way that it has excluded and suppressed certain voices, especially BIPOC voices, and that the humanities provide sites where we can recognize those omissions and address them.
In the English Department, many of our courses build on traditional methods of close reading and contextual analysis with projects that engage students in interrogating literary history and its making, exploring the archival record and its absences, and collaborating with community partners to co-create digital and public humanities projects.
I believe there is an enormous opportunity to continue to position Pace as a leading model of experiential education throughout our humanities departments—which will benefit not only majors in those departments, but also our students across all schools who engage with those departments through our liberal arts core. Pace has a unique track record that positions us to contribute to the national conversation about the future of the humanities—and about the future of higher education more broadly.
What else is on the horizon for you in this role and what are your goals for this position?
This summer, I am writing a report based on the work conducted this spring, a survey recently sent out to faculty and staff, and on research comparing our approach to experiential learning to other schedules, which EAB (Educational Advisory Board) is conducting for us. Next year will be focused on actions that will ensure that the differentiating components of our experiential pedagogy are delivered consistently across all years and all schools. I will also be looking at clusters of classes that can help us look in a more granular way at the outcomes of our experiential pedagogy.
My overarching goal is to achieve a sense of identity, community, and pride in our approach that will be a key factor in the retention of students, faculty, and staff. I believe we are already part way there, but I want to realize our full potential to be a nationally recognized model of an experiential future of higher education.
What do you hope that faculty and staff will kind of take away from this work as it continues?
I hope that faculty and staff will feel more recognized for the work they do to provide students with excellent experiential opportunities. As I have noted, internships and other co-curricular opportunities, such as student leadership roles, are essential to our students' success, but so is the learning—experiential and otherwise—that students are doing in the classroom. I am increasingly convinced that bringing the magic of our classrooms to light will continue to attract the kind of attention received by our English major this spring. I think we can continue to build a repository of examples and a sense of community that builds from those examples-as we commit to reinvesting in experiential learning as the core of our identity and engine of our growth.
Dyson Digital Digest: Summer 2023
Faculty and Staff
In recognition of her exceptional service to her community, Dean Tresmaine R. Grimes, PhD, has been named a national finalist for the Jefferson Award, an honor referred to as the "Nobel Prize of service."
Students
As the Class of 2023 prepares to cross the stage on May 15 at the USTA Billie Jean King National Tennis Center, graduating students in the social sciences shared their plans for the future and reflected on their most memorable moments from their time at Pace.
Students
The Animal Policy Project, an initiative through the Environmental Studies and Science department, is giving students first-hand opportunities to advocate for legislation surrounding animal issues.