Students
Q&A with A'ishah Muhammad '25
Image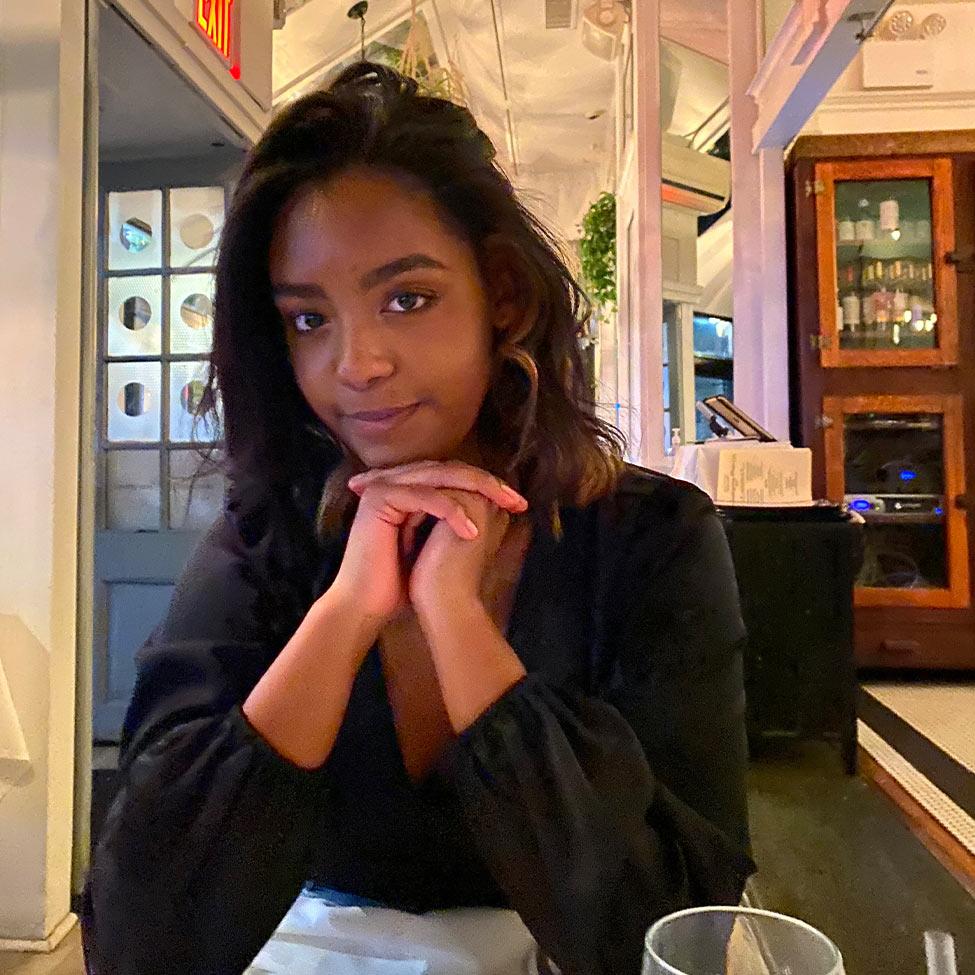 How did you decide to major in Writing for Diversity and Equity in Theater and Media?
I was initially drawn to Pace for performing, but I started freshman year as a Film and Screen Studies major. When I got to Pace, there was a meeting happening for a storytelling fellowship that I wanted to join, and that's how I met Brian. He was talking about the major and introducing himself. I was really inspired and gravitated to the work that he was doing. As a person of color, and someone who wants to work in film and theater and media, and as someone who writes, it's really important to me to have diversity and equity at the forefront of my work. To see someone who is a professional doing this work with real-life contacts in the industry, that was something that really stood out to me. I am someone that wants to get the most out of my education, so getting real-life access while also seeking a degree was important to me.
What drew you to Pace overall?
I've been involved in performing arts since I was a kid. I've been acting and performing since I was nine years old, and I went to a really good high school for performing arts, and we had an amazing theater program. My directors and everyone at that school really helped me cultivate my voice as an artist. I realized that that's what I wanted to do with my life, and I've never really doubted myself as a creative. I want to continue that education and learn from new people, and now I'm able to do that in a major that I feel suits my mission and what I want to contribute when taking up space.
When S. Brian Jones describes the program, he says the goal of the program is not necessarily to get students a seat at the table but rather to empower them to create their own table. What does that mean to you and how have you seen that come to life?
That means everything to me in the work that I'm doing. It's super important to me to create art, not with the intention of fitting into spaces that already exist and falling into norms within the industry that weren't made to welcome people who look like me, authentically, as we know. With the nature of how the industry works, people of color have to work "ten times harder." I don't want to have to force myself to fit into environments that don't value my voice. Personally, I'm not writing to contribute and sell to major studios with a history of exclusion. I want to work with my peers. I want to work with people that look like me, as well as those with important stories from other marginalized communities. I personally am a Black and Indigenous woman, so I want to hold up stories that are speaking to those communities, of course. For me, my writing has been trying to treasure that, and realizing that, like all my peers, we all have unique voices, and we all have different stories that we want to tell.
What classes or experiences have impacted you most so far?
I currently am working with a screenwriting professor who is truly amazing. He's a professional working writer at Hulu and HBO. I think that's the most we can get out of our education—learning from people who are actually doing the work that they're teaching you how to do. And I love screenwriting. I love analyzing how things are filmed from script with popular movies, especially seeing how things translate from the paper onto the screen. He really does a really good job of helping me understand that in ways that I didn't know before coming to Pace.
We also went on a field trip to The Players, which is a community space for people who work in the industry, whether it be writers or performers. We got to meet some artists and be shown around this very exclusive space. After these field trips, we'll talk about what would we contribute to that space if we were in that environment. And I think that's Brian's artistry—showing us all of this, and then asking us to envision ourselves in the space and to ask ourselves how we can make the space better. Because everyone can try to fit into a mold, but if you don't have a story to tell, then you're taking up space from someone who would have a story to tell. We are here to create space, and that's one of the many beautiful parts of this major.
As a person of color, and someone who wants to work in film and theater and media, and as someone who writes, it's really important to me to have diversity and equity at the forefront of my work.
What are your long-term goals?
My long-term goal is to work in the realm of directing, but I also see myself as a complete artist, and I think that's something that this major also really focuses on. We want to see ourselves as whole artists so that we can fit into different worlds of artistry and figure out what works for us. I'm in a video gaming narrative class right now taught by a Black woman, Novera King, who creates narrative writing for video gaming, which is the coolest job in the world. She explained all the stages of her career, which started in writing rooms. But she saw herself as a whole artist and didn't limit her ability, because writing is not just about writing for the screen or stage, but if you have a story to tell, it can fit into so many different genres of artistry, such as video games. Film directing is a goal, and that's genuinely what I would love to do, but I really value writing, so you could also say that I want to be a screenwriter. Right now, I am creating stories that someday I would love to see put on screen.
What are you looking forward to most for the rest of your time in this program and at Pace?
I'm most excited to see the cohorts under us come up because we were in the pilot program. I'm a member of the first group of people in this major, and I could count on one hand how many people there were that first semester. Now we have a full table of people coming into my third semester in the major. It's really exciting to see freshmen who are able to start out in the major. I hope we're setting a good example for them and getting new and younger voices into the room to contribute. I'm really excited to see the progression of our writers' room. I want to see it get bigger. I want to see it get more diverse. I want to see more faces. I want to see more people with differing experiences that are willing to share because that's what this medium is all about: collaborating with your peers and taking in other people's perspectives.
What would you tell a younger student who's considering majoring in this program?
I would say if writing is important to you and you're looking to cultivate your voice as a writer, then this is the major for you. If you value DEI in media that you consume and you want to create media that's going to be consumed by someone who looks like you or looks like your peers, then this is the major for you. You're going to get a lot out of it, and you're going to learn so many skills and get in contact with so many people and have access to cool opportunities that a lot of other majors don't necessarily have access to. That's the exciting thing about this program—it's only getting started and we're already experiencing all of these cool things. And with the Rothschild funding being renewed, it's so exciting to see all of the possibility that we now have.
More About the Major
Students
As a first-generation Mexican-American and college student who has always been fascinated by film and theater, Cambria Kylinn Martin '24 is relishing the opportunity to explore identity and intersectionality through the Writing for Diversity and Equity in Theater and Media program.
Students
Dreana Henry '26 is among the first students to come to Pace specifically to major in Writing for Diversity and Equity in Theater and Media. She's fully embracing the industry connections she's already made, while looking forward to pursuing more opportunities the program—and New York City overall—have to offer.