Students
Q&A with Cambria Kylinn Martin '24
Image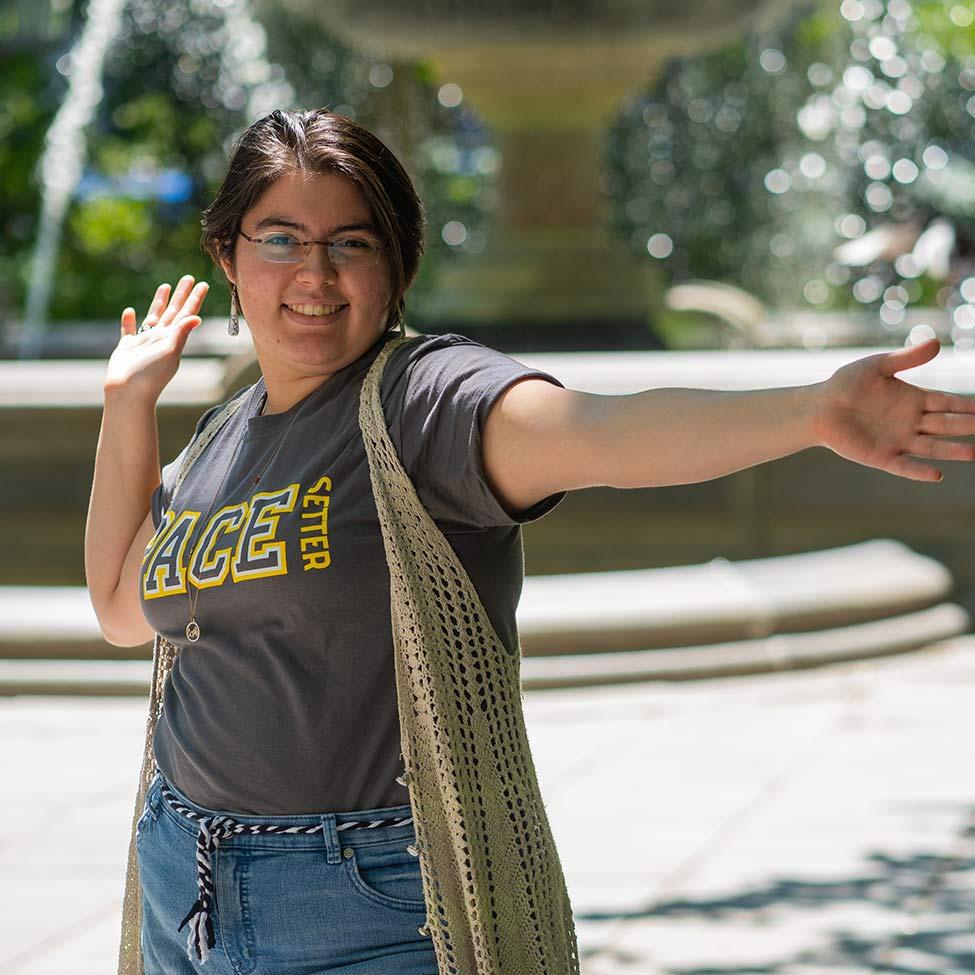 What drew you to Pace?
I applied to Pace on a whim because I wanted to go to New York. I heard of Pace from a student stage manager in our senior production in high school in Santa Monica, California. I've always had a fascination with film and theater, and I never had been to New York before, but I wanted to go. So I packed my bags and came to NYC in fall 2020 with all the fears and hopes for the future.
What drew you to the Writing for Diversity and Equity in Theater and Media program?
I found out about the program when I was helping people move in as part of my responsibility as vice president for the Residence Hall Association (RHA). I attended a webinar introducing the new major, and then I went and met S. Brian Jones. I felt like it was serendipitous that I ended up at Pace and that this program came about, because the program was explained in the words that I have always used to describe what I wanted to do. My parents are from Jalisco, Mexico and within the lives of my parents, siblings, and me, there was a lot of assimilation that was done. I never saw myself or any of my family represented in the media. Even as a pale Latina, with colorism heavily present in media, I noticed from a young age the binary that looms over the concept of identity with race and ethnicity. When I talked to Brian, we bonded about Cinderella with Brandy and Whitney Houston from 1997, and we just could not stop talking about what we want to see represented of ourselves, our identities, and our families in media. That's when I knew that we were going to get off on the right foot.
Which classes or experiences from the program so far have had the greatest impact on you?
For my first class in the major, I got to do Creative Writing: Drama and learn how to actually be a playwright. I had a professor who also has a connection to Mexico as a Chicano, which was a rare thing to find because I feel like I haven't met a lot of Mexican-Americans or Chicanos here in New York. Having that professor, Beto O'Byrne, understand the cultural things I'm talking about has been a core thing and form of guidance for me.
When S. Brian Jones describes the program, he says the goal of the program is not necessarily to get students a seat at the writers' table but rather to empower them to create their own table. What does that mean to you and how have you seen that come to life?
Even before high school, I knew I wanted to do something in theater or film, something especially centering on identity, specifically Latin American identity and all of its intersectionality. S. Brian Jones is someone who you can feel an immediate intellectual connection with. We understand each other, and we understand artistically how we want to approach things. To think about making my own table, I feel very privileged to be able to have that opportunity, and I hope to be able to do more with that platform, whatever it might be. I think about when I was a little kid watching Brandy in Cinderella—I think about those little kids who probably have not seen themselves on screen, on stage, in literature, or anything with identity and all its facets of race, ethnicity, culture, sexuality, etc. To be able to think that with this program, with the people that I'm meeting who are in my cohort, to have the ability to give that experience [to see themselves on the screen] to more kids, it just warms my heart and keeps me going.
To be able to think that with this program, with the people that I'm meeting who are in my cohort, to have the ability to give that experience [to see themselves on the screen] to more kids, it just warms my heart and keeps me going.
Have you participated in any internships?
Through my Pace Storytelling Fellowship, I got to have an internship in the summer with the Atlantic-Pacific Theater here in New York, which was the first time I got to do theater since the pandemic. It was at the New Ohio Theatre, as part of the Ice Factory Festival 2022. I was a stage manager, and I got to do familiar things in that role since I've done it and numerous other roles like it, before back home at Morgan Wixson Theatre, and I was also learning how to help in all facets of the production as an adult. I also got to shadow my mentor, Beto O'Byrne, in the new show they're working on, since they finished their previous show that was also at that same theater, which was another full-circle moment.
Are there any challenges you have overcome that you're proud of and would like to share?
I'm a first-generation Mexican-American, but also a first-generation college student, and this is all very new. Even if there wasn't a pandemic, it's very new, and everything would be daunting. I'm just trying to trust the process, which is something we would always say in theater tech. I try to tell myself to trust that everything happens for a reason.
What are your goals for the future?
I know S. Brian Jones would say to try and go into a less populated and oversaturated market for entertainment. But I worked so hard to come to New York, and I would love to stay in New York in theater or go back to California to LA to work in film. I think during these next two years before I finish college, since these first two went by so quickly, I'm just going to try to remind myself that it's okay to make mistakes and to keep cultivating those relationships that actually feel genuine rather than just networking for networking's sake. I've wanted to write, act, direct, and produce since I was a little kid getting lost in a movie and/or musical, so there is always the hope to learn more and expand. I do hope to have a production company of some sort that can focus on Latin American identity, but not be exclusive to it. Our culture is so large that I want to cultivate a space where we can have our stories told by us. I am only one type of Latin American, so I want to have more of our voices in the cultural zeitgeist so that people can see who we really are as an ethnicity full of different countries, languages, races, religions, and so much more that cannot be encapsulated and/or expressed by one single person. It's a group effort, and I hope to contribute to it.
More About the Major
Students
Dreana Henry '26 is among the first students to come to Pace specifically to major in Writing for Diversity and Equity in Theater and Media. She's fully embracing the industry connections she's already made, while looking forward to pursuing more opportunities the program—and New York City overall—have to offer.
Students
As a member of the pilot program for the Writing for Diversity and Equity in Theater and Media major, A'ishah Muhammad '25 is excited at how the program is continuing to grow, welcoming more voices and perspectives into their writers' room.