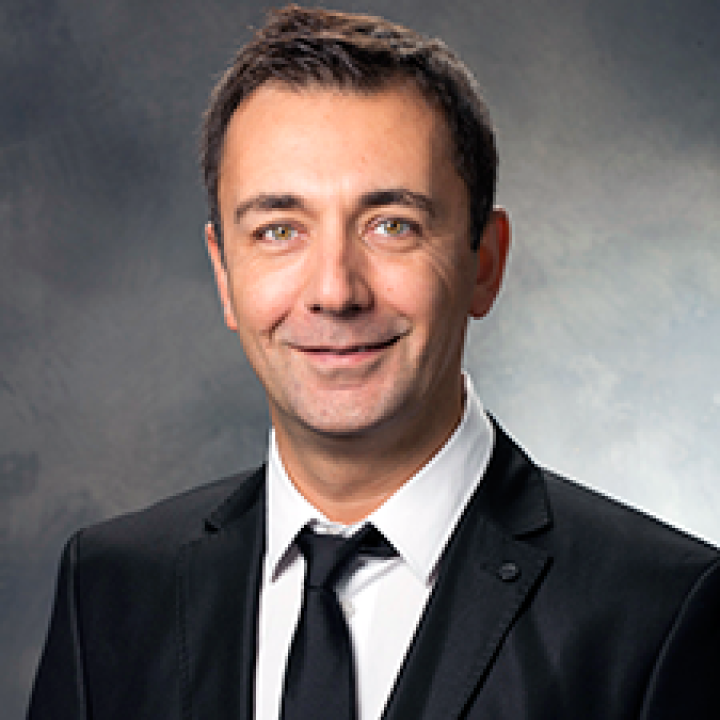 Ion Chivu
Associate Professor
Dyson College of Arts and Sciences
The Actors Studio Drama School
NYC
1210
163 William Street
Biography
Faculty Bio
Ion-Cosmin Chivu has been recognized as an outstanding vital force in the theatre world and has received multiple awards for his work, including a nomination for the 2014 Drama League Awards in the Best Revival category and the New York Times and Time Out critic's pick for 'The Mutilated' by Tennessee Williams. Chivu is a New York based theater director born in Romania and has directed over fifty professional and university productions in America, Austria, England, Germany, Greece, Italy, Romania, and Thailand. Recent projects include 'The Mutilated' by Tennessee Williams (Contemporary Arts Center New Orleans, 2015), 'More Stars Than There Are in Heaven' by John Guare (Provincetown Tennessee Williams Festival, 2015), 'Our Class' (Skirball Center/ Temple Emanu-el, NYC, 2015). Other projects include 'Beautiful Province' by Clarence Coo, winner of the 2012 Yale New Drama Series, presented at Lincoln Center Theater 3, Irwin Shaw's 'Bury the Dead' at HERE Arts Center and at the 2014 Sibiu International Festival, and 'Something Cloudy, Something Clear' by Tennessee Williams produced by the Provincetown TW Festival. In America Cosmin directed over 30 plays in New York City (Lincoln Center, Cherry Lane, The Actors Studio, HERE Arts Center, UBU Rep, The Players), Massachusetts (The Provincetown T. Williams Festival, KO Festival), California, and New Jersey. He is a lifetime member of the Actors Studio and a member of the Lincoln Center Directors Lab. Cosmin has completed Artist Residency programs with the Drama League, SDC, and the Jack O'Brien fellowship at the Old Globe, San Diego. He is the founder of InterArt Theatre Group. Ion-Cosmin Chivu is currently the Head of BA Acting and Directing, International Performance Ensemble at Pace University Performing Arts, NYC. In addition to the Theater courses he teaches at Pace, in recent months Cosmin also taught Master Classes on Acting, Improvisation, Directing styles, and European Drama at the Actors Studio Drama School, London's Central School of Speech and Drama, Tisch School at NYU, the University of Hawaii, Theatre of Changes - Athens, Greece, and Chulalongkorn University- Bangkok, Thailand. He is actively involved in developing new work and in translating contemporary European plays for an American audience. For four years he has been developing new plays in the Actors Studio's Playwriting Directing workshop. ? Since 2012 Chivu has been the host of The Masters Series at Schimmel Center for the Arts, a public conversation with well-established, outstanding artists. He holds a Masters in Theatre Directing from the Actors Studio Drama School, New School, NYC and a BFA in Acting from the G. Enescu Art Academy, Romania.
Awards and Honors
Pace International, 2015, Pace International Outstanding Faculty Award
The Drama League Awards, 2014, 2014 Drama League Nomination for Best Revival of a Broadway or an Off Broadway play
Pace University, 2013, 2013 Pace University Distinguished Service Team Award.
Pace University, 2012, Division of Enrollment Management Recognition
Education
MFA, Actors Studio Drama School, The New School University, New York, 2003
Directing

BFA, The National Theater and Arts Academy, Iasi, Romania, 1996
Acting


Research and Creative Works
Research Interest
Systems of Acting, Directing Styles, Improvisation.
Artistic and Professional Performances and Exhibits
THE MUTILATED by Tennessee Williams
[Theatre - Direct play] Contemporary Arts Center, New Orleans, Contemporary Arts Center, New Orleans, New Orleans, LAMORE STARS THAN THERE ARE IN HEAVEN a new play by John Guare
[Theatre - Direct play] Playhouse Creatures, Provincetown Tennessee Williams Festival, Provincetown, MAOUR CLASS by Tadeusz Slobodzianek
[Theatre - Direct play] Skirball Center, Temple Emanu-el, Polish Cultural Institute and Skirball Center, New York CityBury the Dead by Irwin Shaw
[Theatre - Direct play] BA International Performance Ensemble, HERE ARTS Center, New York City, NYOur Class by Tadeusz Slobodzianek
[Theatre - Direct play] InterArt Group, The Drama League, New York, NYThe Mutilated by Tennessee Williams
[Theatre - Direct play] The New Ohio Theater, Beth Bartley Productions, New York, NYThe Altruists by Nicky Silver
[Theatre - Direct play] Pace Performing Arts, Schaeberle Studio, New York, NYThe Free Women of Lanka by Bua Parida Manomaiphibul
[Theatre - Direct play] Chulalongkorn University, Chulalongkorn University, Bangkok, ThailandBeautiful Province by Clarence Coo
[Theatre - Direct play] Lincoln Center Theater III, Yale University Drama Series, New York, NYThe Family Continues by Lanford Wilson
[Theatre - Direct play] Pace Performing Arts, La Mama Theater, New York City, NYSomething Cloudy, Something Clear by Tennessee Williams
[Theatre - Direct play] InterArt Group, Provincetown Tennessee Williams Festival, Provincetown, MAThe Remarkable Rooming House of Mme Le Monde by Tennessee Williams
[Theatre - Direct play] Pace Performing Arts, La Mama Theater, New York City, NY'Serenade' by Slavomir Mrozek
[Theatre - Direct play] Pace Performing Arts, La Mama Theater, New York City, NYA Night in the Kremlin by Bernard Besserglik
[Theatre - Direct play] InterArt Group, The Abingdon Theater, New York City, NYHe's Having a Baby by Andrew Kaplan
[Theatre - Direct play] InterArt Group, 29th Street Rep, New York City, NY
Courses Taught
Past Courses
PAGE 225: Thtr Prctcm for 2nd Yr PA Mjrs
PAGE 271: Cultural Theater Travel Experi
PAGE 290: Theater Practicum
PAGE 325: Thtr Prctcm for 3rd Yr PA Mjrs
PAGE 390: Theatre Internship
PAPE 110: Acting I
PAPE 111: Acting II
PAPE 251: Int'l Performance Experience
PAPE 271: Directing 1 for BA Director
PAPE 272: Directing Lab1 for BA Director
PAPE 273: Directing II for BA Director
PAPE 274: Directing Lab2 for BA Director
PAPE 370: Directing III for the Director
PAPE 371: Directing IV
PAPE 384: Appld Perfm Lab BA Actrs & Dir
PAPE 396: Appld Perfm Lab BA Actrs & Dir
PAPE 499: Senior Showcase for Actors
THR 127: Cultural Theater Travel Exp
THR 151: Acting I
THR 196: Topic: PAPE Travel Course
THR 225: Theatre Practicum
THR 251: Acting II
THR 301: Advanced Scene Study I
THR 356: Advanced Scene Study II
THR 390: Theatre Internship
UNV 101: First-Year Smnr Unvrsty Cmmnty

Professional Contributions and Service
Professional Memberships
Council on Undergraduate Research [member]
Network of Ensemble Theaters [member]
Lincoln Center Directors Lab [member]
The Actors Studio [Lifetime Membership]
Stage Directors and Choreographers Foundation [Member]
Department Service
Media Committe [Committee Member]