Students
Business Experience and Beyond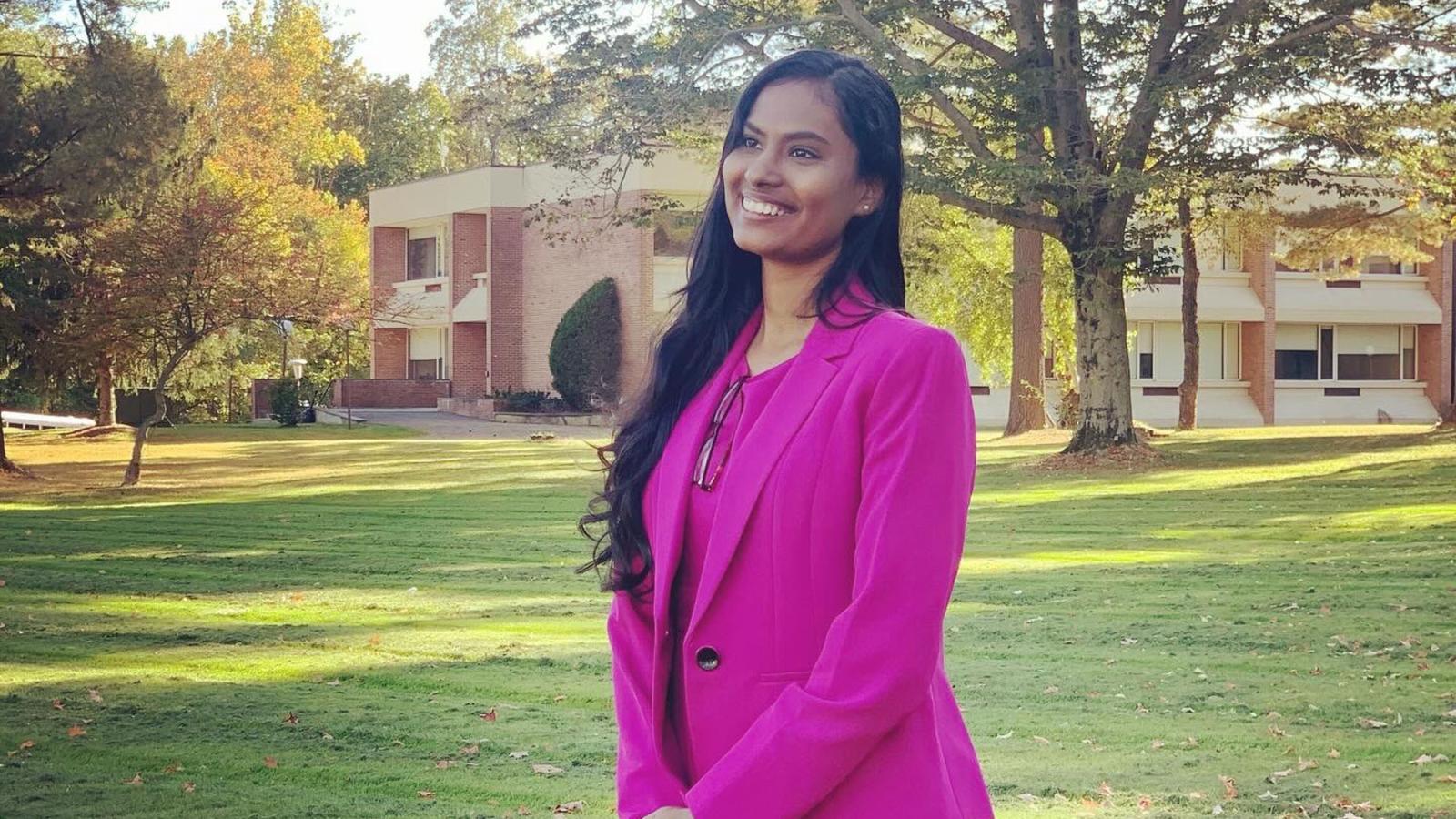 Akshata Swami
Class of 2024
Currently Studying: MBA in Business Analytics
Member Of: Beta Alpha Psi (Chairman of Graduate Division)
Pronouns: She/Her
When Akshata Swami sees an opportunity, she goes after it—and it shows. Not only is she on the e-board for Pace University's chapter of Beta Alpha Psi, but she also traveled with the organization to Las Vegas, attended an exclusive investor summit, and spent a week in India with Lubin peers and other students from around the world. As a Pace Go Getter, Akshata is clearly setting herself up for success as she gets ready to head into her final semester with Lubin.
Why did you choose Pace University and the Lubin School of Business?
I selected Pace University and the Lubin School of Business as my choice for pursuing an MBA for several reasons. Situated in the vibrant heart of New York City, Pace University provides access to exceptional resources and a robust alumni network, which was important to me. The accreditation of the MBA program and the opportunities that Lubin provides are world-class. Pace University's MBA graduates enjoy worldwide recognition, which was a significant factor in my decision.
How have clubs on campus helped enrich your student experience?
I joined Beta Alpha Psi in 2022 and currently serve as the Chairman of Graduate Division on the executive board, spearheading and planning events. I am also part of First Gen. I have had the opportunity to meet top employers and recruiting teams through BAP. I was also the recipient of the Janetschek Professional Growth Scholarship, which allowed me to travel to Las Vegas and participate in a case consulting competition with BAP. This experience has added value to my MBA journey as BAP is a nationally recognized business honors society.
As a first-generation student in my family, I embarked on a journey to pursue an MBA in the United States. Pace University became my guiding light during my first year, offering unwavering support and guidance. What struck me most was the inclusive and diverse environment of the Lubin School of Business, which made me feel right at home.
Tell us a bit about being an international student at Pace
As a first-generation student in my family, I embarked on a journey to pursue an MBA in the United States. Pace University became my guiding light during my first year, offering unwavering support and guidance. What struck me most was the inclusive and diverse environment of the Lubin School of Business, which made me feel right at home.
Throughout my academic journey, I have found a network of support from my professors, the Career Services team, and the International Student Services (ISS) team. They consistently prioritized the needs of international students like me and were readily available to address any questions or concerns.
I have cultivated a close relationship with the Career Services team, who have been instrumental in my exploration of the US job market. They've gone above and beyond by organizing corporate visits and connecting us with potential employers, ensuring that we have the best opportunities to succeed in our careers. Their support has been invaluable in my international education journey at Pace University and the Lubin School of Business
Over the summer, you attended the Indian Institute of Management (IIM) Shillong International Week with Lubin. Why was it important for you to take advantage of this opportunity?
The Indian Institute of Management schools are esteemed institutions for management studies, both nationally and globally. Growing up, I dreamt of joining an IIM in India, and this dream became a reality, thanks to the pivotal role that Pace University played in my journey. I am grateful to Pace for giving me this once-in-a-lifetime opportunity.
During my time at IIM Shillong, I had the incredible privilege of participating in International Week, which was a transformative experience. This event brought together students from various nationalities and allowed me to interact with industrialists and professors from diverse universities. Their guidance and knowledge continue to shape and influence my career today.
The rich network of friends and colleagues I've developed is a priceless asset that I cherish, and it wouldn't have been possible without the support and opportunities provided by Pace University's Lubin School of Business. I extend my heartfelt gratitude to them for making my dreams a reality and for enriching my life in immeasurable ways.
You were a recent recipient of the Janetschek Professional Growth Scholarship to attend the Beta Alpha Psi Project Run With It case competition in Las Vegas. How did you learn about the Janetschek Fund?
I was fortunate to be one of two students selected to receive the Janetschek Fund scholarship. This scholarship enabled me to attend the annual BAP meeting in Las Vegas and participate in the Project Run With It case study. During the event, my team and I had the opportunity to tackle a real-life case consulting issue for a non-profit organization, competing against ten other teams. My introduction to the Janetschek Fund came through my faculty advisor for BAP.
How can the Janetschek Fund help students succeed outside of the classroom?
The Janetschek Professional Growth Fund provides financial support to qualified Lubin undergraduate and graduate students seeking business-related development beyond their academic programs. It motivates students to pursue and explore various fields and certifications, including skills training, credential preparation, and related co-curricular education and activities that develop professional competencies complementing their program of study.
What motivated you to attend the CNBC Delivering Alpha Investor summit? How has the summit impact you and your time in the classroom?
My motivation to attend the CNBC Delivering Alpha Investor Summit was driven by my deep interest in the finance world and industry. This summit is widely recognized as one of the most significant and exclusive events organized by CNBC, drawing some of the most prominent figures in the finance world. It presented a unique opportunity for me to gain invaluable insights and network with key players in the industry. The impact of attending this summit on my academic experience has been profound. The knowledge and perspectives I gained from industry leaders have enriched my understanding of finance, which I've been able to bring into the classroom. This real-world exposure has allowed me to connect theoretical concepts with practical applications, making my education at Pace University more dynamic and relevant.
What has been your favorite opportunity at Pace?
My most cherished opportunity at Pace has been the privilege of giving back to the University by serving as a Graduate Intern for the Dean's Office. This role has allowed me to foster a deeper connection with the University as I work internally within Pace. It has been immensely rewarding to be involved in organizing and planning events while applying my academic and technical skills to contribute to the University's success. This experience has not only enhanced my personal and professional growth but also reinforced my sense of belonging within the Pace community.
Do you have any advice for other Lubin students?
Never underestimate the power of networking and attending events. Joining clubs and actively participating in university-sponsored events can be a game-changer for your academic and professional journey. Pace University puts a lot of effort into designing and planning events tailored to students, so be sure to take full advantage of these opportunities.
Additionally, make Handshake your go-to app for everything related to career development and job opportunities. It's a powerful resource that can open doors to internships, job placements, and more. By actively engaging with the Pace community and utilizing tools like Handshake, you can maximize your college experience and set yourself up for future success.
What does #LubinLife mean to you?
#LubinLife holds a special place in my heart because it signifies more than just my academic journey. It's a holistic experience that blends the joy of being on campus, forging meaningful connections with peers and mentors, and immersing myself in a community that fosters personal and professional growth. It's about relishing the moments in and out of the classroom, appreciating the vibrant campus environment, and feeling a deep sense of belonging. Ultimately, #LubinLife embodies the pursuit of knowledge and dreams and the cultivation of lasting memories that will accompany me throughout my life.
Connect with Akshata: