Students
Podcasting, Filming, Editing: Students are in on All the Action
The philosophy of "learning by doing" is undoubtedly at the heart of Pace University's Media, Communications, and Visual Arts (MCVA) department on the Pleasantville campus. Each semester, MCVA faculty find new and creative ways to immerse students in real-life situations—in the podcasting booth, behind the camera, and in the editing studio. Here's a snapshot of MCVA's exciting courses and initiatives and how hands-on learning is impacting students and alumni as they embark on dynamic careers.
Booth Review
Image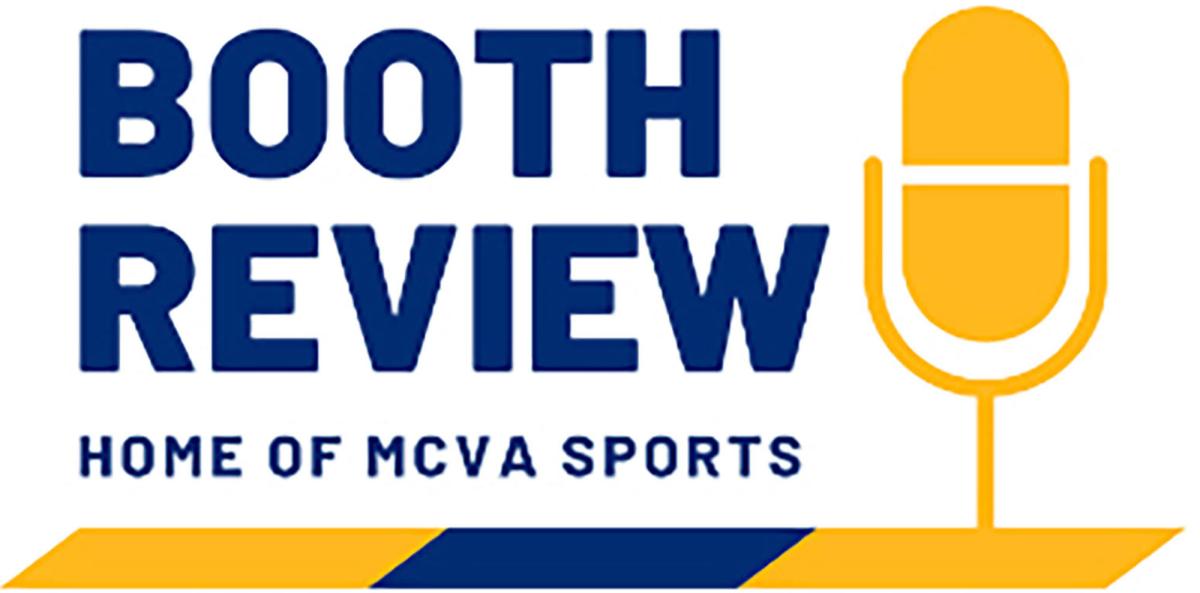 About Booth Review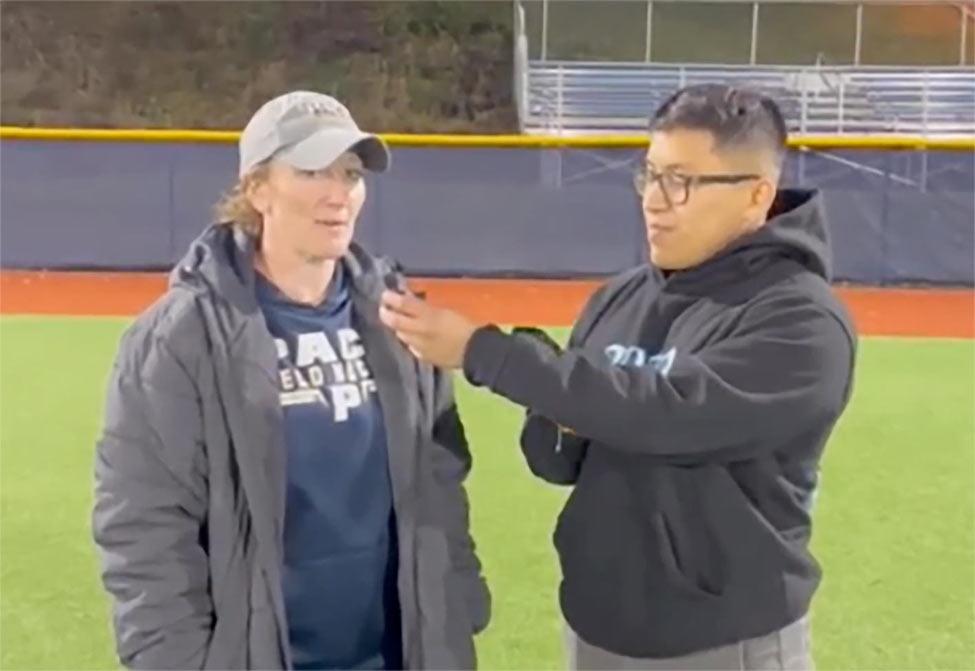 Launched during the 2021-22 school year by Associate Professors Michelle Pulaski Behling, PhD, and Kate Fink, PhD, Booth Review is MCVA's own sports broadcasting initiative through which upper-class MCVA students can intern for credit. Booth Review puts interns in the action, producing podcasts, conducting interviews, and writing articles about Pace athletics, as well as about contemporary issues in the sports world at large. In the fall semester, interns hosted a discussion entitled "Sports, Media, and Activism" as part of Pace's annual Social Justice Week and aided in research for a journal article on the public relations impact of the National Letter of Intent.
A student's perspective
"Booth Review has impacted my career aspirations because it is everything that I want to do," said Jack Cunningham '23, Communications. "I want to be a sparkplug type of reporter. I want to be able to do on-air reporting, write articles, and interview athletes. I have only realized how much I loved it during this internship."
BoomBox: A Short Film
Image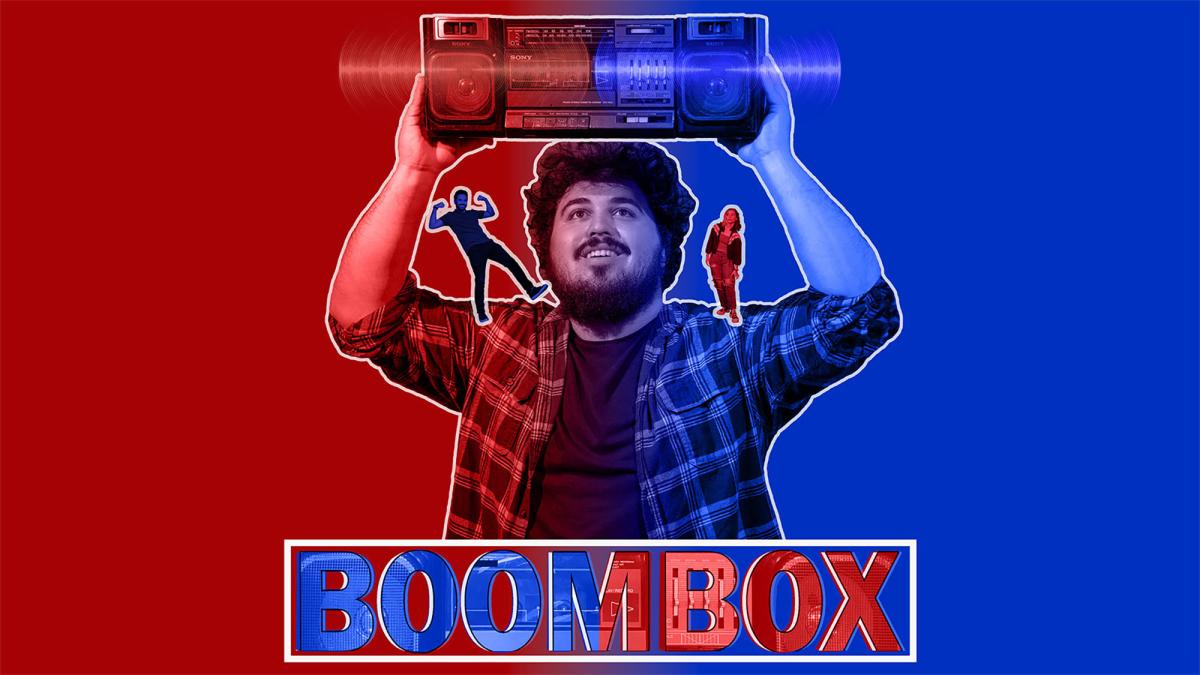 About BoomBox
Students from the Cinematography 1 and Lighting: The Craft of Cinematic Artists courses, both taught by Professor Lou Guarneri, MA, teamed up on a superhero action/comedy short film called BoomBox, a follow-up to fall 2021's Super Like. The production of BoomBox focused on utilizing different lighting techniques to create "dark yet vividly colorful tones." Students in both classes hosted a premiere of the film for the Pace community on January 26 on the Pleasantville campus.
A student's perspective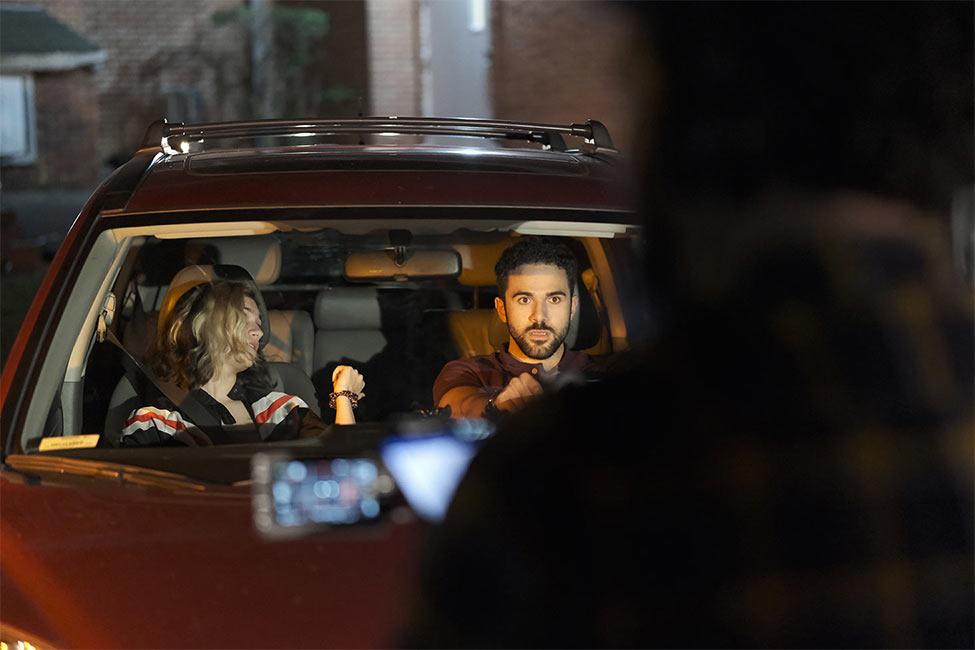 "Boombox is a love letter to stepping past what's possible," said Diego Mallens '23, Digital Cinema and Filmmaking. "I hope that other filmmakers at Pace University see that with a bit of creativity and innovation that they can make any film they set their mind to. Being able to step into the genre I love, and to be a driving force in it, made me more confident than ever that the skills I've been honing in the MCVA department are going to get me where I ultimately want to go."
New State-of-the-art Audio Equipment
About audio equipment upgrades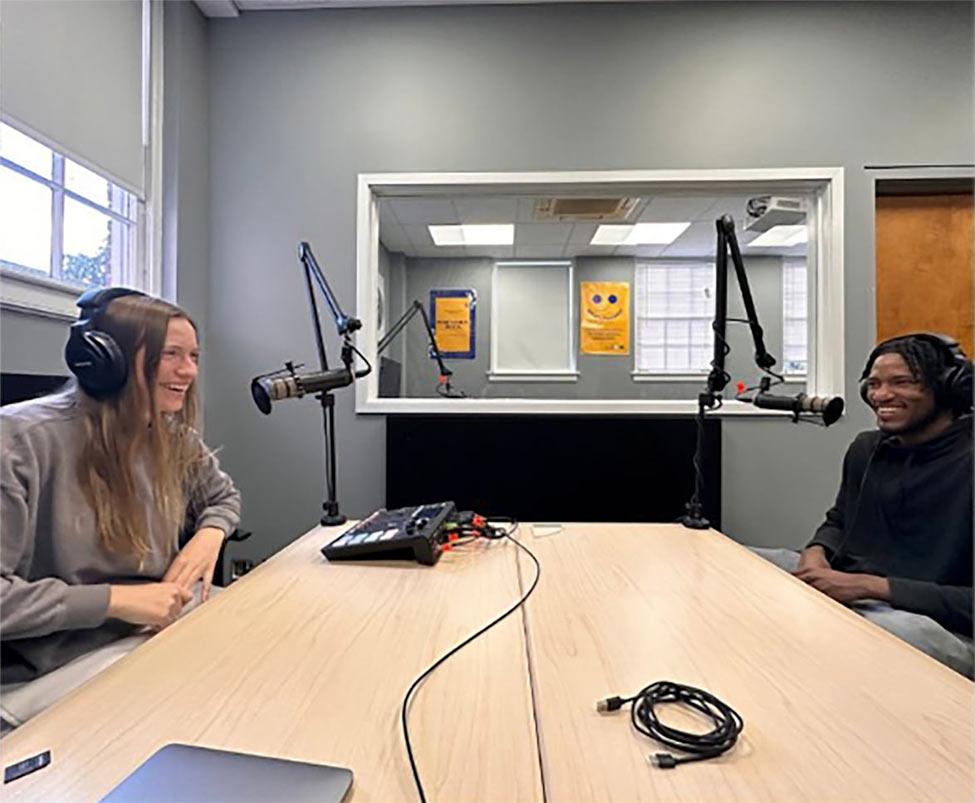 The audio studio in the Communications Lab recently got an upgrade, with a new professional-grade mixer and microphones. Access to this state-of-the-art equipment allows audio production to be more user-friendly in courses such as Audio Storytelling and has facilitated the production of more podcasts, including Booth Review and What's Pleasant?, a podcast developed and managed by Fink that discusses the happenings on campus.
A student's perspective
"I chose to take Audio Storytelling to get a better understanding of audio as a whole and of its equipment," said Mallens. "Being able to use the RodeCaster [podcast mixer] and Zoom Recorder [on-location audio recorder] (to name a few) that focused specifically on audio was a whole new beast for me to tame, especially when audio has always been a weakness of mine. I found myself quickly becoming comfortable with it once I applied myself. I ended up doing more audio design in my free time, working on podcasts or recording narrations for my films."
Partnership with Pleasantville Community TV
About "PCTV Presents the Young Directors"
The Media, Communications, and Visual Arts department has partnered with Pleasantville Community TV (PCTV), a local television station, for "PCTV Presents the Young Directors." Under the direction of Guarneri, the partnership provides an opportunity for current students and alumni to showcase their filmmaking to a local television audience. Beginning January 2023, PCTV will air films by Pace students and alumni once a month, including vignettes of interviews with the filmmakers.
An alumnus's perspective
"My directing film, Sea Sick, is over a year old now and I remember the lengthy writing process, the small amount of time we had to shoot the film, and the endless hours and weeks of editing by myself," said alumnus Cory Kinchla '21, Digital Cinema and Filmmaking, who, after serving as a manager at Smashbox Studios, is now freelancing as a set production assistant for commercials in New York City. "It was the hardest I've worked on any project and I'm still happy with the way it came out. PCTV being interested in my film has taught me that working hard and putting my work out for the world to see will lead to things that I never thought I'd be a part of."
PaceDocs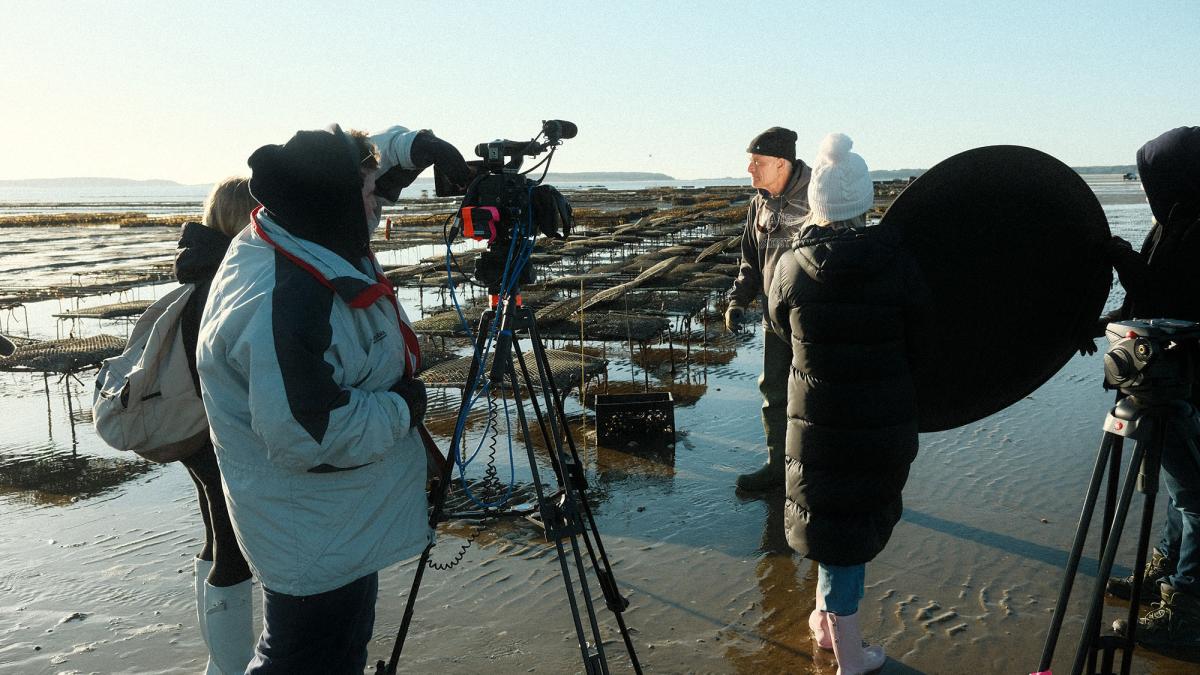 About PaceDocs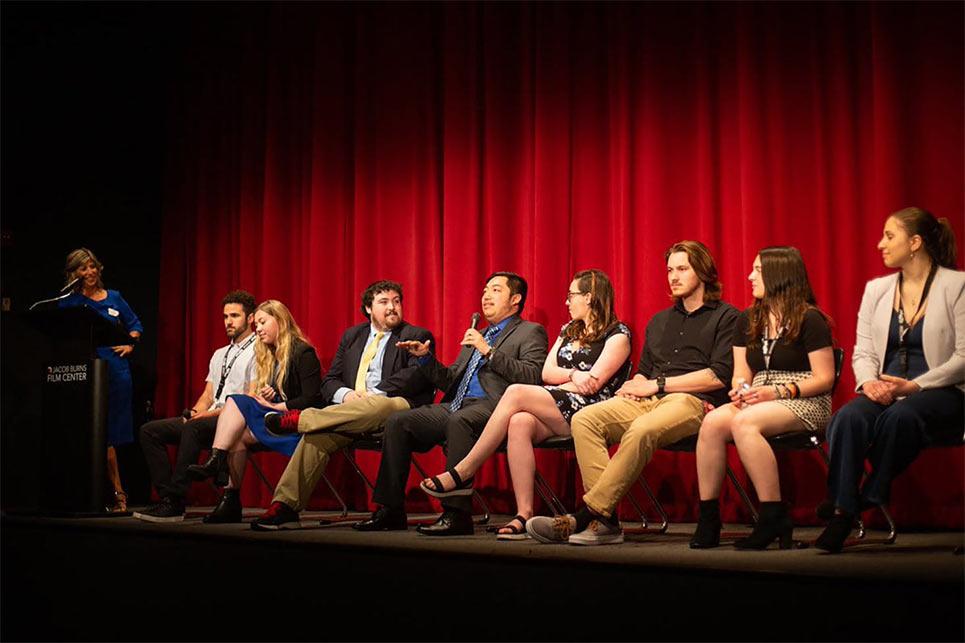 A storied example of experiential learning at Pace, the Producing the Documentary course, led by Professor Maria Luskay, EdD, and Guarneri, gives students a semester-long crash course in producing a real-life documentary on a timely and culturally significant topic. Students engage in all parts of the filmmaking process, including working with state-of-the-art video, audio, and editing equipment, researching the topic, and engaging in on-location producing, filming, and directing.
In Spring 2022, the PaceDocs team premiered Tide to Table: The Remarkable Journey of Oysters, which was filmed in Cape Cod, along the Connecticut shores of the Long Island Sound, and on waterways throughout New York City. The film won best student documentary at the Williamsburg Film Festival this fall and had showings throughout the Northeast—the most ever for a PaceDocs film—including at the Jacob Burns Film Center in Pleasantville, the Mystic Seaport Museum in Mystic, Connecticut, and theaters in Manhattan and in Chatham, Dennis, and Wellfleet, Massachusetts.
This spring, the PaceDocs team will head to France, visiting Laon and Paris over Spring Break to produce a documentary on the love of food, aimed at the slow food movement in France.
An alumna's perspective
"Professor Luskay and Professor Lou Guarneri's Producing a Documentary class influenced me so much," said Emmy-winning producer Rachel Skopp-Cardillo '20, Digital Cinema and Filmmaking. "I learned all about teamwork and hard work through the making of two documentaries, Puerto Rico: Hope in the Dark (2018) and Hawaii: Living on the Edge in Paradise? (2019). Working on a PaceDocs documentary is one of the best ways to experience hands-on learning outside of the classroom at Pace. With roles as first assistant director and colorist, I was able to thrive as a filmmaker and gain confidence in knowing that this is what I am supposed to be doing with my life."
Video Project with Berkshire Theatre Group
About Video Project with the Berkshire Theatre Group
In Luskay's Communications and Digital Media online graduate course, students were broken into two groups to develop video content for the Berkshire Theatre Group (BTG), using footage from the group's production of Godspell. Students worked directly with administrators at BTG to create pieces that suited the group's needs for promoting their brand, reaching new audiences, and engaging potential donors.
A student's perspective
"The piece we produced for BTG was ultimately the culmination of a semester's worth of effort in all phases of pre-production, production, and post-production," said Caroline O'Kane '22, MA Communications and Digital Media, who managed one of the production teams, leading team meetings, scheduling editing sessions over Zoom, and liaising with BTG. "We gained hands-on experience working with a real client who had real opinions, recommendations, and requests. We wanted to deliver something that would not only serve a purpose but serve the purpose that was right for them."
More Dyson Digital Digest Stories
Alumni
Emmy Award-winning producer and third-generation alumna Rachel Skopp-Cardillo's success is deeply rooted at Pace.
Press Release
Pace University Professor of Biology Nancy Krucher, PhD, has received a three-year $400,241 grant from the National Cancer Institute (NCI) through the National Institutes of Health (NIH) to study new methods to combat cancer cell development of resistance to targeted treatments.
Faculty and Staff
Associate Professor Satish Kolluri, PhD, and Professor Joseph Lee, PhD, challenge students to explore complex themes of family, love, art, culture, and politics through Hong Kong and Bollywood cinema.