Alumni
The Emmy Winner: Rachel Skopp-Cardillo '20
Emmy Award-Winning Producer and Third-Generation Alumna Rachel Skopp-Cardillo's Success is Deeply Rooted at Pace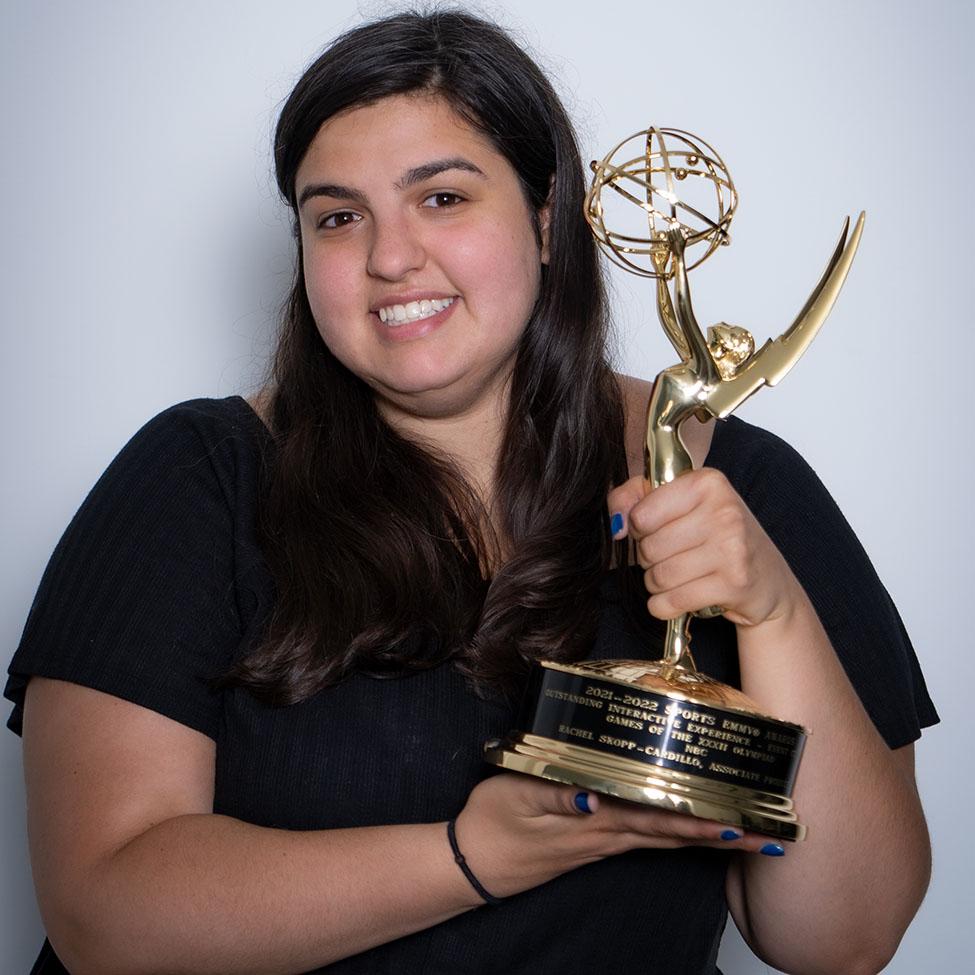 You are a coordinator for field scheduling at NBC Sports, and recently, an Emmy-award winning associate producer for your work on the Tokyo 2020 Olympics. Tell us how it felt to be recognized for this extraordinary achievement so early in your career.
I've always wanted to work with the Olympics and my family is very involved in sports. My father is a sports chiropractor, and my mother is a documentarian, who did documentaries about Olympic Swimming Trials and races across the Sahara Desert. She has three Emmys of her own, also for her work as a senior producer, so I've always known that I've wanted one and dreamed of having one with my own name on it. At a friend's graduation party in high school, I was voted most likely to win an Emmy. Funny enough, I didn't even know that I was nominated, but found out the following day when the press release came out and I searched my name. I screamed and ran all over my apartment. I first called my mom, saying "I think I am crying!" Then, I called my favorite Pace professor, Professor Maria Luskay!
Can you describe the work you did at NBC Sports that led to your Emmy win?
I worked in the Highlights Factory, which is something I will never forget. It's a huge room filled with shot selectors, production assistants, editors, producers, and directors. The operation ran 24/7, and it publishes highlights, compilations, interviews, and inspiring stories on NBC's YouTube channel and official website. So much footage was coming in, and, with the help of the shot selectors, it was my job to pick the best and share them with the producers and editors. I also directed the Blackmagic ISO [a type of camera] feeds of the Swimming competition all the way from Tokyo. It was a little stressful because the shot selected is on the feed forever. Once I got the hang of it, though, it was quite fun!
"Working on a Pace Docs documentary is one of the best ways to experience hands-on learning outside of the classroom at Pace. I was able to thrive as a filmmaker and gain confidence in knowing that this is what I am supposed to be doing with my life."
You graduated with a Bachelor of Science in Digital Cinema and Filmmaking on the Pleasantville campus. What attracted you to pursue this course of study?
I have Attention-deficit/Hyperactivity Disorder (ADHD), dyslexia, and dysgraphia [a neurological disorder characterized by writing disabilities], so it's really hard for me to write things down and to tell stories verbally. Instead, I feel like I can shine more visually. I love all aspects of production: pre-production, production, and post-production. It just felt natural to me.
How has your degree prepared you for your career and how did you get started? What internships did you have or other activities did you participate in on campus?
Professor Luskay and Professor Lou Guarneri's Producing a Documentary class influenced me so much. I learned all about teamwork and hard work through the making of two documentaries, Puerto Rico: Hope in the Dark (2018) and Hawaii: Living on the Edge in Paradise? (2019). Working on a Pace Docs documentary is one of the best ways to experience hands-on learning outside of the classroom at Pace. With roles as first assistant director and colorist, I was able to thrive as a filmmaker and gain confidence in knowing that this is what I am supposed to be doing with my life.
Also, the video editing classes I took with Professor La Rosa helped me become familiar with the Avid Media Composer editing system which I use daily at NBC, and Professor Luskay's class really helped me with all of the planning aspects of my current role at NBC Sports as a coordinator in the scheduling department.
I had two internships as a student. The first was as a post-production intern with Creative Chaos, in which I assisted producers and editors with their footage needs. The second was as an engagement intern at American Documentary, an opportunity I received with the help of both President Krislov and Professor Luskay. In that role, I assisted in developing educational materials for teachers and students in grades 8-12 on the Season 32 documentaries airing on PBS for POV.
Why did you choose to enroll at Pace University?
It just felt like home. I came from a high school with a very small graduating class, so Pace was big enough for me and yet small enough that I could thrive. I am also a third generation Pace student. My grandmother, Irene Maruzella Cardillo, graduated from [then known as] Good Counsel College in 1951 in White Plains with a degree in Chemistry. My mother, Lauren Cardillo, graduated from the Pleasantville campus in 1980 with a degree in Literature and Communications, and also gave the commencement speech at her graduation.
What projects or goals do you have for the future?
My goals are to work the next Olympics and the Paralympics in Paris in 2024, whether through my office in Stamford, Connecticut or by actually going to Paris. To prepare for this possibility, I've been taking Duolingo lessons for French every day since June of 2022.
What advice would you give to our students as they navigate their college life?
If you're looking for an internship or you're looking to connect with other professionals in your area of interest, join a Facebook group or find a list serve that will help you with job listings. Also, go on every interview you are offered. You never know where it might lead.
More Dyson Digital Digest Stories
Students
From professional quality documentary production to in-the-field athletics coverage, students in the Media, Communications, and Visual Arts department on the Westchester Campus are gaining valuable experience.
Faculty and Staff
Associate Professor Satish Kolluri, PhD, and Professor Joseph Lee, PhD, challenge students to explore complex themes of family, love, art, culture, and politics through Hong Kong and Bollywood cinema.
Students
This fall, Dyson students enrolled in three separate courses had the unique opportunity to curate the exhibit, Continued Relevance: News Photos from the George Stephanopoulos Collection, in the Pace University Art Gallery. The result of this process was a select total of 54 images, each carefully chosen by a student and displayed with their personal commentary, from a gift of more than 1,400 historic news photos from the veteran news analyst and former White House Director of Communications, George Stephanopoulos.