Alumni
Publishing Executive Turned Author: Ebony Ladelle '10
Marketing and publishing executive-turned author Ebony Ladelle '10, MS Publishing, writes about the universal language of love.
Image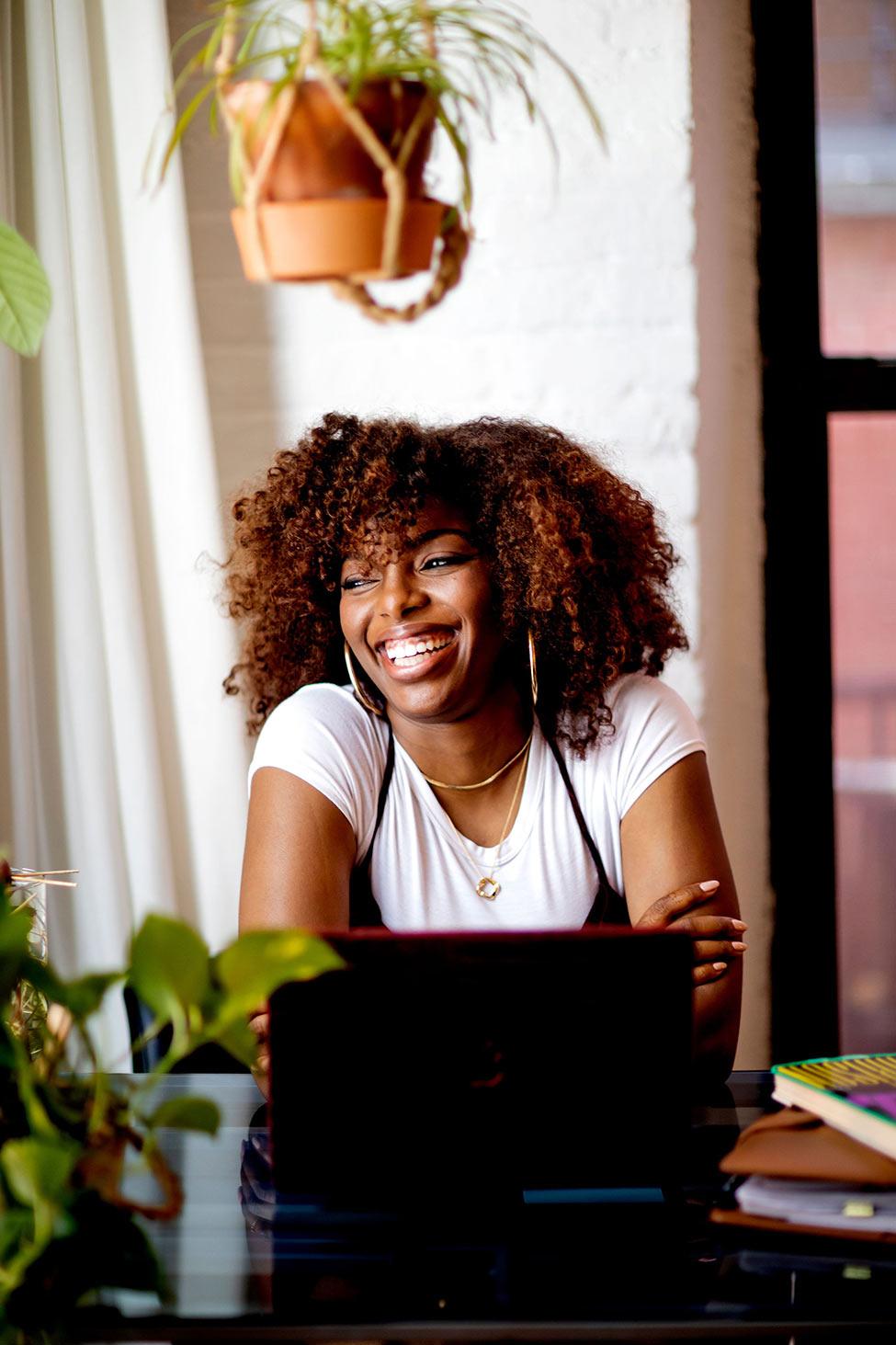 Recently, you were marketing director of brand publishing at Penguin House, and have since transitioned to full-time author, with your first book, Love Radio, released in May 2022.
Tell us more about the central theme of this book and what inspired you to write it.
The book is about two teens, Dani Ford, an aspiring writer whose sole focus is to move to New York to pursue her dreams, and Prince Jones, a local Detroit DJ who gives love advice on the airways and is also looking to pursue Dani. After they finally cross paths at the Detroit Public Library, Prince convinces Dani to go on three dates in order to fall for him, and sparks fly. However, as a lot of my readers have put it, Love Radio is also a story of love for community, family, your hometown, and yourself.
Love Radio has been featured on the Today Show; was reviewed by The New York Times, and included on lists such as People magazine's Best Books of the Summer (online and print edition); Apple's Best Books of 2022; and Amazon's Best Young Adult Books of the Month. You also authored an article in Cosmopolitan about your inspiration for writing it.
What are your thoughts about this book's contribution to the current young adult fiction genre? What would you like readers to take away?
I hope this book's contribution is a positive representation of Black teenage life. I was born and raised in the metro area of Detroit, a predominately Black city, and stayed there most of my childhood. Many of the teen romance books I had read and movies I had seen were never directed at me—girls like me never got to be swept off our feet. So, with Love Radio, my hope is that every reader will come to this book because they love love. Love is a universal language, and I think it's equally important to show how people give and receive love in different ways. My hope is that readers will get into Love Radio and appreciate it from that lens.
What was it like writing a book and being a full-time career professional?
I wrote Love Radio when I was working as a marketing director at HarperCollins and began promoting it when I switched jobs and began working at Penguin Random House. It was interesting, because in 2019, I would get up super early and write before I went to work. Then, Covid happened, and I was able to work remotely, so I would get up at the same time I did pre-pandemic and use my commute time to write instead of sleeping in a little later. It's absolutely how I was able to finish this book, and I'm thankful I made the most use of that time.
Promoting Love Radio in the beginning was manageable because many of my events were virtual and I was able to schedule them before or after work or during lunch. However, once the world opened back up and I began to travel for in-person events, I realized the pressures of both the job and traveling were too much for me, and I decided to take a sabbatical, of sorts, and use the time to focus on my writing career. I hope to get back into publishing one day, but I'm also very thankful I have this time to be present for my debut year.

What attracted you to pursue the MS in Publishing at Pace University?
I graduated with a Bachelor of Arts in Journalism from Howard University in Washington, DC, during a recession, and had a hard time getting call backs for publishing jobs, so I began to research graduate programs that could help me move to New York City, gain more industry knowledge, and, ultimately, start a career in book publishing. I found Pace during my research, and, after I applied, was accepted with a scholarship and financial aid. This was key, since financial constraints were an issue for me, and I was unable to move to the city on my own.
Were there certain faculty members who were instrumental in your academic journey?
Yes, I remember having Professor Manuela Soares teach one of my classes and how invaluable her knowledge was. Before I graduated, I told her I hope she becomes [head of] the Publishing program someday, so it's wonderful to see that it actually happened!
How has your graduate degree in Publishing prepared you for your professional life?
It prepared me in many ways. It provided me with a network of young publishing professionals such as myself who were able to look out for one another and help each other land jobs in different publishing houses (since getting a job in publishing in a lot of ways is about who you know). It also taught me the basics of the bookmaking process, which helped me be more confident in the job once I started working.
The [MS in Publishing program] provided me with a network of young publishing professionals such as myself who were able to look out for one another and help each other.
As you look back at your time as a Dyson student, how did it influence you to become the person you are today?
Being able to attend a college in New York City completely changed my life. The location is so diverse, and so I was able to make friends with students from all over the US and the world, friends who are still a part of my life to this day. To me, that is invaluable.
What do you love about New York City and being a writer in this town?
Although I recently moved back to DC, what I did love about living in Brooklyn and New York City, in general, was the access to so many literary events, the plethora of food spots to choose from, the concerts, and just the culture of New York City. I loved every bit of my time here and what I learned working in publishing.
What advice would you give to our students, as they navigate their undergraduate and/or graduate academic life?
Take each and every one of your classmates seriously and network with them, because they might be the person that can help you get a job later down the road.
More Dyson Alumni
Alumni
From award-winning journalist, to first female editor-in-chief, CEO, and publisher of the nation's largest Spanish language newspaper, to New York State Secretary of State, Commissioner Rossana Rosado is inspired by the stories of others.
Alumni
Marketing executive and alumnus Richard Bourque '00 draws inspiration for his creative process from his Art History degree, strong work ethic, and desire to make positive progress in the world.
Alumni
"Pace allowed me the space and grace to form my own distinct value system, while expanding my knowledge of scholarly political theories and feminist texts to prepare me for my career."