Students
Q&A with Nicolina Barone '24
Image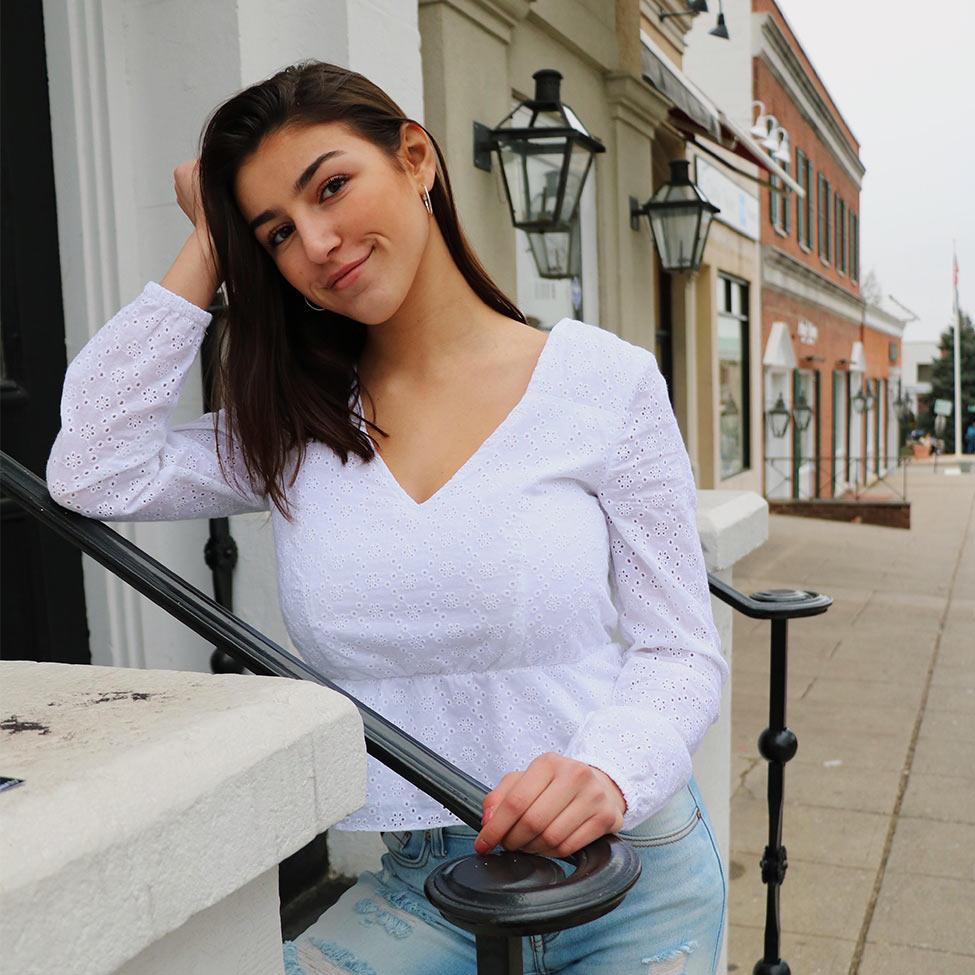 How did you become interested in pursuing a major in Writing and Rhetoric?
Writing and reading have been part of my identity since the earliest stages of my life. Words bring people together, connecting us through our experiences, and allowing us to understand that we are never truly alone in our thoughts and emotions. I always knew that my future career would involve working in the literary world.
Why did you choose to attend Pace?
I chose Pace because the MS in Publishing program was among the top five in the country at the time of my application and this seemed like the perfect way to get my foot in the door and learn more about a career in writing and editing. I plan to start the combined degree program this spring 2023 and graduate in 2024.
What have your experiences been like with the Writing and Cultural Studies Department? Have certain faculty members been instrumental in your academic journey?
The advantage of being part of a small liberal arts college was that I could make lasting and impactful relationships with my professors, and I have had so many positive experiences with those in the Writing and Cultural Studies Department.
The first professor I met who only furthered the idea that I chose the right major was JoAnn Schlesinger. I have taken three classes with her at Pace, and we developed a bond outside of the classroom as well. One of my essays from her class won the Writing and Cultural Studies Department Writing Award, and she has given feedback on the novel I hope to publish, which helped me win the Billie and Curtis Owens Fiction Award for the first 25 pages of the novel.
Kate Mulhollem was also a fundamental faculty member in my time here at Pace. When I first began working in the Learning Commons as a Writing Center consultant, Kate was my boss. She gave me the first job I have ever been fully excited about and interested in. I loved watching the way she worked with students and the techniques she used to tutor, and I truly learned a lot from her and ways to implement it in my own tutoring sessions.
Additionally, Dana Cadman has been another important faculty member, as the faculty advisor of CHROMA, Pace's literary and arts journal, of which I am president and managing editor. My goal has been to get CHROMA on the map and ensure that everyone on campus knows about our club and wants to get involved, and she has assisted me every step of the way, ensuring we create an amazing, inclusive community of creatives on campus. Dana will also be assisting me as my advisor for my Honors Creative Thesis which I will be presenting this spring 2023. I am so excited to have such a talented writer and professor help me along the way!
I would also like to highlight that Rob Mundy and Bette Kirschstein have also been instrumental in my academic journey in countless ways.
The advantage of being part of a small liberal arts college was that I could make lasting and impactful relationships with my professors, and I have had so many positive experiences with those in the Writing and Cultural Studies Department.
You've recently had an internship at WebMD. What was your role and what has this experience been like for you?
My experience as an editorial intern with Krames, a subsidiary of WebMD, was absolutely amazing, as it single-handedly sparked my interest in a career in medical writing and editing. My role was to edit health, wellness, and medical content for tone, style, reading level, and flow, as well as ensure accordance with the client's style guide. I also carefully fact-checked medical research-based content against approved sources and wrote original content for a series of topics including patient education materials. It was an extremely gratifying experience to see the assignments I had worked on become publications.
What activities and organizations, if any, have you been involved with as a student?
I am the managing editor and president of CHROMA, Pace's literary and arts magazine, after first serving as a writer and poetry editor. I also have been involved in writing and editing for the Pace Chronicle and HerCampus. In addition, I am a mentor for the Pforzheimer Honors College (where I also serve as secretary on the council), a participant in the Setter's Leadership Program and the National Society of Leadership and Success, and a Writing Center consultant for the Learning Commons. Further, I am an advocate for Colleges Against Cancer and helped run the Relay for Life last year.
Are there any challenges you have overcome, that you are proud of and would like to share?
After the ending of two romantic relationships, I felt as though I had lost myself and who I was. Instead of letting the pain consume me, I used it as a drive to chase the dream I had wanted to achieve my entire life: publishing a book. I combined three years' worth of writing to create a poetry book, Serendipity, and then went on to self-publish it on Amazon. I wrote, formatted, edited, and published this book that went on to sell hundreds of copies. Upon release, it ranked on Amazon's Top 30 New Releases in Poetry and Top 10 in the Death, Grief, and Loss genre. Publishing my book taught me that I can use pain as a motivation to succeed, grow, and become a better version of myself. My book not only helped me and my own healing process, but was able to help so many others who had gone through similar experiences. I even planned, hosted, and read pages of my book at a signing in Hug a Mug Café in Pompton Lakes, New Jersey.
What would you like to do upon graduation/what are your career goals?
I plan to start the five-year Master's in Publishing program this spring and, ultimately, work as a medical writer or editor. I also plan to pursue writing and publish a romance novel.
What advice, if any, would you like to give to our current students?
Follow your passion and dreams. Throughout the years, I have received a fair share of feedback on my choice of a major, but that has never stopped me from pursuing my dream. Students must realize that a dream can only be achieved through the perseverance of effort. We are in charge of our own lives, and if there is one thing you can control, it is how hard you work and how badly you want it.
More Student Stories
Students
Brooke Lyn Sicignano '25 has been acting since she was six years old. Now, through the Acting—International Performance Ensemble program, she's developing collaborative skills, exercising creative abilities, and waking up each day excited to learn more.
Students
"To be able to share the stage with my classmates and living in New York City is truly a blessing. Being taught by the best of the best is truly an honor," said Victoria Beaudion '23, BFA Commercial Dance.
Students
Jeremiah Williams '23 found his place on campus within the political science department. He cites courses taught by President Krislov and Matthew Bolton as influential in his journey to understanding the political world.