Best Applied Psychology Bachelor's Degree in the Middle Atlantic Region (Source: College Factual)
Most Popular Doctor's Degree for Developmental and Child Psychology (Source: College Factual)
Understand the Human Mind
Welcome Dyson College of Arts and Sciences' Psychology Department on the New York City Campus of Pace University. There are many factors that make our Department unique, dynamic, and exciting, the one that stands out is DIVERSITY – local and global. This diversity is reflected in the diversity of our students, staff, and faculty, in the breadth and depth of research and clinical experiences available to students. These experiences provide our students with opportunities to transcend disciplinary boundaries and engage in interdisciplinary thinking. The Psychology Department values and celebrates diversity in every aspect of its functioning.
Faculty lead departmental research groups open to all students for research opportunities from parent-child psychology to the effects of digital media.
This on-site training clinic allows Doctoral students, under the supervision of esteemed professionals in the field, to offer affordable services to members of the community and students enrolled at Pace University
In addition to the research opportunities provided within the curriculum, you'll have opportunities to get involved Psychology Club and the psychology honors society, which provide resume-building professional experiences.
Undergraduate Programs
Our undergraduate programs, despite being a large major, provides multiple opportunities for our students to receive individualized mentoring and support. In addition, our minor provide an opportunity to gain some knowledge of human behavior and the mind-body connection.
Success Starts Here
Image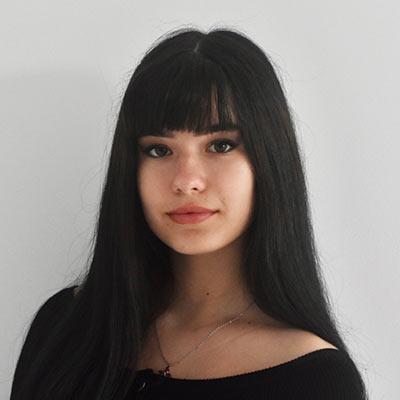 "Ever since I was little, I knew I wanted to help people in some way, and psychology seemed the best way that I could. Art history fell into my hands rather unexpectedly, after I was asked to choose a Learning Community course for my first semester. I thought it sounded interesting, so I picked Art History and History with professors [Janetta] Benton and [Jaclyn] Kopel. Professor Benton made me fall head over heels in love with art history, so I decided to take on another major.
My favorite part about being a Dyson student is getting to meet people from both the arts and the sciences, and seeing how those two disciplines coexist."
Graduate Programs
Our graduate master's program in General Psychology provides our students an opportunity to explore the field of Psychology through its core and elective courses, and tracks. Students from our program have moved on to diverse careers and doctoral training programs.
Graduate/Doctoral Programs
Our doctoral programs in School Psychology were the first to be registered with New York State and for more than 30 years have provided excellent training to students. Our doctoral faculty are well-known for their contributions to the field of psychology in arenas such as assessment, parenting, psychotherapy, and trauma.
The PsyD program in School-Clinical Psychology requires 111 credits of study, a Qualifying Examination after the first year, a Comprehensive Examination typically during the third year, a School and Clinical Child Psychology distributed internship typically in the third and fourth years, a full-time internship typically in the fifth year, and a doctoral project. Details about specific deadlines and the distributed internships are in the department's Graduate Catalog.
Contact
The following people can handle all questions and inquiries:
Shirley Wang, PhD in Clinical Psychology (Health Care Emphasis)
Anastasia Yasik, PhD in School Psychology
Anastasia Yasik or Michele Zaccario, PsyD in School-Clinical Child Psychology Program
Guler Boyraz, MA Program in Psychology
Brenna Hassinger-Das or Michele Zaccario, all undergraduate psychology inquiries