Accounting, Public Accounting, CPA Prep, MBA
Location
New York City

Westchester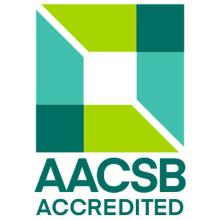 Dual accreditation by the Association to Advance Collegiate Schools of Business (AACSB) International, an elite distinction shared by fewer than 2% of business schools in the world
Get to the Next Level
Get the degree that will take your career to the next level. Pace University began as a one-room school for accountants in 1906 and over the years, we've perfected our programs in accounting. Since then, Pace's Lubin School of Business has earned dual AACSB accreditation in both accounting and business—something fewer than 2% of all business schools worldwide can claim. When you earn your MBA in Accounting at Pace, you're learning the essential aspects of accounting and auditing within the broader context of business strategy, global markets, and data-driven decision-making. We provide CPA review courses (Becker CPA Review) in all programs, and all our programs are ready for the new "Core + Disciplines" CPA exams.
Leverage Job Prospects
Qualify for the Certified Public Accountant (CPA) exam.
Acquire expertise in all functional areas of business and understand the strategic role of accounting.
Intern with the most influential companies in the industry.
Add Opportunities and Experiences
Learn current theory and practical applications from professors with extensive industry experience, and take advantage of experiential learning opportunities outside of the classroom. Our robust network of 76,000 Lubin alumni offers ample opportunities for networking—plus more than 1,900 of them are working at Big Four accounting firms, and often visit campus as part of our Executive in Residence and Dean's Roundtable programs. Seek opportunities at the specialized Meet The Firms career fair and participate in case competitions hosted by Beta Alpha Psi.
Pace University's on-campus MBA program is listed among the best by The Princeton Review in its "Best Business Schools for 2023" list, enabling you to get ahead of the rest of the competition in a growing industry. The MBA experience covers important aspects of accounting, including organizational behavior and leadership skills, marketing and electronic business, business statistics and modeling, operations and quality management, managerial finance, business strategy, and stakeholder responsibility.
"Pace and the Big Four have a really good relationship. Through the Career Fair, I got a summer internship at PwC. Lubin has given me confidence in the professional world and also in my classes. I'm really grateful to Pace for the doors it has opened." —Emily Cheng '16, IT Audit Senior Analyst, Federal Reserve Bank of New York
Choose Your Career
Career Options For Graduates of This Degree Program
Audit Partner
Accounting Manager
Certified Public Accountant (CPA)
Government Accountant
Financial Analyst
Forensic Accountant
Internal Audit Director
Management Accountant
Where Graduates are Employed
BDO USA
Daiwa Capital Markets America
Deloitte
Deutsche Bank
EY
Goldman Sachs
IBM
Internal Revenue Service
JPMorgan Chase and Co.
KPMG
New York County
Manhattan District Attorney's Office
Meaden & Moore, LLP
Morgan Stanley
PriceWaterHourseCoopers
average salary for accountants and auditors in New York State (Source: US Bureau of Labor Statistics)
of Lubin's class of 2022 master's graduates are employed or continuing their education or service (Source: Pace University Career Services)
more than three-quarters of employers across all industries hired MBAs in the past two years (Source: Graduate Management Admission Council 2023 Corporate Recruiters Survey)