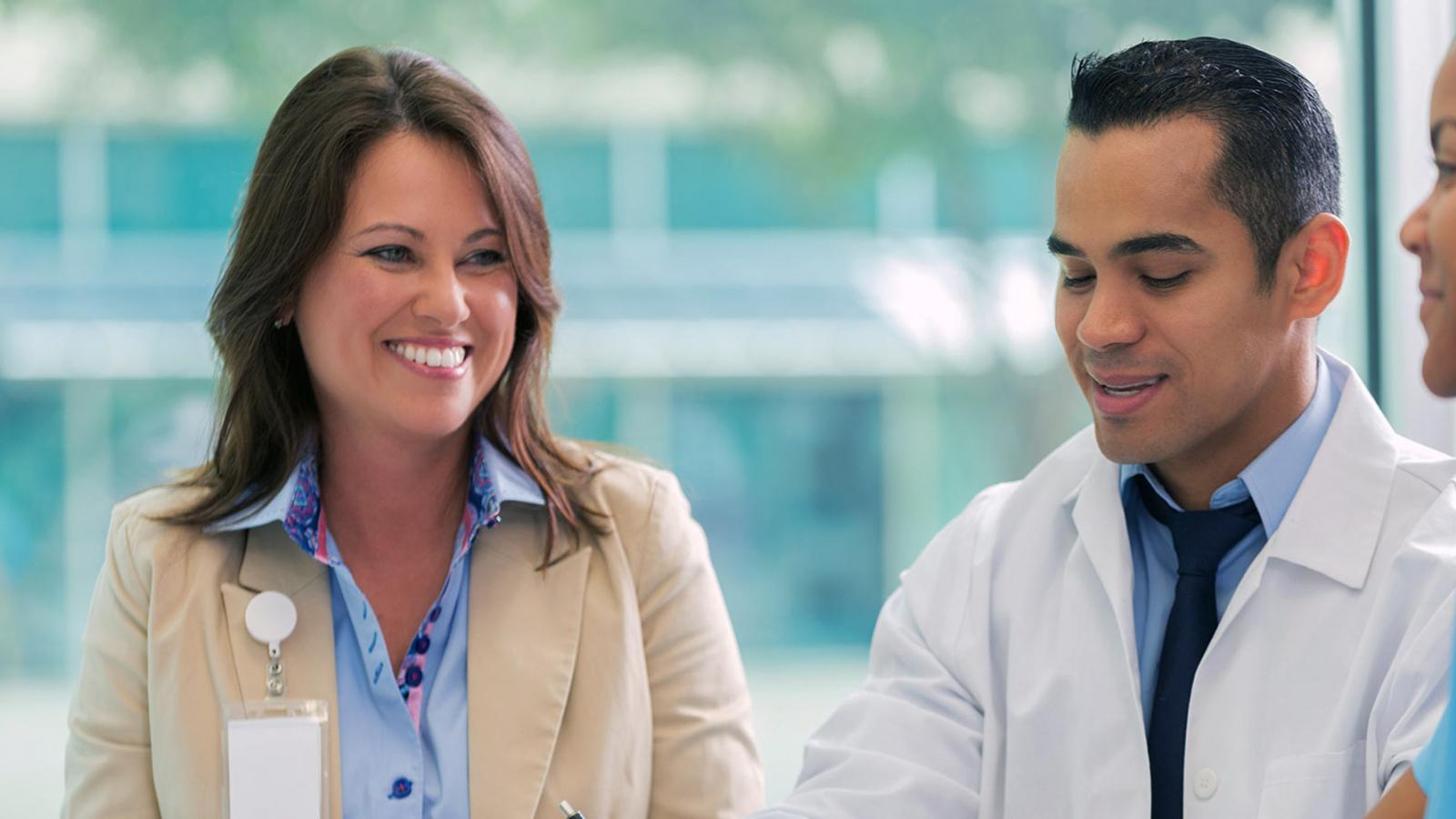 Online Advanced Certificate in Health Law and Policy
Applications are currently not being accepted for Fall 2023 admission. Join our mailing list to receive information about future enrollment.
Get The Skills To Make An Impact In Healthcare Law And Policy
The future of healthcare in the US will be shaped by factors like a heightened concern for public health, the continued adoption of value-based care models, efforts to expand insurance coverage, high-profile mergers, and new technology for collecting and managing patient data. Each of these changes has crucial legal implications for organizations that already operate in one of the nation's most regulated industries. Meeting the challenges ahead requires collaborative efforts from both lawyers and healthcare professionals who can navigate state and federal requirements to empower functions such as care delivery, administration, and finance. The online Advanced Certificate in Health Law and Policy from the Elisabeth Haub School of Law at Pace University equips students to do more in this dynamic and growing field.
Whether or not you have any prior legal background, you can enroll in this program on a part-time schedule and finish in one year. You'll learn career-oriented skills from professionals with extensive real-world experience in legal practice and compliance leadership. In addition, you'll be able to deepen your understanding of regulatory complexities that affect the healthcare system and ensure federal and state requirements are fulfilled. With connections to New York legal and healthcare organizations, Pace provides students with the strategies and insights to drive changes in world-class health systems, life sciences firms, nonprofits, and government agencies.
Program Benefits for Legal Professionals
Transition your law career to find employment opportunities in government agencies, private law firms, and in-house at health care companies and providers
Practice law in areas such as health care administration, organization and financing, public interest advocacy, and public health
Join national and NYS professional associations and organizations to access networking opportunities
Access a wealth of resources and courses related to health throughout the Pace University system
Gain knowledge and experience that helps your stand out from peers, leading to career advancement opportunities
Program Benefits for Healthcare Professionals
Advance your skill sets from industry expert faculty members to distinguish and meet federal and state regulatory requirements
Expand knowledge in areas related to compliance, privacy, technology, risk management and labor relations
Join national and NYS professional associations and organizations to access networking opportunities
Access a wealth of resources and courses related to health throughout the Pace University system
Gain knowledge and experience that helps your stand out from peers, leading to career advancement opportunities
The Pace culture is practice-ready, and the Law School is very true to that mission, gearing programs toward people who are looking to get out in the world and work. Students choose Pace for professional advancement and to learn practical skills.

—Professor Linda Martin, JD
A Curriculum to Help Caring Professionals Solve Real Problems
Drawing on Haub Law's years of experience in distance learning, our faculty designed the advanced online health law certificate to help working professionals go for their career goals. This program builds valuable knowledge and skills that you can immediately put to use in roles related to healthcare policy, compliance, and administration. Our 15-credit curriculum consists of four required courses, including a workshop in lawyering skills, and specialized electives in a variety of healthcare areas.
Through a combination of asynchronous activities and real-time interactions with faculty and peers, the core curriculum delves into topics such as:
Laws and regulations governing the US healthcare system
Hands-on legal skills for healthcare-oriented roles
Ethics in organ donation and transplantation
Access to preventive care and treatment
The role of government in public health
Assessing and planning for risks
End of life decision-making
Medical malpractice
Fraud and abuse
We offer electives in relevant fields like insurance law, accounting for lawyers, cannabis law, elder law, environmental law, nonprofit organizations, and the legislative process. You may also opt to pursue guided research, directed research, or an externship for credit. Coursework was developed for both legal and non-legal professionals to complete as they cover the wide-ranging topics of the expansive industry of healthcare.
What You Can Do With an Online Advanced Certificate In Health Law and Policy
Healthcare is both a necessity and a thriving industry, with National Health Expenditure data showing that annual spending on care represents more than 17 percent of the US gross domestic product. To operate responsibly in this sector, organizations must prioritize strict regulatory compliance based on accurate legal guidance. That's why it's crucial to employ experts in health law jobs who can apply their knowledge of federal and state laws to do the work that shapes better policies.
In addition to practicing law, professionals may pursue health law careers at legal and compliance departments for healthcare organizations, government agencies involved in healthcare regulation, or law firms specializing in healthcare. Graduates from an advanced health law certificate program can excel in roles such as:
Compliance Officer
Healthcare Administrator
Regulatory Analyst
General Counsel
Legal Counsel
Health Services Manager
Risk Manager
Paralegal
An analysis of job posting data from Burning Glass shows that skills learned from a health law certificate benefit nursing managers and medical secretaries as well since these professions demand a thorough understanding of healthcare procedures and regulations.
That's because law and policy impact every aspect of the healthcare system. US providers spend almost $39 billion annually on compliance-related administrative activities, according to a report from the American Hospital Association. Healthcare leaders in this massive industry must always stay current with federal, state, and local laws in every aspect of their operations, accounting for how regulatory changes might affect their long-term strategies.
Lawyers empower healthcare providers and businesses with their expertise in regulation and compliance to empower, so healthcare workers can operate in accordance with the law without being overly burdened by its complexities. Ranked the #1 private, four-year college in the nation for upward economic mobility by Harvard University's Opportunity Insights, Pace University is committed to help students from a diverse range of backgrounds go for opportunities in this field. By earning an Advanced Certificate in Health Law and Policy from Haub Law you'll get the skills to ensure healthcare organizations meet their current responsibilities and prepare for the next wave of changes.
Download a brochure (PDF) for more information about what you can do with an online Advanced Certificate in Health Law and Policy.