About Pace University
Ranked in the top 9% of private US colleges that provide the best return on tuition investment*, Pace University transforms the lives of its diverse students—academically, professionally, and socioeconomically. That mission is expressed in our motto: Opportunitas.
Our promise
Pace University is at the forefront of creating opportunity. Through the convergence of strong academics, experiential learning, and dedicated advising, we empower our students and positively impact our communities. We develop and launch programs that are relevant, focused, and forward-looking to meet the needs of the workforce of the future. We harness the world-class energy and talent of New York City and Westchester County and leverage the unparalleled access to internship and job opportunities. We champion diversity, equity, and inclusion and celebrate the innate potential of learners of all ages to achieve success.
Our people
At Pace, we are go-getters, strivers, doers, and achievers. Currently, the University enrolls more than 13,000 diverse individuals, including first-generation, international, and non-traditional students. Pace combines the benefits and resources of a large university with the personalized attention and focus associated with a small college. Dedicated full-time and adjunct faculty members balance academic preparation with professional experience, bringing a unique dynamic to the classroom. They are practitioners, consultants, advisors, and mentors to our students.
Image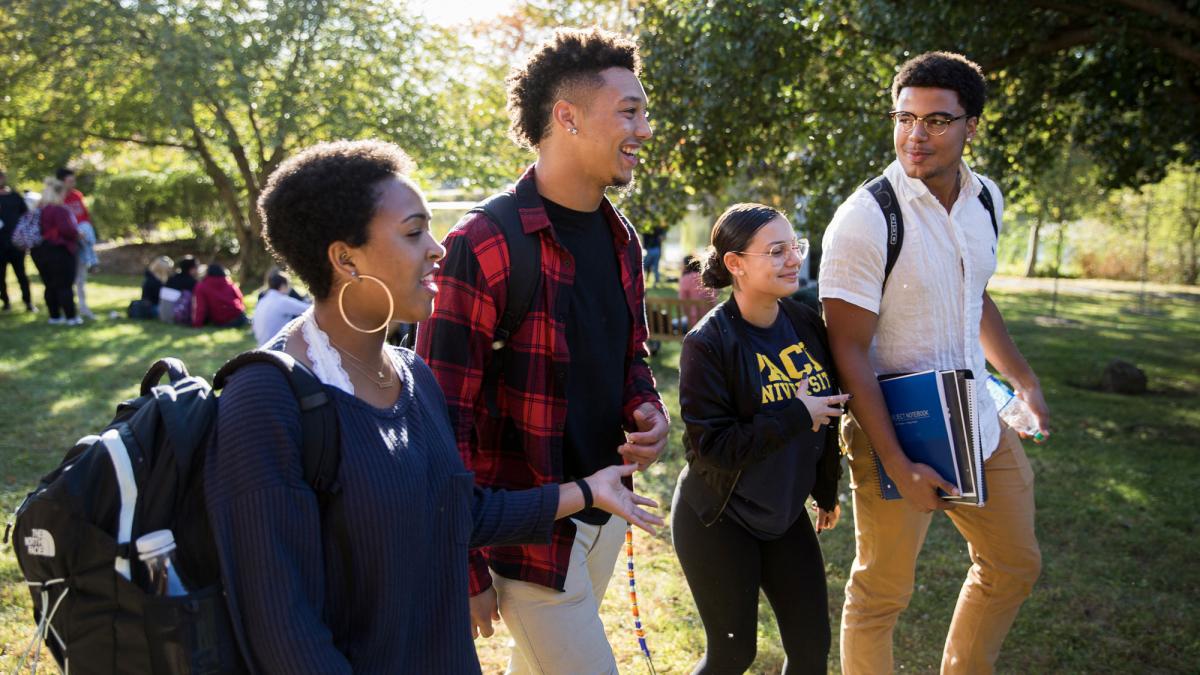 Our Path
Our signature program, the Pace Path, empowers students to succeed in their fields by combining powerful academics, dedicated mentoring, and immersive experiences including, research, clinicals, civic engagement, study abroad, and internships. Pace University has one of the largest internship programs of any college in the New York metropolitan area. Last year, Pace students engaged in more than 8,000 internships, co-ops, field experiences, and clinicals with more than 1,000 different employers. That's why within one year of graduation, Pace students are employed at a rate almost 20% ahead of the national average.
Our History and our Future
Founded as a one-room accounting school in 1906, Pace now offers a diverse selection of learning and living experiences. There are bachelor's, master's, and doctoral programs in more than 150 majors and programs, and Pace's six schools and colleges—the College of Health Professions, Dyson College of Arts and Sciences, Elisabeth Haub School of Law, Lubin School of Business, School of Education, and Seidenberg School of Computer Science and Information Systems—offer a variety of courses in business, health care, computer science, humanities, education, science, law, the arts, and more.
More than 50 cutting-edge centers, institutes, labs, and clinics serve as the training grounds for future leaders. These include the NYC Design Factory, Entrepreneurship Lab, Environmental Policy Clinic, Cybersecurity Education and Research Lab, Immigration Justice Clinic, Health Care Simulation Labs, and the Center for Community Action and Research.
Each program and experience is enhanced by our metropolitan New York location. The New York City Campus in Lower Manhattan (recently renovated with ultramodern facilities, collaborative learning spaces, and residence halls) is within walking distance to Wall Street, South Street Seaport, and the Brooklyn Bridge, and a subway ride from all that the city has to offer. The bucolic 200-acre Pleasantville Campus in Westchester County, only an hour by train from New York City, is home to 14 NCAA Division II teams, and the Elisabeth Haub School of Law is situated in the heart of White Plains' buzzing suburban sprawl.
*Source: PayScale