Get Ready
You'll be doing much more than classroom learning at Pace. Internships, advocacy and activism, leadership roles, trips abroad to get a global mindset—they're all part of your Pace Path. Together with your academics, these experiences prepare you to hit the ground running when you graduate. Hard work? Yes. Worth it? Just ask Pace students.
Jillian Lewandoski '21 wants a career in sports marketing. And she's making it happen. A Madison Square Garden internship and an invite to a sports career conference have scored her a ton of major league contacts.
First-ever Account Management Intern at ViacomCBS, Nina Conticello '21 is an involved transfer student who has brought home many awards and continues to lead at Pace.
Kyle Igarta '21 discovered a path that bridges his competitive dance background and his interest in business. An arts and entertainment management and business analytics double major, Kyle's internships span Broadway to Wall Street.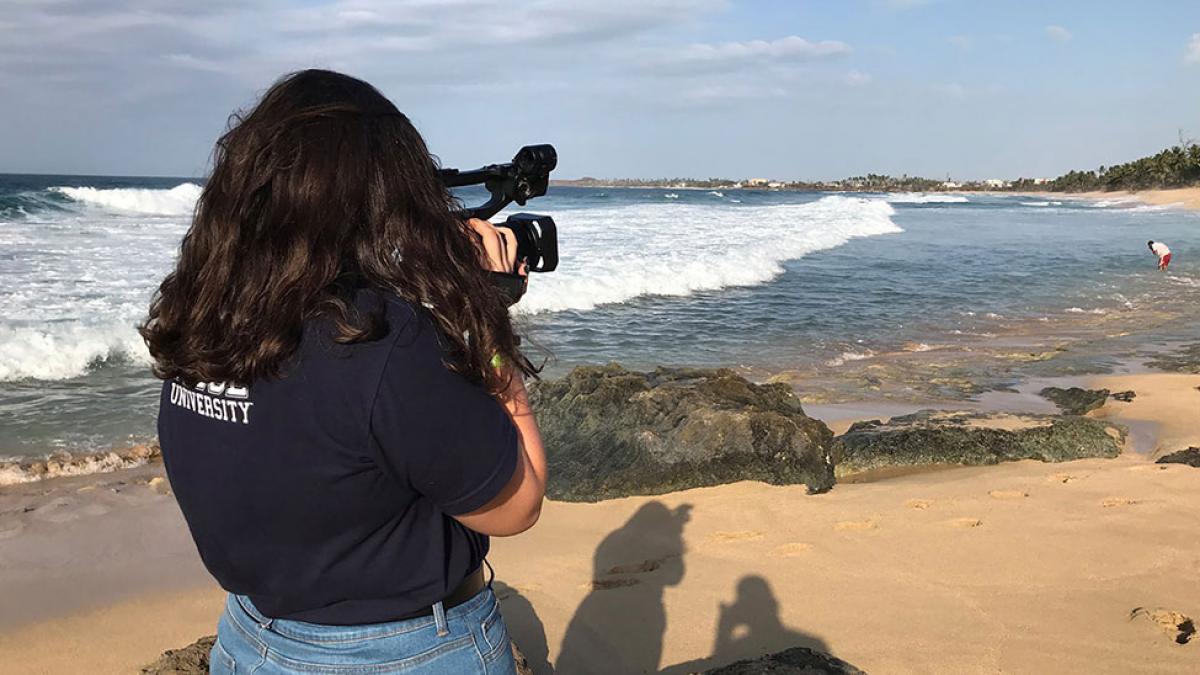 Get Ready to Challenge Yourself
Rachel Skopp‐Cardillo '20 dove into her Producing the Documentary class and took off to Puerto Rico to document the aftermath of Hurricane Maria, was the assistant director for the Pace Docs team, and worked as an associate producer at a film company.
Workplace Opportunities
Experience in the workplace helps you build skills, confidence, connections, and a stellar resume long before you graduate. Along with your professors and mentors, your Career Services advisor will help hook you up with the right opportunities.
See how Career Services works with you.
Internships That Get Noticed
Pace has relationships with more than 1,000 industry and government organizations that are eager to recruit Pace students. Disney–ABC, IBM, Viacom, CBS, EY, Omnicom Media Group—the list goes on.
Your advisors will make sure your Pace Path plan includes at least one internship related to your career goal. The result: You'll become that new graduate who aces the job interview because you've already been there, done that.
On-Campus Jobs
Some students prefer to get their work experience really close to home. Pace University posts multiple student jobs you can interview for. Positions vary, but as a student staff member, you're an integral part of campus operations. Plus, as you hone your professional and people skills, you'll get a birds-eye view of University operations and leadership opportunities.
Research Opportunities
Participating in mentored research can give you a head start, whether you're headed for a career or grad school. Pace's undergraduate research program pairs you with a faculty member whose project aligns with your interests or goals. Together, you conduct research—in the sciences, social sciences, or arts—and present your findings in published papers, in blogs, and possibly at conferences. The best part: You'll be part of the solution to a problem you care about.
Summer Research
Spend ten weeks immersed in a research or artistic project. You'll collaborate closely with a faculty mentor and receive a $1,500 stipend to help fund your work over the summer.
Forensics Science major Angel Ordonez Flores '22 helped layer geospatial water quality data onto a map of NYC, spotlighting areas with higher levels of contamination.
Kourtney Kelly '21 helped to research tuberculosis cures for people in developing countries. Kelly's a Biology and Pre-Med major—and a singer with a hit single.
Biology major Bryan Volpe '20 spent more than two years involved in groundbreaking research with Assistant Professor of Biology Aaron Steiner, PhD,on the regeneration of hair cells in zebrafish. The work may lead to therapies for hearing loss.
Leadership Opportunities
Are you ready to lead? Find out at Pace.
Working with your mentors, you'll map opportunities to grow as a leader, developing and testing leadership skills that will help you thrive not only in your first job, but throughout your career.
Help orientate new students to life at Pace by becoming an Orientation Leader or Spirit Ambassador. In either of these leadership positions you'll get a chance to innovate, plan, and host events. Plus, you'll develop management and interpersonal skills.

It starts with a retreat. Then come workshops, conferences, and team-building exercises. There's even a weekend excursion—a time to delve into what it means to take responsibility in your community. Pace's semester-long leadership program helps you learn skills, grow, and challenge yourself both personally and within a team setting.

Get a unique perspective on leadership by showing up for PaceTalks. Each talk features a dynamic speaker—a leader from within or beyond the Pace Community—speaking about their experiences. Or attend Leadership Dinners, an opportunity to chat with the leaders of student organizations.
Opportunities for Advocacy and Activism
The Pace Community gives some 85,000 hours to local and global nonprofits each year. As a volunteer, you'll contribute your time and expertise to an organization that's making a difference. In return, you'll gain confidence, skills, insight, and maybe even networking opportunities and job leads.
The Center for Community Action and Research at Dyson College is a hub for activism. Students working with the CCAR have lobbied elected officials, attended workshops for budding civic activists, led the Pace Students Against Gun Violence, and Pace Votes initiatives, and much more.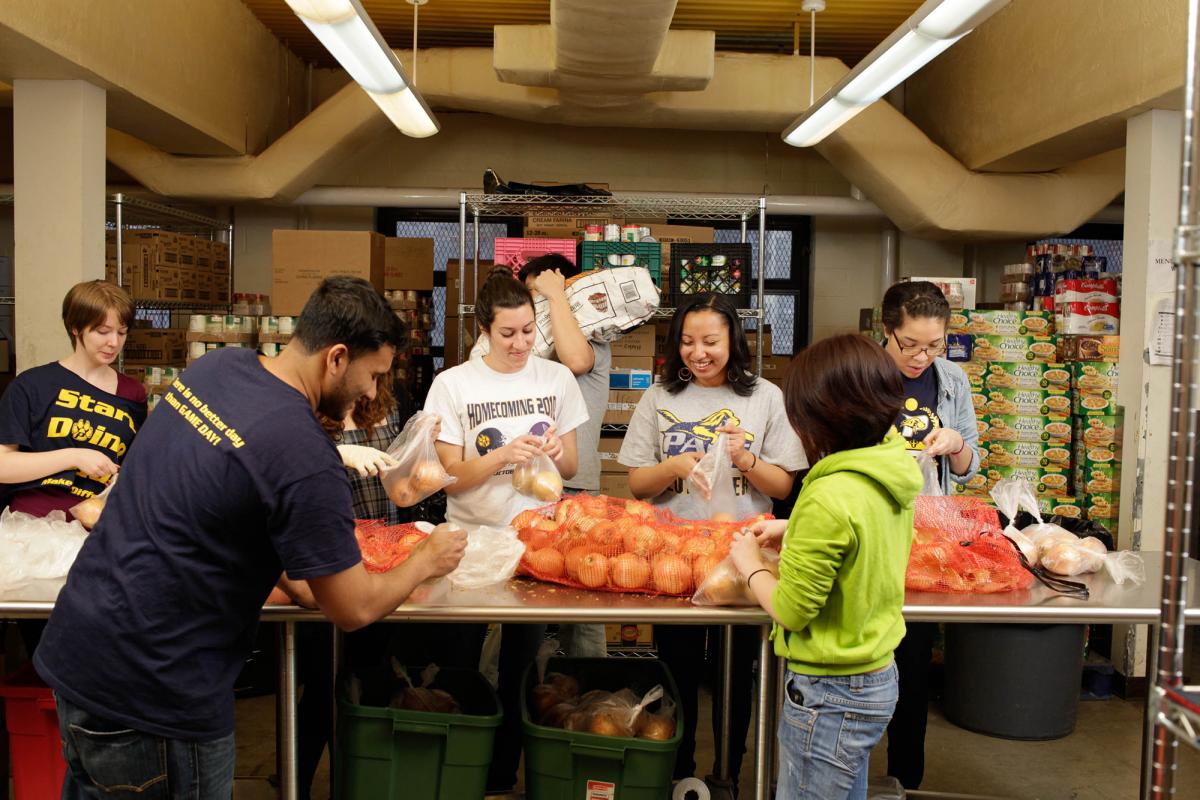 Clubs and Organizations
Got a passion? Want to be a change-maker? Interested in building connections in your field? Pace has close to a hundred student clubs and organizations that run the gamut from professional and cultural, to advocacy, media, and sports.
Clubs are a great way to connect with people who share your interests or career goals, as well as to grow interpersonal and leadership skills. That's why they're part of your Pace Path. See an unmet need? Start your own student organization—we'll guide you.
Under the leadership of Thomas Carpenito '21, the Pace Sustainability Initiative persuaded the University to save water and reduce recycling contamination. The club's next push: a green roof.
Debra Perlman '21 has been busy. She joined Pace's first-year and second-year honor societies, the Pace Women in Tech organization, and Pace's NYC Design Factory. And she's a 2019 Forbes Under 30 Summit scholar.
The founder of Urban Sound, the cultural hip hop dance group on the NYC Campus, Maryam Dimson '20 has inspired others through the arts since middle school, performing hip hop, tap, jazz, and much more.
Study Abroad Opportunities
Move outside your comfort zone. Get a perspective on another culture. Challenge yourself to explore independently. Gain the international communication skills you'll need to succeed in our increasingly global economy. The study abroad experience can be life-changing—and employers know it.
Pace offers several study abroad options—from one week to an entire year. Your mentors and a study abroad advisor will work with you to figure what might be a great fit for your Pace Path.
Go Global
Study abroad for a semester or year and earn credit toward your degree—Pace has agreements with dozens of universities around the world. You might even be able to take your financial aid with you.

A summer in Seoul? Learn Japanese in Tokyo? Many of Pace's partner universities around the world offer short-term study opportunities in the summer, including specialized programs in subjects like entrepreneurship and journalism, or language.

Credit-bearing study abroad experiences organized and led by Pace University faculty are an opportunity to immerse yourself in a cultural topic on the ground. We offer nearly 20 faculty-led courses annually ranging from "Rome, the Eternal City"—a rigorous (and fun) exploration of the history, art, architecture, and religion of the city at the center of the Roman Empire—or "International Marketing" in Scandinavia, to the service learning course "Ecuador with a Cause."
What's Next?
Learn more about how the Pace Path can work for you.