Press Release
Assemblymember Tom Abinanti Joins Pace University to Discuss Solutions to Educating Neurodiverse Students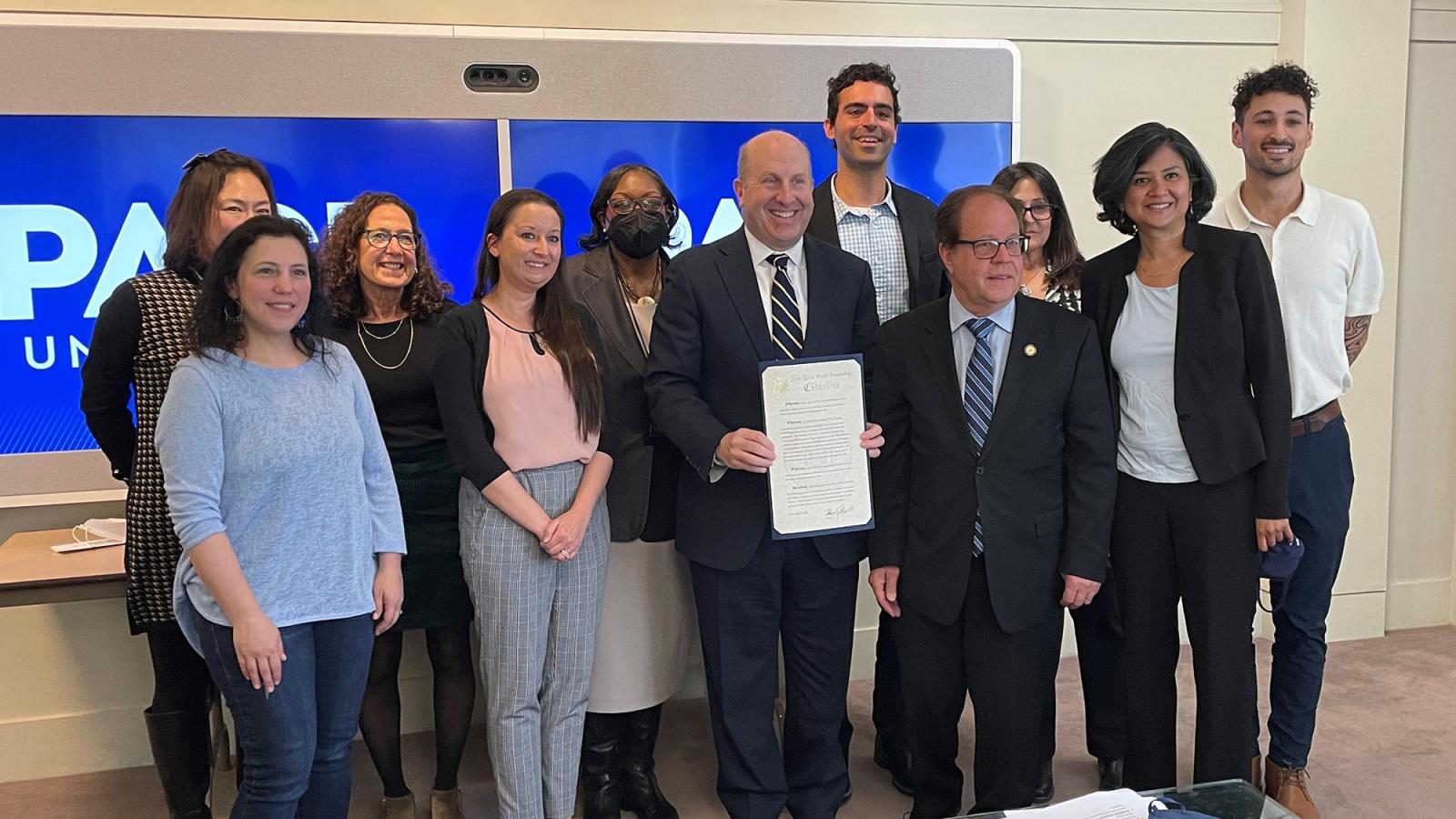 Conversation Part of Autism Acceptance Month
PLEASANTVILLE, N.Y. (April 20, 2022) – Pace University on Wednesday hosted Assemblymember Tom Abinanti for a discussion about ways of educating and preparing neurodiverse students for life during and after college.
The conversation, led by President Marvin Krislov, was held as part of Autism Acceptance Month: it brought together academic experts from Pace University and its School of Education; leaders from Pace's OASIS program; parents of neurodiverse students; and Assemblymember Abinanti, chair of the New York State Assembly's Disability Committee.
In kicking-off the discussion, President Krislov spoke of the unique challenges that many students face and how Pace was addressing them. He highlighted Pace's OASIS Program, a growing area serving neurodiverse students that this year expanded to Pace's Pleasantville campus where its students are excelling. He also touted how Pace's new ESports program effectively integrates students across campuses, includes neurodiverse students, and is a model for inclusion.
"We are gathered here to make the world a better place for neurodiverse people," Krislov said. "We have reached autism awareness, but we still have a long way to go before we reach acceptance and inclusion. Those affected by autism still face challenges that include limited job opportunities, bullying and prejudice. At Pace, we are trying to make a difference and continue or mission of opportunity for everyone."
Assemblymember Abinanti, a longtime advocate for people with disabilities, said that people who are far too often overlooked, can excel when given the opportunity and in the right environment. He shared examples of how many young people succeeding when given the opportunity.
"It's important to convey to people how they fit into the world," said Abinanti. "They are a resource. They are people who want to be part of everything, and I commend Pace for helping them make it through college … Higher education can make a real difference."
About 1 in 44 children have been identified with an autism spectrum disorder (ASD), and more than 2% of adults in the U.S. are estimated to have ASD, the CDC estimates.
Educational and social programs are vital to improving the opportunities of those with autism.Pace University's Special Education program provides students with enhanced knowledge of learning disabilities and differences, as well as the methods and strategies to increase your effectiveness in the classroom. Students develop their skills and expertise in implementing inclusionary practices and differentiated instruction techniques to help students with special learning needs and abilities become successful and lifelong learners.
During the more than one hour discussion, experts discussed a variety of ways that higher education can make a difference, from establishing an inclusive environment for all learners to educating people on how to interact with people with disabilities to offering alternative career certifications and degrees.
"We are well positioned to develop opportunities for students with autism and for training teachers in programs and models that are inclusive," said Professor Shobana Musti, chair, School of Education. "We are literally an oasis for students."
For Laura Scott Schaefer, a small business owner who employs people with disabilities and an OASIS parent, the program has changed her 19-year-old son's life.
"In the last three months, my son has made more progress at Pace than he has in the previous three years (elsewhere)," said Schaefer. "They are helping him. He's becoming an adult. He can be in the world, not as a disabled person, but as a person. Little by little he is coming into his own here. For the first time he is thinking ahead."
About Pace University
Since 1906, Pace University has educated thinking professionals by providing high quality education for the professions on a firm base of liberal learning amid the advantages of the New York metropolitan area. A private university, Pace has campuses in New York City and Westchester County, New York, enrolling nearly 13,000 students in bachelor's, master's, and doctoral programs in its Dyson College of Arts and Sciences, Lubin School of Business, College of Health Professions, School of Education, School of Law, and Seidenberg School of Computer Science and Information Systems.
More from Pace
Faculty and Staff
Alongside student scientists, Dyson Professor of Biology Bill Eaton is conducting invaluable research in Costa Rica—helping the world better understand how soil ecology impacts short- and long-term environmental health.
Faculty and Staff
Dyson Environmental Studies and Science Professors Monica Palta and Anne Toomey have been conducting research in Coney Island Creek, documenting the existing environmental and social ecosystem. Their work aims to reshape the conversation surrounding urban waterfront development.
Students
When Justin Brandon was a child, he loved to take things apart to figure out how they worked. Now he's at Pace, completing a degree in computer studies with a focus on cybersecurity and computer forensics.