Students
Building a First-Gen Community to Last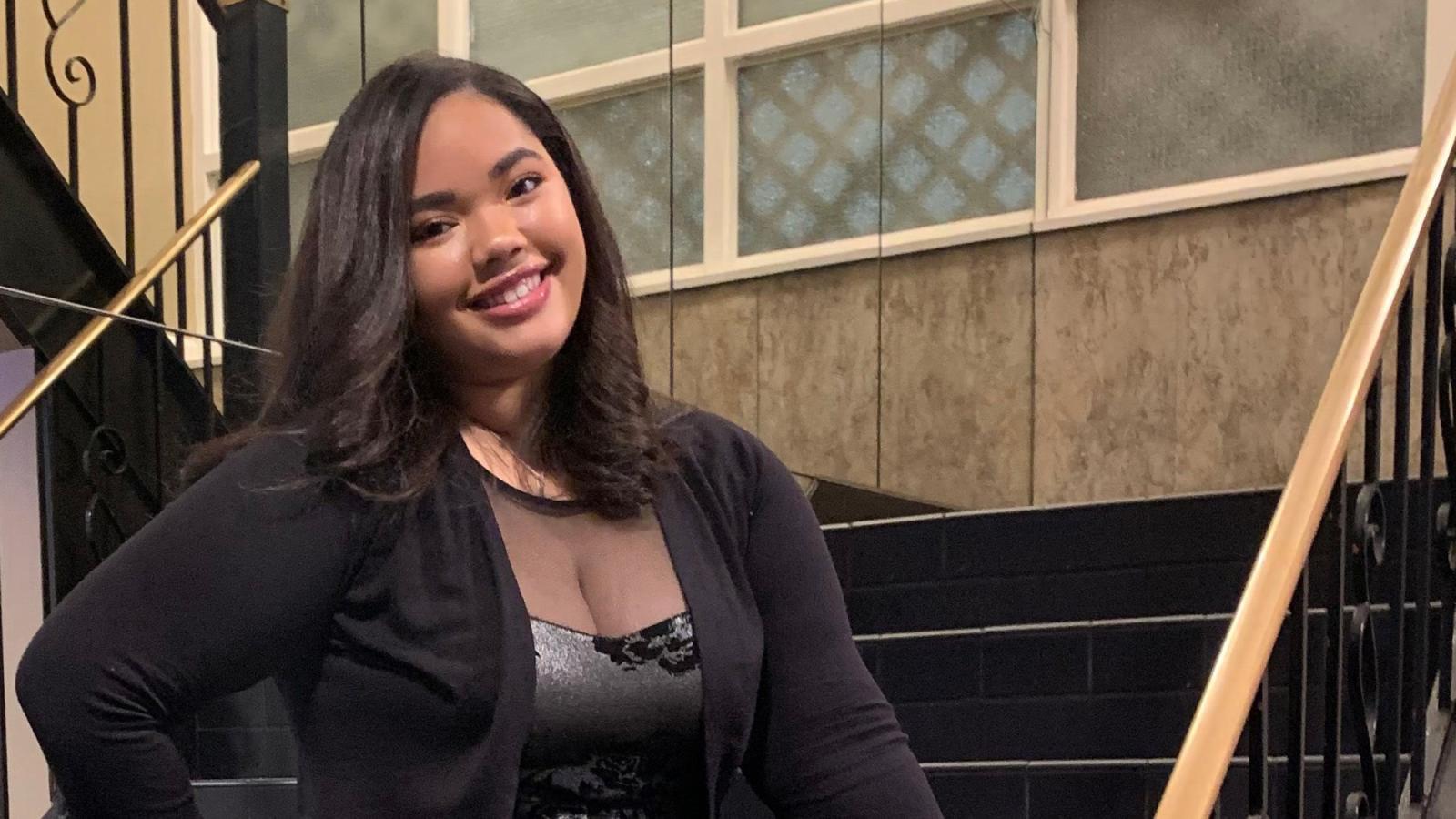 "I love being a commuter student. I try to be heavily active on campus. Sometimes I'm literally here for 12 hours a day because I work on campus and attend my classes. But I love it."
Valentina Rojas Abreu '24 knows the importance of taking her education into her own hands.
A health science major on the pre-physician track, Valentina is plugged in to life on the Westchester Campus as a student assistant in the Dean for Student's Office and Student Affairs, and in her role as president of the First Generation Program.
A lot of us [first-gen students] are so independent because we don't have that safety net.
Valentina is so driven, in part, because she's always had to be. She recalled that as she grew up, she and her mother were learning English at the same time. Her mother helped where she could but even the way she had learned math in the Dominican Republic was different from the classwork Valentina brought home in the States. "I ended up being very independent," she explained. "And I'm the firstborn in my family. So I don't have an older sibling to ask 'how did you do this' or 'what is FASFA?'"
Valentina's experience is that of first generation students everywhere. "A lot of us are so independent because we don't have that safety net," Valentina says. "Not that we don't have people to depend on, but at least on an academic standpoint, you are on your own."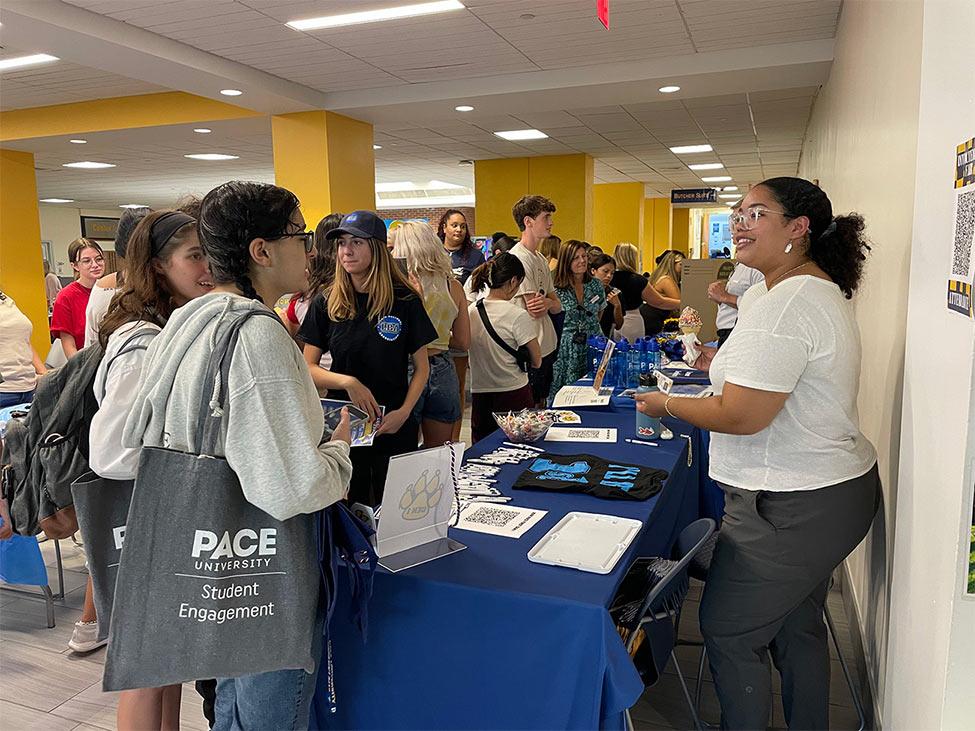 She found support during her last years of high school through the Yonkers Partners in Education, a mentoring program that provided students with graduation coaches. As she began to look into colleges, she was drawn to Pace because of its connections. "It's five minutes away from the number one trauma center in the Northeast," she says, an important factor for a health science major. "I'd heard great things all through high school about how many connections Pace has to different companies and programs. I liked that I could commute and that there was a New York City Campus I could take advantage of if I wanted to."
She came to Pace and was thrilled to discover that there was a mentoring program for first-gen students. Knowing how much it impacted her to have that peer support in high school, she signed up. "We were paired with upper level students, usually someone in your major, to mentor you and help you out," Valentina says. "And when you're a sophomore, you're given the opportunity to then be a mentor to other students." She continued on with the program and received three students to mentor. To this day, even as the program has evolved and she's stepped up into the role of president of the program, she's still close with her mentees. "I try to encourage them in the same way I was encouraged."
I'd heard great things all through high school about how many connections Pace has to different companies and programs.
The First Generation program is open to any first generation students attending Pace. "Some people don't even realize they're a first generation student," according to Valentina. A first generation student is determined as someone whose parent or parents did not receive a four-year degree. "Even if your parents received an associate degree rather than a four-year degree, or your siblings have gone to college, you're still considered a first-generation student."
Image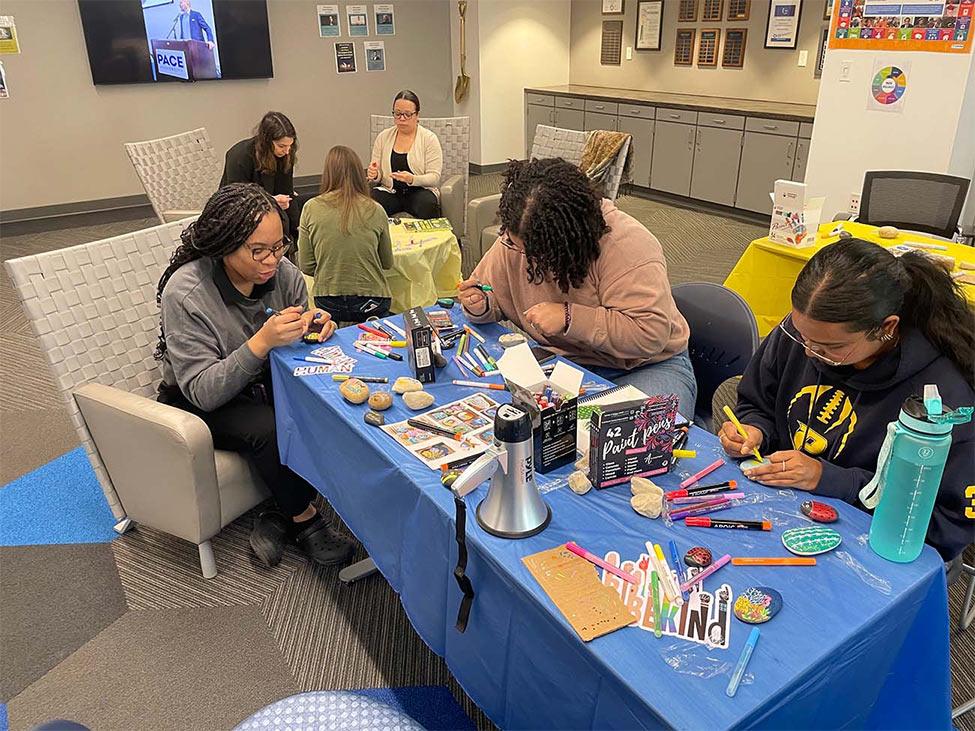 The program has now expanded to encourage more than just one-on-one mentorship, but to instead foster a community among the first generation students at Pace, and as president Valentina works to ensure every student has the support they need. She helps oversee and organize events for the program, from vision-journaling socials, to financial aid workshops, and now with programming for the first-ever First Generation Honors Program.
Valentina explains, "We joined the National Honor Society called Tri Alpha, which is for first generation students." Students who are academically eligible can join to take advantage of Tri Alpha benefits, such as leadership opportunities, lifetime membership, graduation cords, and more. Their first induction is taking place on November 8, National First Generation Students Day, marking an exciting new milestone for not only the students, but the program itself.
I try to encourage them in the same way I was encouraged.
Reflecting on her time at Pace and in the First Generation Program, Valentina can't help but realize how much being a part of the first-gen community impacted her path. She has her on-campus job because a former leader in the program used to send out job blasts and made her aware of the position. Now, Valentina is the one sending job blasts and opportunities to other students, carrying on that ethos of passing along the support she was once offered.
Valentina has graduated from mentee, to mentor, to president of the program, and is helping usher in a new era with the addition of the Honors Society. "It's a full circle moment," she says. "And that's what the program is dedicated to."
To learn more about Resources for First Generation Students and the First Generation Program send an email to plvfirstgen@pace.edu. For more information on the Honors Society, visit Tri Alpha's website.
More from Pace
Students
A first-generation American, and the first in her family to go to college and law school, Maria Profeta '22 always had the goal to use her education to better her family and her community.
Students
Computer science student Sachin Archer knows what it's like to defy expectations. His journey has led him from Jamaica to New York City, and now the world. Take it from him, it's never too early to dive in: "I'm doing all these amazing things. And I'm only 19."
Faculty and Staff
Seidenberg's new faculty member, Jonathan Williams, brings his expertise to the human centered design master's program, where user experience leads technologists, artists, designers, and psychologists to build better, more equitable, and more beautiful things.