Students
Childhood Education and Literacy Major, Samantha Saumell '22, publishes her first book "I Have, Not I Am"
Congratulations to Childhood Education and Literacy Major, Samantha Saumell '22, who just published her first book! Available on Amazon, "I Have, Not I Am," is a touching and inspirational story about a young girl's journey, after being diagnosed with anorexia. Our March 2021 Student of the Month, Samantha is a highly engaged student, dedicated to academic excellence and volunteer work. In 2020, she also published an online article at Penn State on building positive relationships with students who come to writing centers for support. 
We caught up with Samantha to gain a little insight into her story and her perspectives on education, writing, and more! 
What inspired you to write this book?
Image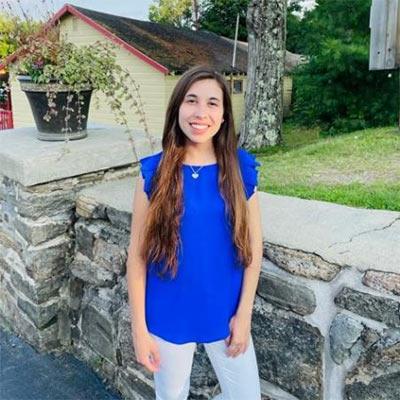 When I think about what inspired me to write this book, two main ideas pop into my head. I decided to write this book because as I was dealing with anorexia, I experienced many people defining me by my struggle, rather than who I was as a person. I thought about how other people may be experiencing what I did, and I wanted to help people feel like they aren't alone. My second inspiration for this book were my students. As I have started my career in education, I often find myself encouraging my students to accept who they are and to never be ashamed of who they are. For me, writing this book was a way for me to accept everything I have been through. It was a way for me to say yes, I did battle anorexia, but it made me who I am today. 
Can you tell us a little about the book, and who it is for?
This book was written for people who have an eating disorder as well as for their loved ones. Throughout the book, I give advice to those struggling in order to encourage them to never give up. I also provide advice to the loved ones of people who are currently struggling because eating disorders are by no means easy to understand. I hope that my story will inspire people to be more accepting and understanding.
What does the title mean?
The title is meant to emphasize that a person may have an eating disorder, but they are Not their eating disorder.
When did you start writing and what do you love most about it?
Writing has been a passion of mine since as long as I can remember. I love writing because it allows you to discover thoughts and ideas that you may have never thought you had. Writing is a powerful tool! 
If you could spend a day with another popular author, whom would you choose?
I don't have a specific author in mind, but I would love to spend a day with a successful children's book author. I love the idea of having one of my stories come to life and I am interested in writing a children's book next!  
Now that you are a published author, what do you think this can bring to your teaching career?
As a published author I hope to lead by example. I can show my students that they can reach their dreams if they work hard. I also bring a greater knowledge of the writing process into my classroom. Writing this book has allowed me to see just how important it is to always revise and edit your writing.
Why teach?
Teaching has always been my passion and to be perfectly honest is one of the reasons I was able to recover. I always knew that I wanted to be a teacher and the only way for that to happen was if I was healthy. Every time I walk into a classroom, I am reminded of why I picked education as my lifelong career. Teachers truly have the power to make a difference!
What does the future have in store for Samantha Saumell? Do you plan to write another book?
My hope for the future is to finish my master's degree and hopefully get a permanent teaching position in an elementary school.
Yes, I would love to write another book. I really want to write a children's book!
What advice would you give to aspiring, young writers?
My biggest piece of advice to aspiring young writers would be to always believe in yourself. There are going to be people who try to make you feel like your dream is unattainable, but with hard work it is possible.